Food Security and Access to Nutrition
Goal and Performance
Charoen Pokphand Group has a significant focus on enhancing food security and improving access to nutrition. Our goal is to play an active role in addressing global food challenges by investing in sustainable agricultural practices, promoting innovative food technologies, and supporting local communities through various food-related initiatives. With our vast agricultural and food processing operations, we have contributed to the availability of nutritious food products and have been working towards ensuring food accessibility for populations in need.
2030 Goals and Performance
million
children, population and people in need receive access to safe and nutritious food

Stakeholders Directly Impacted
haroen Pokphand Group performs stakeholder assessment and prioritization process on an annual basis to evaluate impacts we have on them and how can they influence our strategies and actions over time. In 2022, the evaluation results showed that our commitment to the availability of nutritious food products creates impacts on all three stakeholder groups.
---
More Details on Stakeholder Engagement Report 2022
Our Impact by the Numbers
Food Security and Access to Nutrition Management Approach
At C.P. Group, we are consistently committed to using our sustainable management strategy to address issues with access to nutrition and food security worldwide. With a rich history spanning over a century, we are aware of the crucial part we play as a major Thai conglomerate in influencing future food systems and sustaining global communities.
Our management approach is based on sustainable agriculture, where we give the highest priority to methods that protect biodiversity, conserve natural resources, and minimize emissions. We strive to increase productivity while safeguarding the planet's ecosystems for coming generations through our broad agricultural operations. We maximize crop yields, reduce food waste, and enhance supply chain effectiveness by utilizing cutting-edge technology, guaranteeing that nutritious food reaches consumers with little loss, even in remote places.
We also place a high priority on the production of high-in nutrients products. Devoted research and development teams produce nourishing food items that satisfy various dietary requirements and cultural preferences. Our portfolio includes ready-to-eat nutritional meals and fortified basics that are made to energize people of all ages and socioeconomic backgrounds. In order to empower smallholder farmers, improve agricultural skills, and promote sustainable livelihoods, we also actively engage with the neighborhood communities. Our community-driven projects, like school nutrition programs and food assistance projects, work to increase disadvantaged people's access to nutrition, particularly for children and the elderly. In order to promote good change and work toward a world where no one goes hungry, we also acknowledge the value of collaboration and actively seek collaborations with governments, NGOs, academic institutions, and industry colleagues. Together, we can forge a path that ensures an abundance of nutritious food for all, leaving no one behind in the pursuit of a healthier, hunger-free world.
Commitment to Sustainable Production and Consumption
Charoen Pokphand Group is steadfast in its commitment to advancing environmentally friendly production and consumption along our whole value chain. As a major Thai conglomerate, we are aware of our role in determining the direction of international trade and the contribution we can make to protecting the environment for future generations.
Sustainability, as we know it, begins at the source. We are dedicated to acquiring agriculture and raw commodities through ethical means because of this. We make sure that our supply chain remains socially and environmentally responsible by working with farmers and suppliers who follow ethical and sustainable practices.
A key component of our management strategy is reducing our environmental impact. At every stage of production, we work to increase resource efficiency. We want to make our company more resource-efficient by reducing the amount of energy, water, and waste we produce through technological advancements and best practices.
To meet our sustainability objectives, we must embrace the idea of a circular economy. Within our value chain, we aggressively encourage the reuse, recycling, and repurposing of materials and waste products. We hope to contribute to a more sustainable and regenerative business model by closing the loop and minimizing waste.
Driving sustainable consumption is made possible by innovation. Our devoted research and development teams put forth the endless effort to provide eco-friendly and socially conscious goods that satisfy our customers' changing needs. We want to encourage responsible consumption habits by offering eco-friendly packaging options as well as healthier and more ecologically friendly food options.
Increasing sustainability requires teamwork. To develop a shared commitment to sustainability, we actively collaborate with stakeholders, including employees, suppliers, consumers, and local communities. We make sure that our sustainability programs are inclusive and effective, bringing about good change everywhere we go, through participating in partnerships and dialogue.
Our journey toward sustainability is guided by two key principles: responsibility and transparency. We routinely share our projects and progress, highlighting both our successes and our setbacks. We hold ourselves accountable to our sustainability commitments and strive for ongoing development through this transparent approach.
We welcome everyone to join us in embracing responsible production and consumption practices as we move towards a more sustainable future, including customers, partners, and industry peers.
Developing Products for Sustainable Consumption
Charoen Pokphand Group has also introduced the concept of creating future food that cares for the world and creates food security as well as environmental sustainability. Accordingly, the Group has developed various raw materials to enable a new style of food that will reduce environmental impacts, while offering good taste and health benefits, such as alternative proteins using raw materials from high-protein plants and replicating the taste, smell, and color of animal products. Products that have been released to the market include MEAT ZERO and VG for Love product groups.
Sustainable Production and Consumption Initiative
Plant-based meat alternatives with meatless meat innovation: the product provides meat-like texture and real-meat taste and nutrition, but is completely free of antibiotics, hormones, genetic modification (GMO), and cholesterol. The products are also contained in eco-friendly packaging.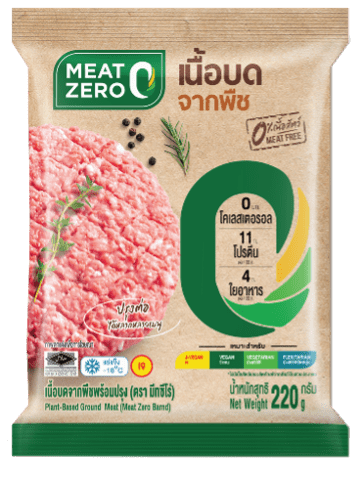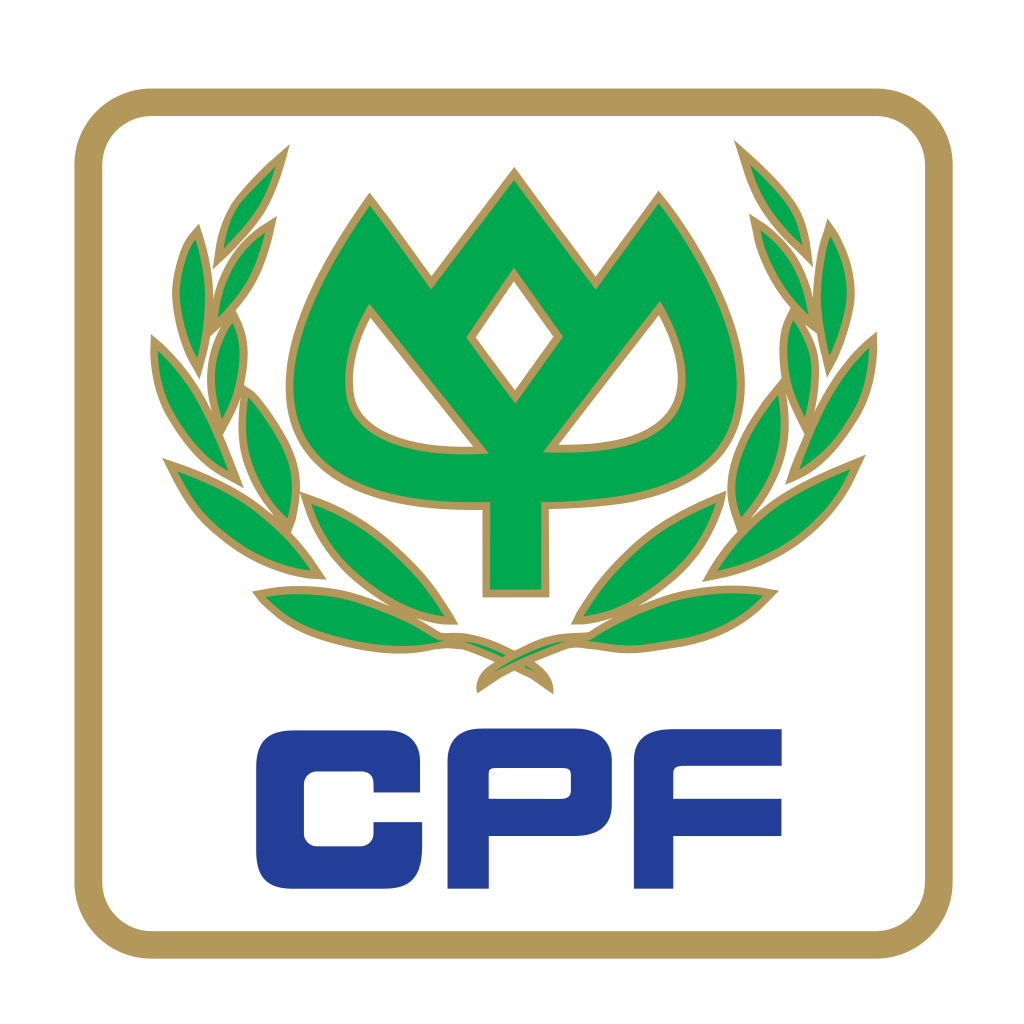 Charoen Pokphand Foods (Thailand)
Meat Zero
0% cholesterol
Plant substitute for meat
Made with non-genetically modified plants
No use of hormones and antibiotics
Eco-friendly packaging
meatzerobrand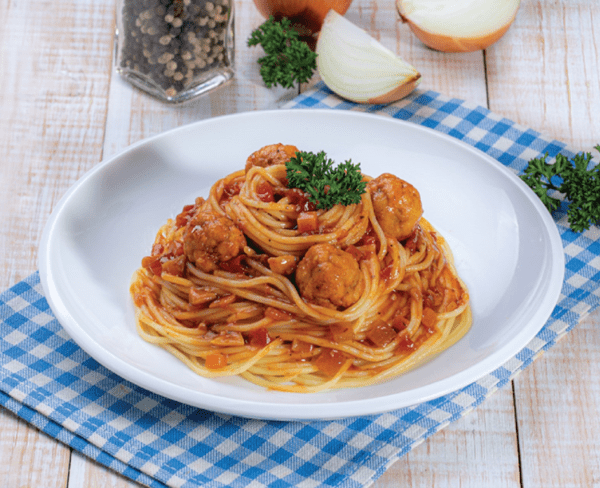 CPRAM (Thailand)
VG for Love Plant-based Pork Ball Spaghetti
Plant-based
Vegetarian food with milk and eggs
Natural protein with no synthetic or artificial meat
Traceable throughout the supply chain
cpram
Criteria for Products that are Considered Health Products
Charoen Pokphand Group is committed to offering customers nutritious food options that improve their overall health. Our criterion for healthy products is a comprehensive approach that evaluates and categorizes our products based on their nutritional content. This system uses evidence-based standards that take into account the amount of added sugars, saturated fats, sodium, and key elements like vitamins, minerals, and dietary fiber. For example, products in the "reduced fat, trans fat, sodium, and sugar" category, products with added nutritional value, and products with improved formulas based on internal and country-specific regulations, where the company operates or invests rigorously. This information serves as a reference for developing health-promoting products, enabling research and development of beneficial formulations that promote overall well-being and reduce the risk of non-communicable diseases appropriately.
The primary purpose of our criterion for healthy products is to allow consumers to make informed about diet decisions. Consumers may immediately find and select solutions that correspond with their dietary habits and health goals thanks to clear and simple nutritional labeling on our goods. We think that by offering clear information, customers can take control of their health and well-being.
Healthy Products Initiatives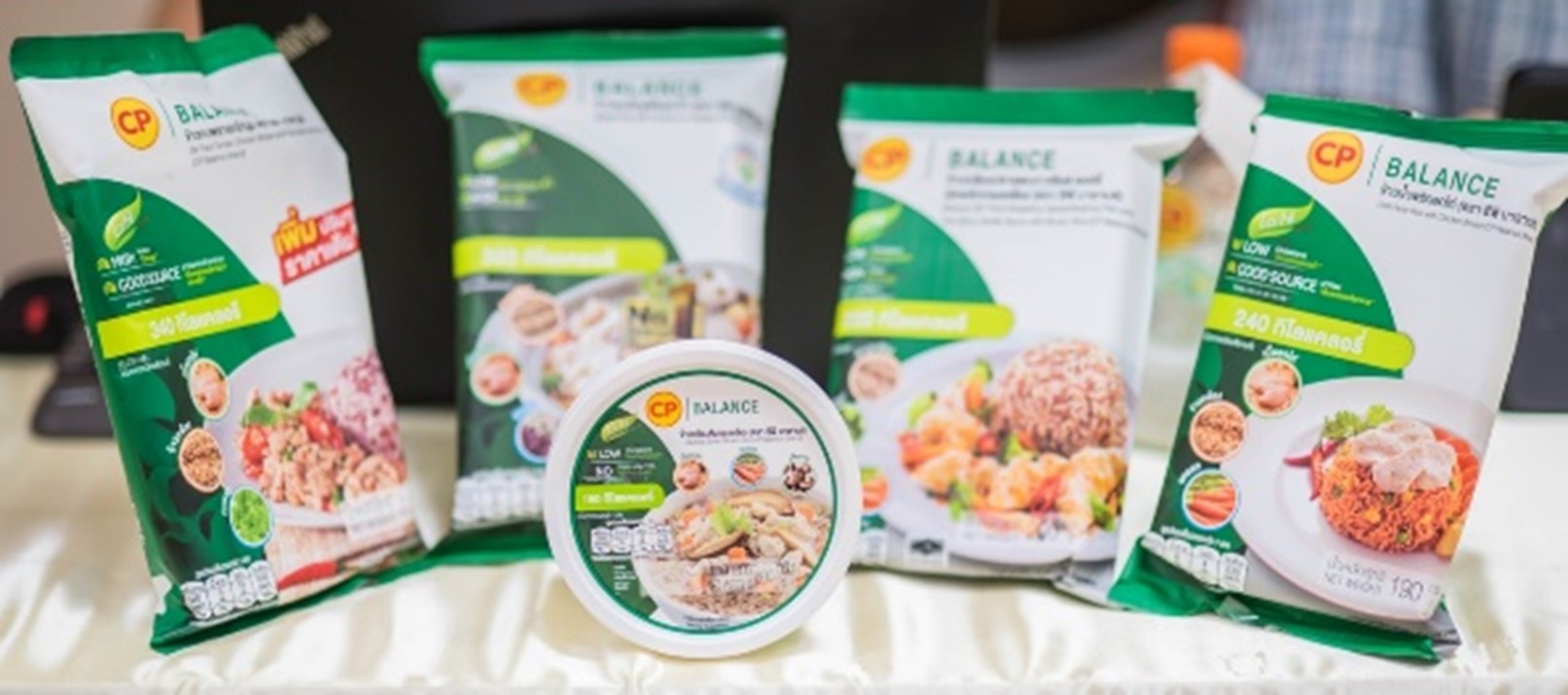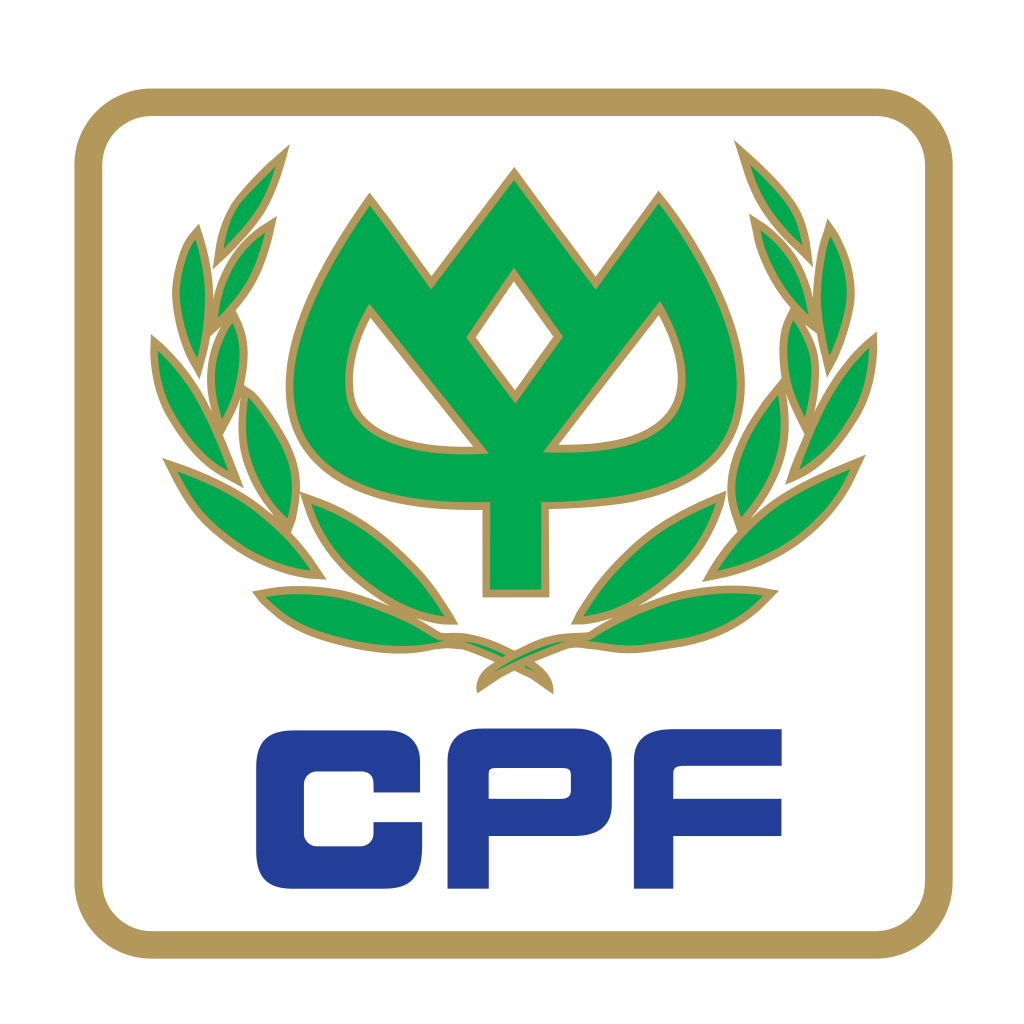 Charoen Pokphand Foods (Thailand)
CP Balance brand
High in fiber but low in calories, sodium, and saturated fat.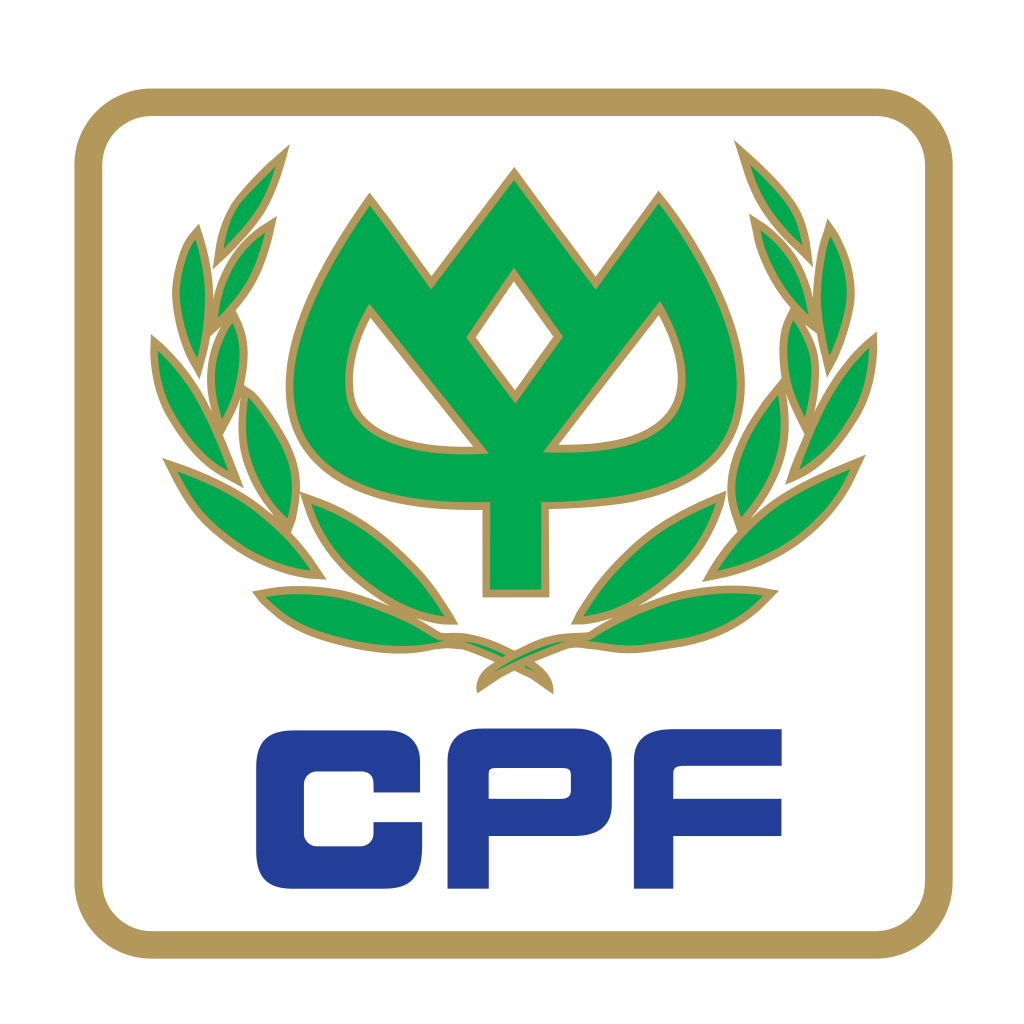 CPRAM (Thailand)
Fito Puree
Fito Puree from 26 types of fruits and vegetables contains phytonutrients, polyphenols 150,000 mcg., lycopene 1.8 mg. added vitamins A, C, D, E and fiber 3,200 mg.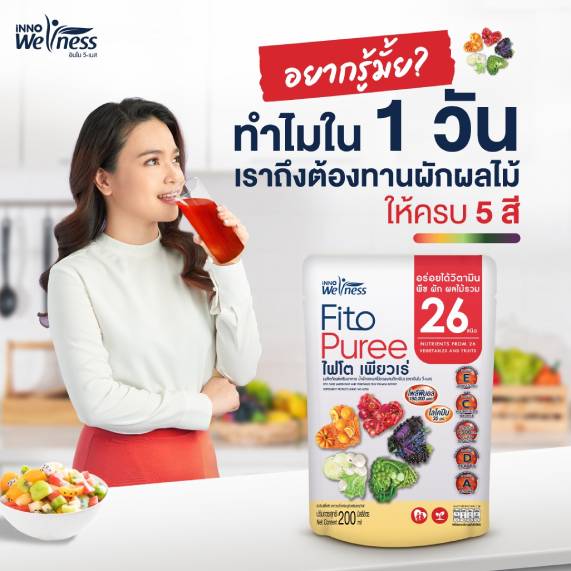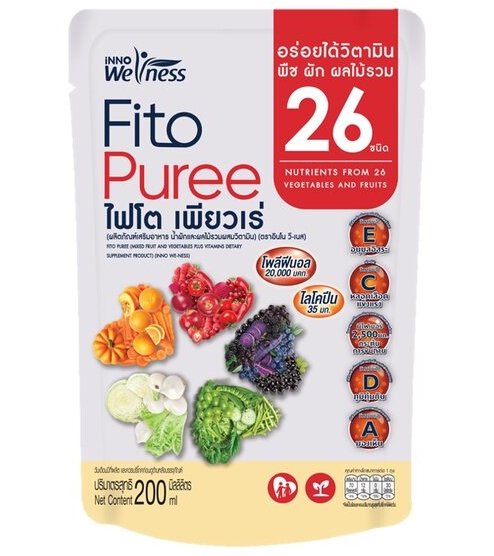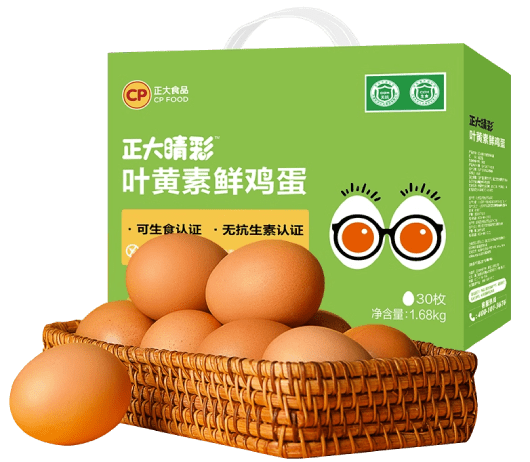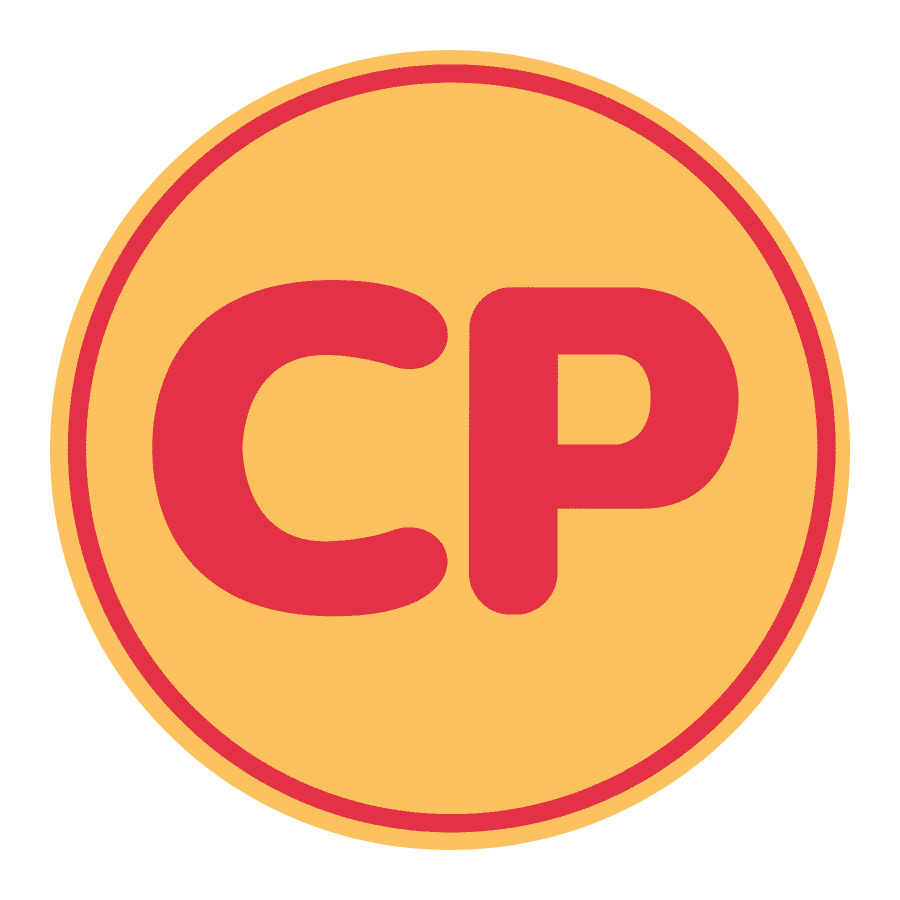 Charoen Pokphand Foods (China)
Lutein Fresh Eggs
100 grams of eggs contains ≥ 1,600 micrograms of lutein
No antibiotics
No growth promoters
Golden award from MONDE SELECTION by INTERNATIONAL QUALITY INSTITUTE 2022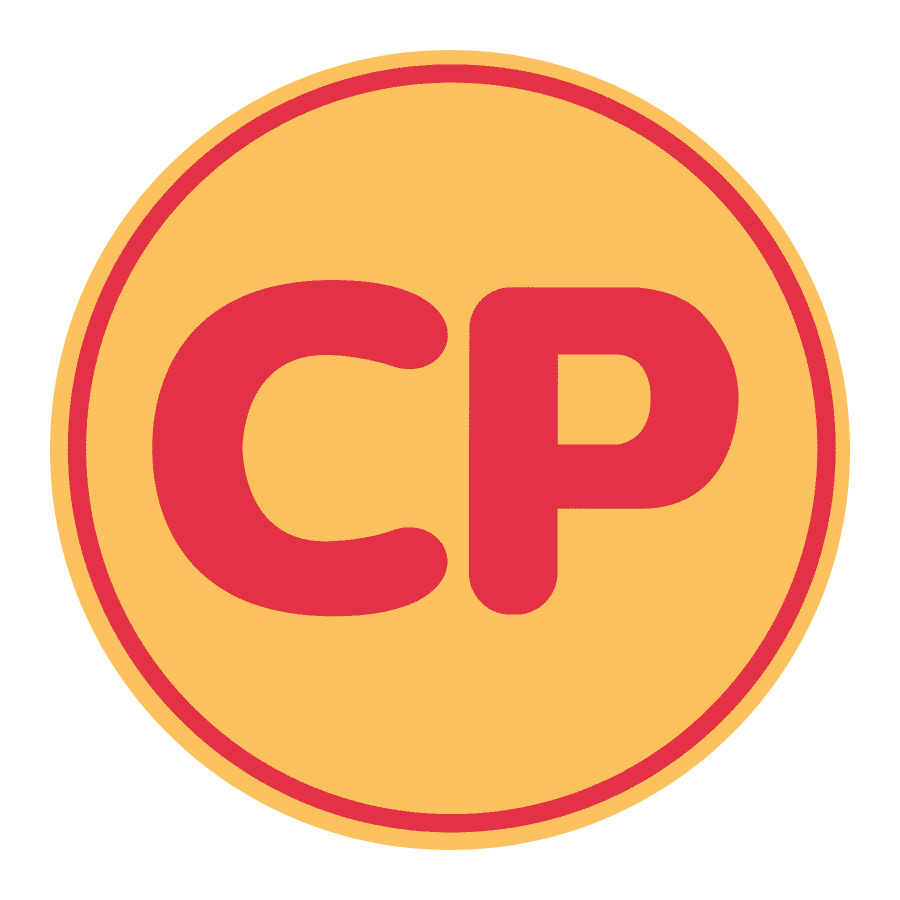 Charoen Pokphand Foods (China)
Rye Bread Stuffed with Low-Fat Chicken Breast
20% rye cereal added
Low fat and long satiety
Nutritional balance of meat, vegetables and cereals
No preservatives, artificial colors or flavors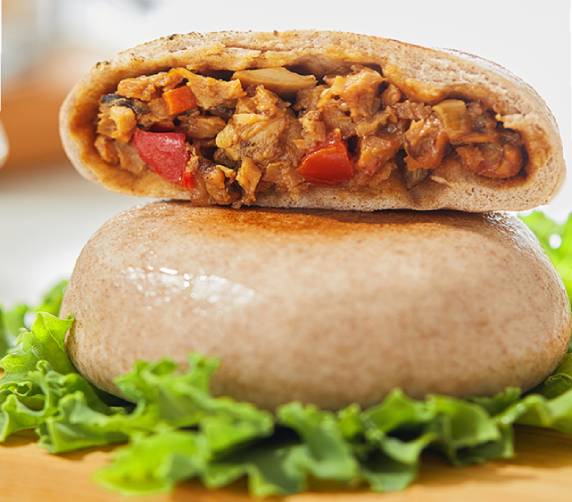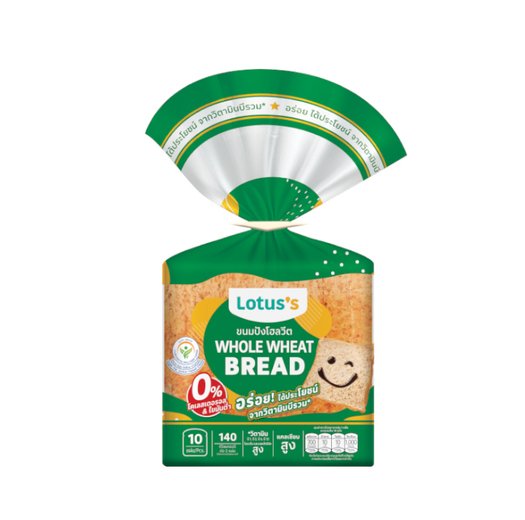 Lotus's
Whole Wheat Bread
0% cholesterol and low fat
Contain with vitamins B1 B2 B6 B12 Pantothenic and Niacin
High calcium
Developing Products for Sustainable Production and Consumption & Immunity-Boosting Products
| | Products that are lowered in saturated fast, trans fats, sodium, sugars and added sugars | Products that contain nutrition ingredients like fiber, vitamins. minerals, phytochemicals, or functional food additives |
| --- | --- | --- |
| | Billion Baht, Total sales volume of consumer product | Billion Baht, Total sales volume of consumer product |
| | % | % |
| % increased from 2021 year | % | % |
Food Accessibility and Affordability
Food Accessibility and Affordability Progress
Progress for food safety certification
Safe and High-Quality Production Process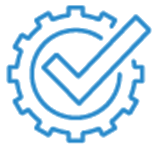 %*
of food factories received quality and safety standard certification
2030 Goals and Performance
million people
Children and people in need gain access to safe and nutrition food
Commitment towards Food Accessibility and Affordability
Charoen Pokphand Group firmly believes that access to safe, nutritious, and affordable food is a fundamental right for every individual. Hence, we are committed to making a positive impact on food accessibility and affordability for communities worldwide. Through strategic partnerships and community-centered programs, we actively engage in global food initiatives to address food insecurity and hunger. We invest in innovative techniques and technologies to increase food production efficiency, reduce supply chain costs, and offer high-quality food products at competitive prices, making them more accessible to a broader range of consumers.
We are aware that local issues can have a significant impact on food accessibility. As part of our commitment, we fund community-based projects that assist smallholder farmers, raise agricultural output, and strengthen food delivery systems. The basis for sustainable food systems is strengthened through empowering regional communities. Our commitment to ethical pricing and supply chain integrity supports open pricing policies and just treatment of all stakeholders, helping to maintain fair and stable food prices that promote accessibility for consumers.
Another important component of our commitment to affordable and accessible food is reducing food waste. We want to reduce food loss and increase food consumption through effective supply chain management and creative packaging solutions. By addressing the problem of food waste, we can direct more funds toward offering cheap and wholesome food options. At C.P. Group, we also fight for laws that support affordable and easy access to food on a local, national, and worldwide scale. We work to build an enabling environment that ensures everyone has access to the food they require for a healthy and full life by promoting evidence-based policy.
Food Accessibility and Affordability Initiative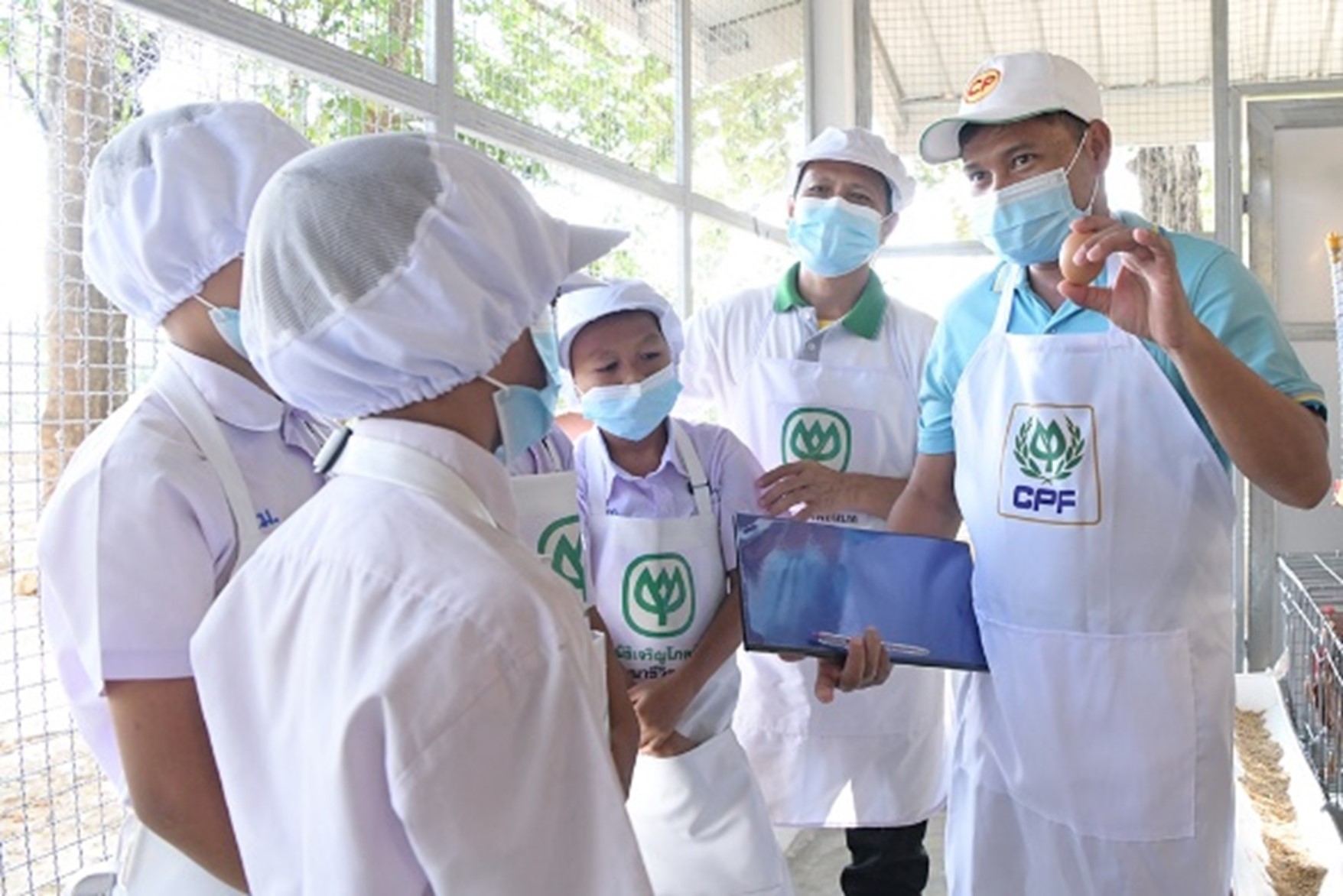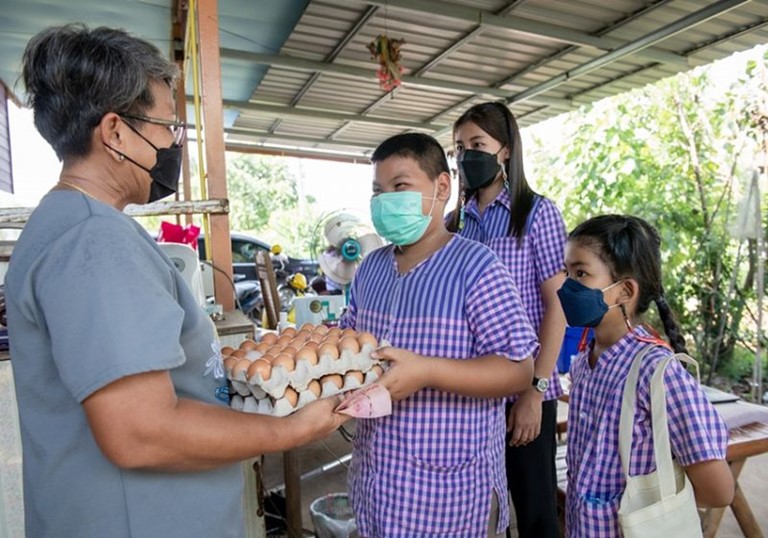 "Raising Layer for Student's Lunch" project
Charoen Pokphand Group joins hands with Charoen Pokphand Foods Public Company Limited (CP Foods) and Charoen Pokphand for Rural Lives' Development Foundation (C.P.) and has celebrated the success of Raising Layer for Student's Lunch" project that has been helping students in the rural areas of Thailand to fight malnutrition for more than 34 years. The joint CSR project has a grand plan to reach 1,000 schools nationwide within 2025.
The company has been operating this project since 1989 by enhancing the knowledge of more than 180,000 students at the primary-school level from 905 schools participating. Moreover, it has become a learning center for over 12,000 teachers and 1,900 communities on Agro-business.
In terms of food security, the project offers nutrient eggs at an affordable price to the community. This is in accordance to the principle of sufficiency economy.
For more information, please visit: cpfworldwide.com/en/media-center/sustainability-34-years-egg-project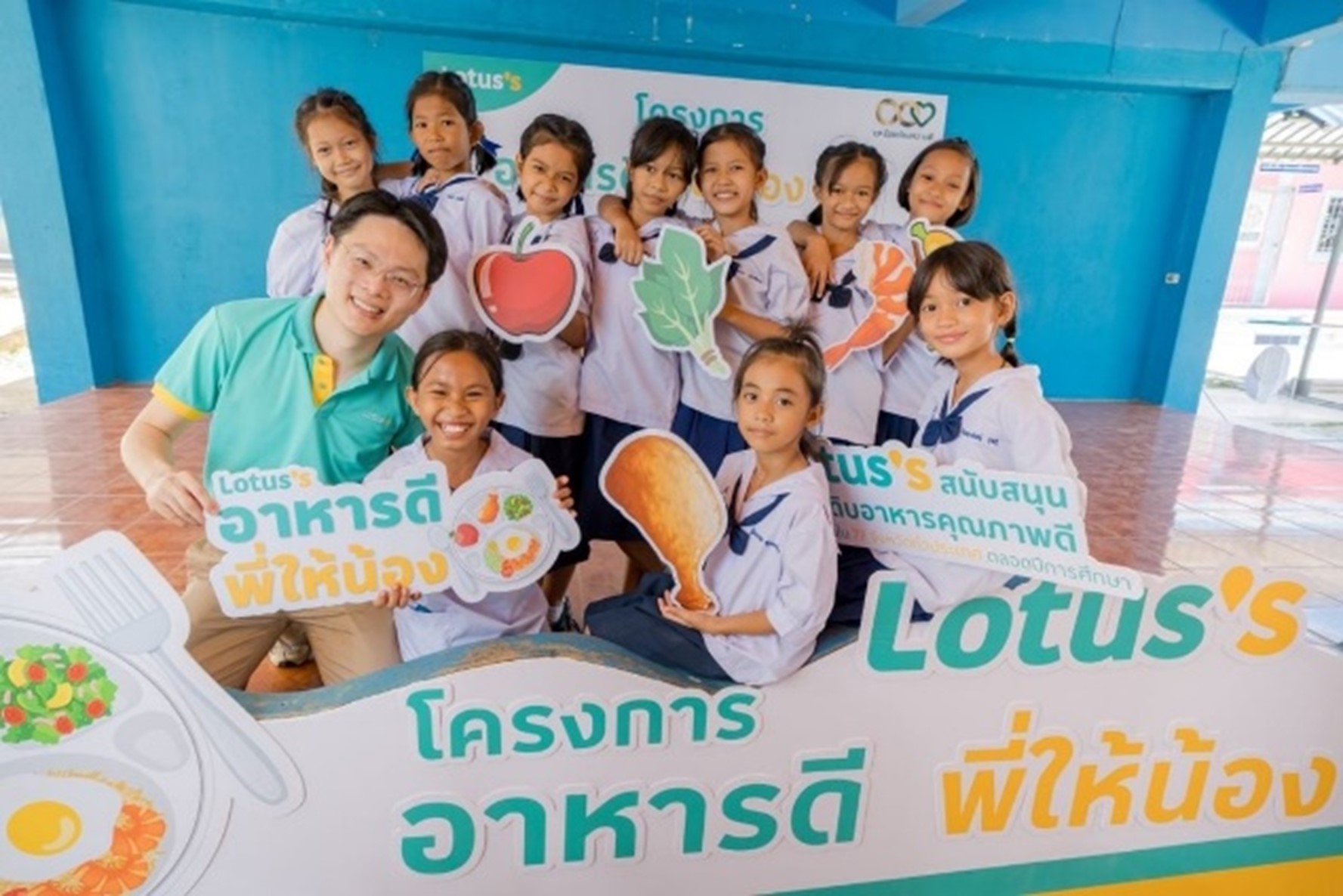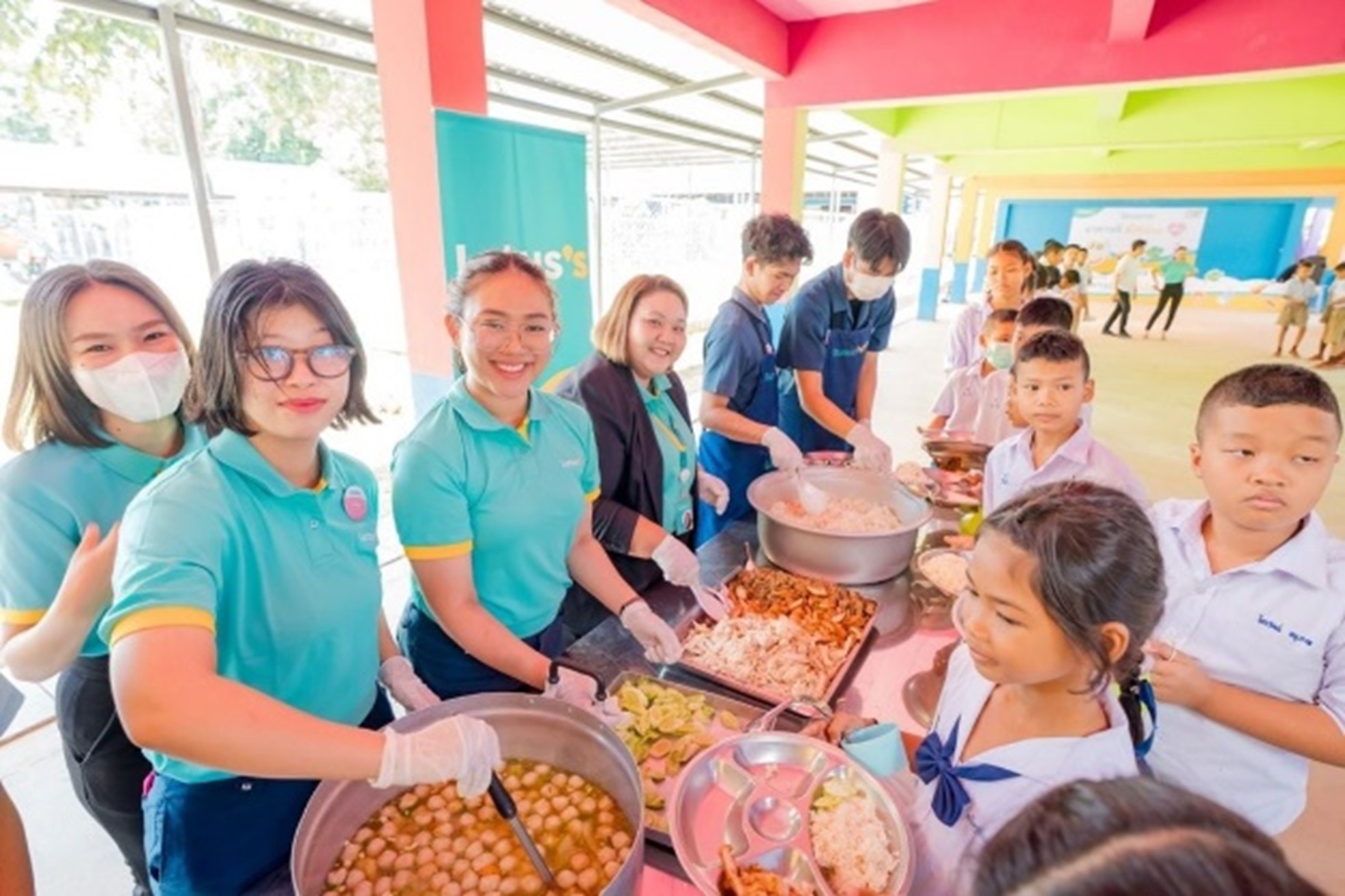 "Food for Those in Need" Project
One of Lotus's (a subsidiary of C.P. Group) commitments is to promote good health for Thai people through consuming of good, safe, and high-quality food.
"Food for Those in Need" project, is a project that Lotus's has organized for the sixth consecutive year to support quality raw materials for preparing lunches for students in schools with food shortages or with limited access to food in 77 provinces across the country. To promote access to good, nutritious, and safe according to nutritional principles. Currently, Lotus's has supported more than 700 schools, delivering good food to more than 66,000 students. This year, Lotus's will deliver food raw materials to students in more than 100 schools across the country. Throughout the academic year 2023.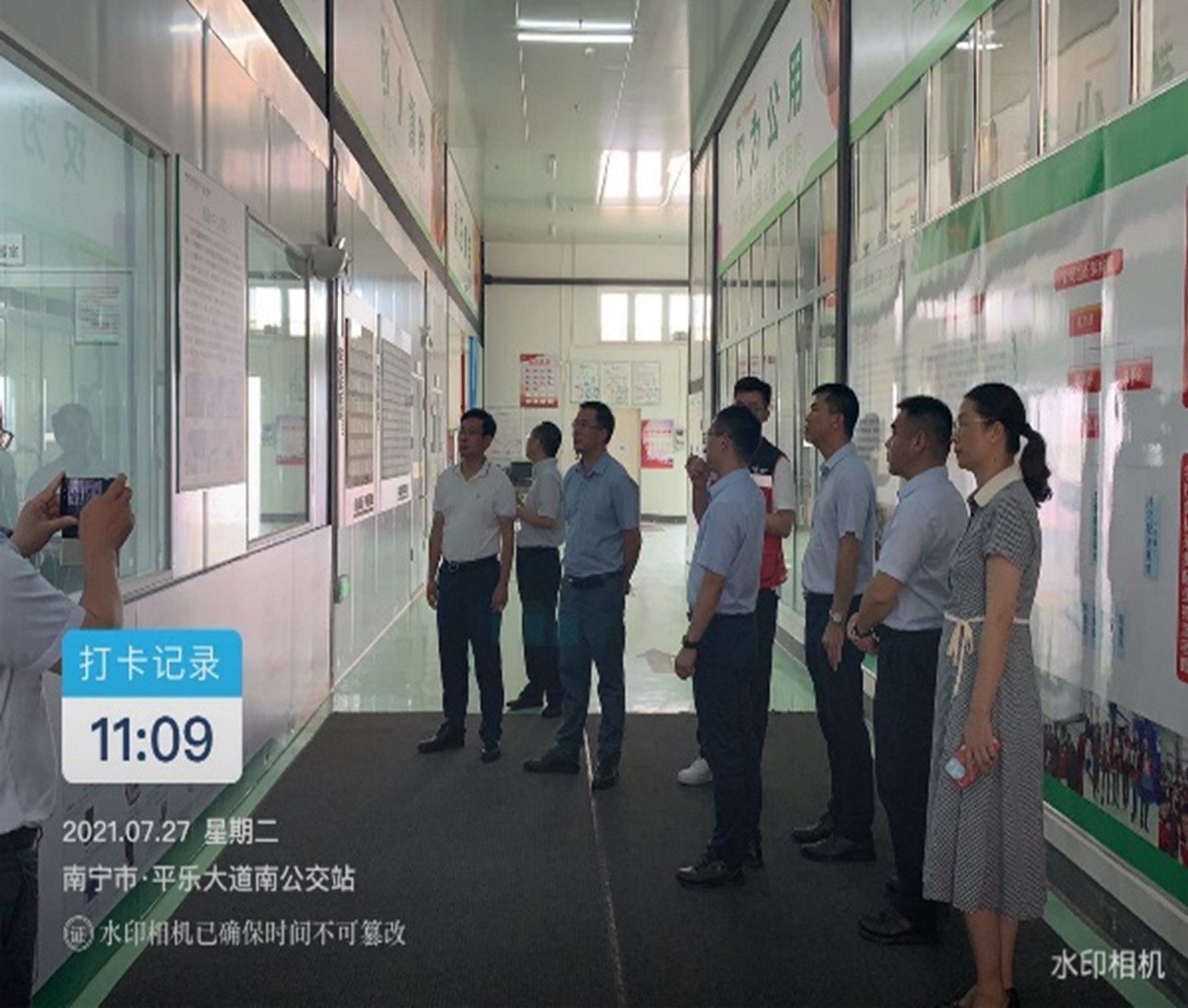 Collaborating efforts to enhance access to quality eggs in the education sector within their respective administrative districts, Guangxi Zhuang.
Chia Tai Egg Industry (Guangxi), in collaboration with Weiyao Supply Chain Management, is implementing a strategic partnership model 'Government + School + Organization' to promote food accessibility for students and teachers. This initiative aligns with the concept derived from China's National Food Safety Law, leading to the development of the 'Farm-to-Table Industrial Chain' approach. This partnership covers the Guangxi Zhuang Autonomous Region, aiming to ensure the provision of safe, high-quality eggs that can be traced back. This service extends to 443 schools, encompassing kindergarten, elementary, middle, and vocational schools, as well as universities in Nanning City, benefiting 380,000 students and teachers.
In addition, the Group has conducted projects and activities to promote hygienic consumption and nutritional principles as well as encouraged learning and skill development processes in food production in an effort to contribute to alleviating malnutrition.
Soil Health Management
Commitment to Promoting Soil Health Management
The Charoen Pokphand Group is aware that fertile soil is both the cornerstone of sustainable agriculture and a vital component to nourishing the planet. We are strongly devoted to advancing soil health management strategies that put environmental preservation first and raise agricultural productivity as a responsible global corporation.
We firmly believe that sustainable farming practices are key to maintaining soil health. We work to improve soil conditions, maintain soil fertility, and use less harmful substances through precision agriculture and responsible land management. We ensure that our agricultural operations continue to be environmentally friendly and contribute to a better ecosystem by placing a high priority on soil health.
To regenerate the soil, we as proponents of regenerative agriculture go beyond conventional farming practices. We actively encourage soil regeneration, carbon sequestration, and water retention through techniques including cover cropping, crop rotation, and decreased tillage. Our dedication to leaving a healthy environmental legacy for future generations is evidenced by our commitment to regenerative agriculture.
Effective management of soil health depends on having a clear understanding of the unique requirements of the soil. To evaluate nutrient levels and identify any concerns, we regularly test and analyze the soil. We adjust our farming operations and put in place targeted solutions based on this data-driven methodology to maximize soil health and nutrient balance.
Our dedication to soil health management is based on innovation. Our devoted research and development teams are always examining innovative agricultural practices and technological advancements that support soil sustainability and health. By continuing to lead the way in agricultural innovation, we support the global initiative to ensure a resilient and food-secure future.
"Field corn" project project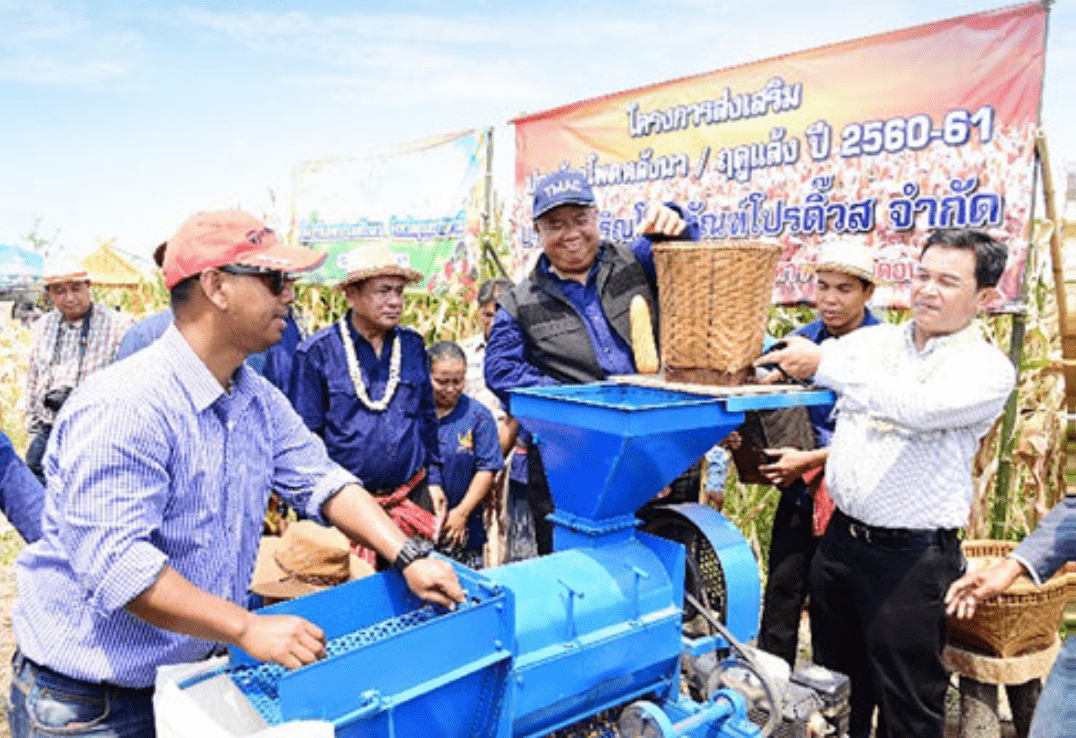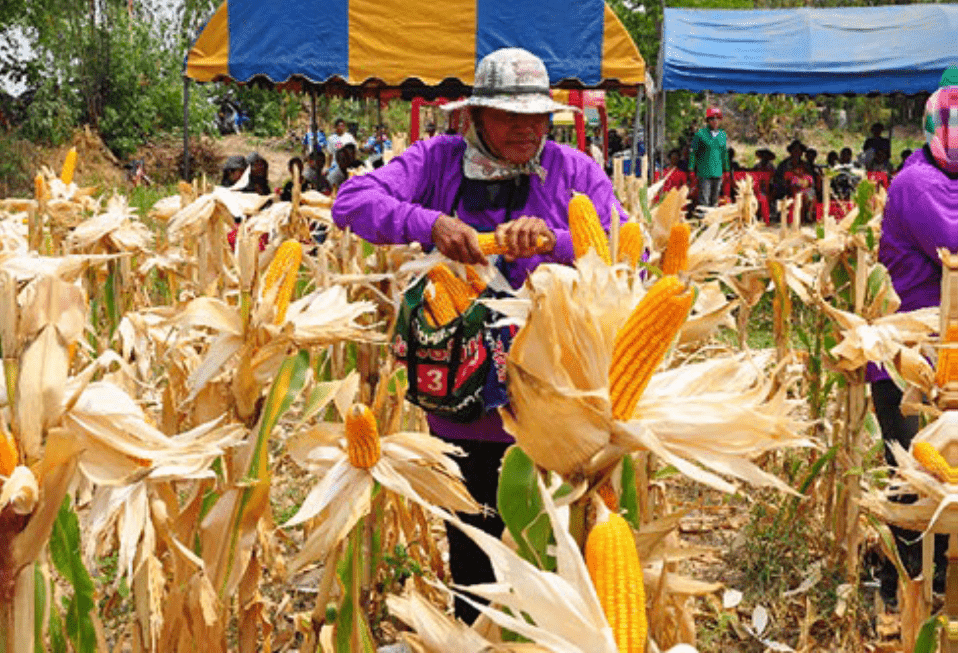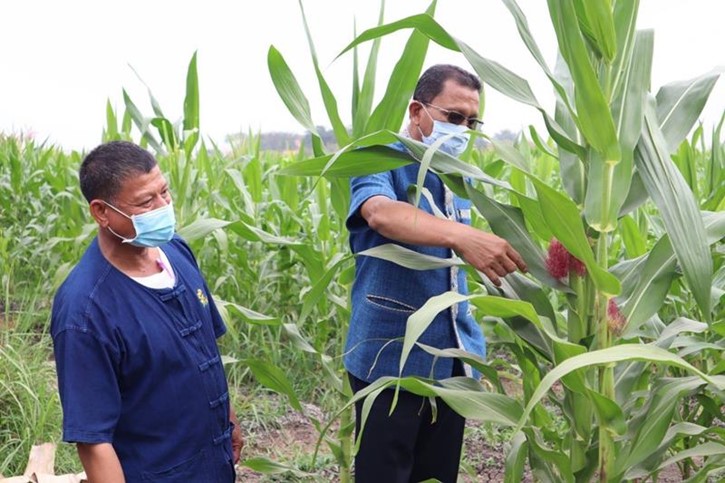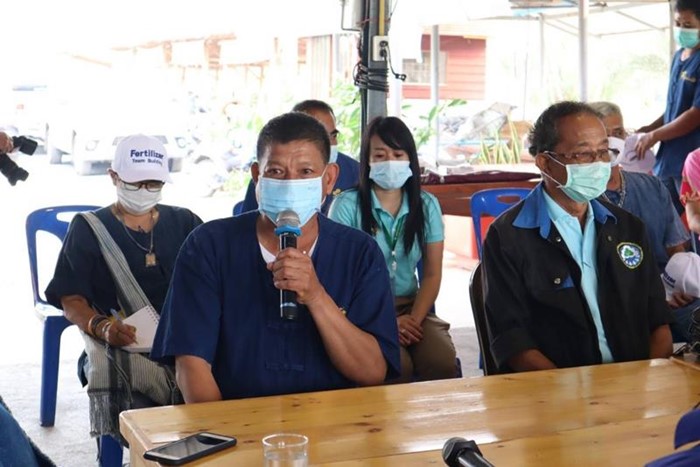 "Field corn" project project
Charoen Pokphand Produce Co., Ltd. has established a "Field corn project" in irrigated areas to generate stable income for farmers instead of paddy fields affected by drought and unstable price problems. Besides the shapely corn, there is a certain buying market and it uses less water for only one-third of the rice cultivation. The project commenced in 2017 in cooperation with the government to implement the Pracharat Power Project to support corn planting after the paddy season instead of the off-season rice. To solve the problem of oversupply of rice, slumping rice prices, and solving drought problems. As well as increasing the yield and distributing corn harvesting range in the country in line with the needs of the animal feed industry.
Pak Chan Subdistrict, Nakhon Luang District, as part of the promotion of planting crops that use less water instead of off-season rice farming. and do not burn the stubble but recycle it, such as using it to make fuel or making organic fertilizers to nourish the soil to reduce environmental impact. To transfer production knowledge from plot preparation, water management, use of organic fertilizers to improve the soil as well as the introduction of modern agricultural technology such as the use of drones for agriculture to increase production efficiency and generate income for farmers in the B2C area. Initially, there were 448 rai farmers participating in the pilot project in 2021.
Using organic fertilizers and organic-chemical fertilizers to improve soil structure, reduce costs of production and level up productivity

Using organic fertilizers and organic-chemical fertilizers to improve soil structure, reduce costs of production and level up productivity

It is a project to promote the use of properly formulated fertilizers, at the right time, at the correct rates, based on soil and plant analysis costs to achieve soil restructuring, increase yields, reduce costs, and increase the profit of farmers by the project's results. Reducing the cost of applying fertilizer in rice by 13.03% with the same output. This leads to an increase in profit of 572 baht/rai, reducing the cost of fertilizing in corn by 10% with the same output, resulting in an increase in profit of 1,000 baht/rai. Promote the use of fertilizers based on the analysis of soil and plants in the area.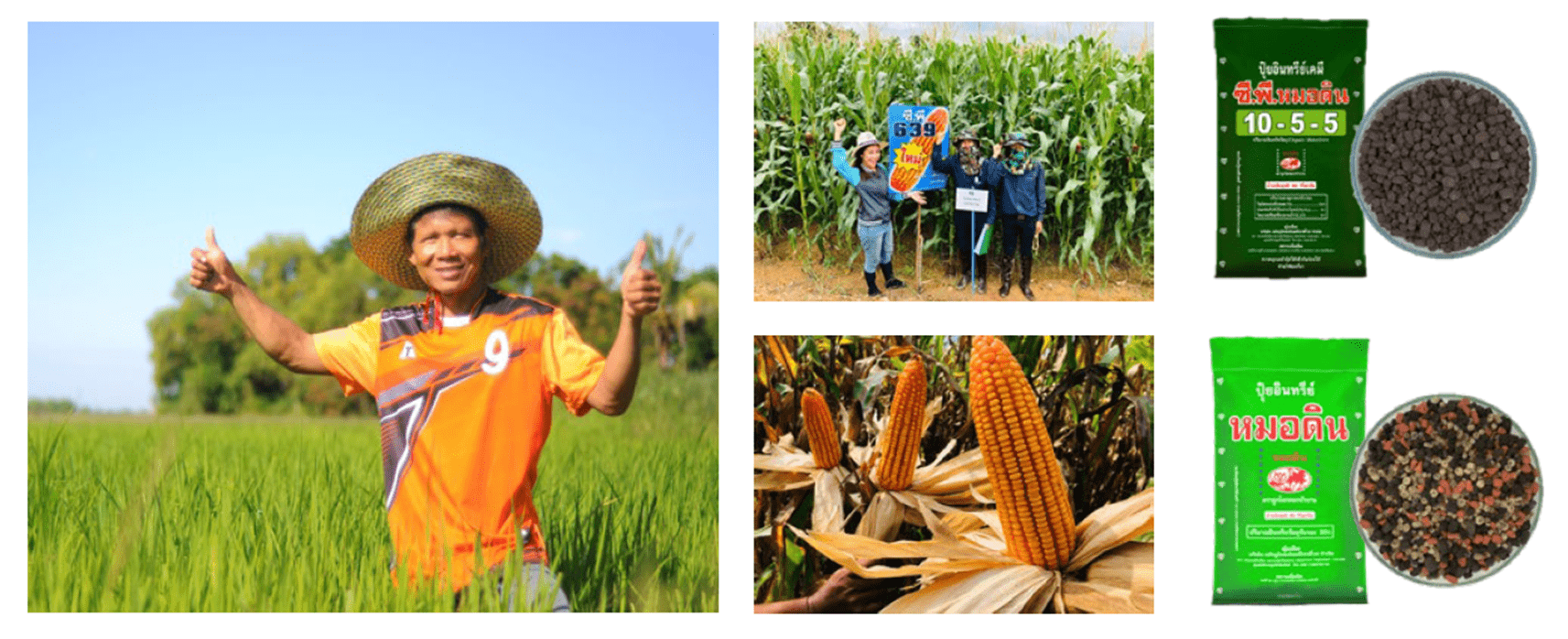 Promote the use of fertilizers based on soil and plant analysis
Test results
Fertilizer Cost

(Bath/rai)

Production

(Kg./rai)

Net Profit

(Bath/rai)

Farmer's practice
900
984
2,486

Cp Mordin

875
1,280
4,702
Note: Selling price at 7,400 baht/ton, MC 23% Cost of production, excludes fertilize cost of 3,895 bath/rai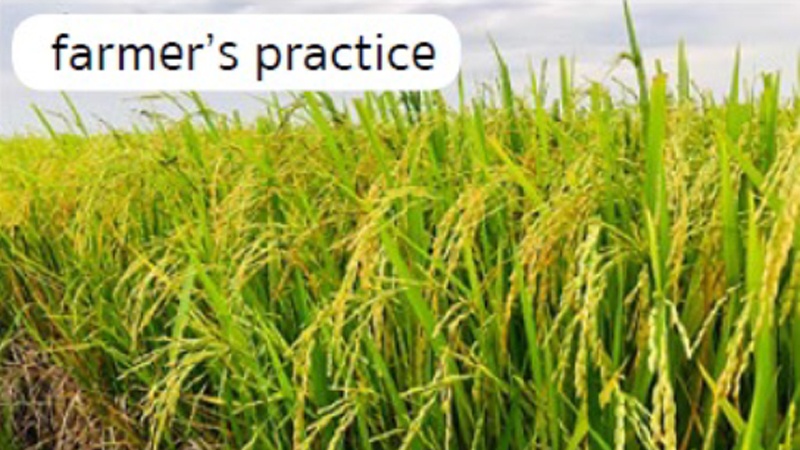 OM soil before planting
%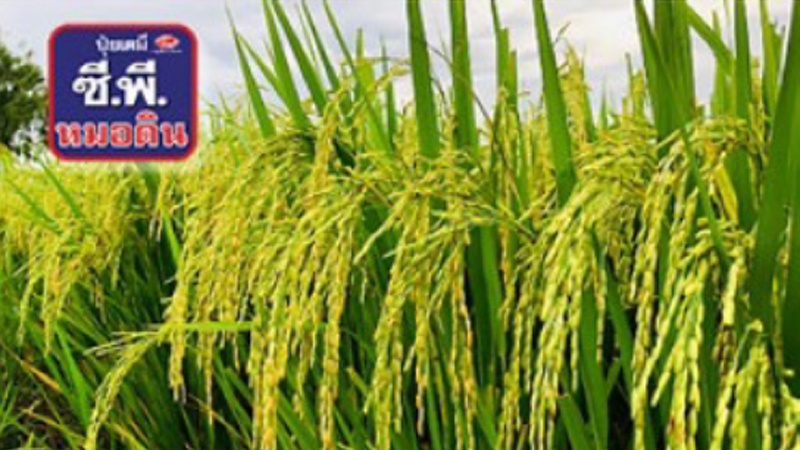 OM soil after planting
%
RESEARCH ON ORGANIC FERTILIZERS

RESEARCH ON ORGANIC FERTILIZERS

Charoen Pokphand Produce Co., Ltd., Research Team, Soil and Fertilizer Quality Assurance (Quality Assurance Department and develop organic fertilizer technology) to develop organic planting material Soil Plus to meet the needs of urban communities. The new generation who cares about health-conscious trends is becoming popular among consumers around the world, both in groups of urban communities, the new generation, including the elderly.

Especially during the COVID-19 outbreak situation, the awakening of precautionary measures Included promoting good health In order to allow urban communities that are limited in space. There is an option to grow vegetables in pots. Or a vertical kitchen garden for consumption in 2021, the integrated crop business group (maize) by the research team, Soil Quality Assurance and Fertilizer (Quality Assurance Department And develop organic fertilizer technology) Kham Pran Organic Fertilizer Factory, Wang Muang Subdistrict, Saraburi Province has developed organic planting materials or Soil Plus from quality agricultural industry materials. and suitable for plant growth, including coconut cob, corn cob, chopped corn Other organic and organic fertilizers.

Collect data and a comparative study of different types of planting materials To develop Soil Plus organic planting materials by selecting quality agricultural materials. from production sources that can be traced back There is also a heavy metal inspection process. and control the fermentation according to academic principles to control the temperature Humidity and increase oxygen to suit the growth of plants. The results of the test at 69 days of age from the seedling date showed that tomato plants and peppers grown in Soil Plus growing media increased 8.6 times and 10.9 times (respectively), which was the best height growth. compared to other planting materials It has also been tested in conjunction with various groups of green farms such as organic vegetables. and safe vegetables, melon growers group It was found that the results were satisfactory because, in addition to Soil Plus being lightweight, friable, and absorbing water better than other planting materials. It also has a pH value between 6.5-7.5, suitable for plant growth as well. For the next operation, Research Department, Soil Quality Assurance and Fertilizer The Kampran Organic Fertilizer Factory is in the process of developing organic planting material formulas for medicinal plants such as hemp, and marijuana, which is a group of producers who want quality organic planting materials.