Goal and Performance
Charoen Pokphand Group is dedicated to fostering deep and meaningful connections with all of our key stakeholders. Building trust, transparency, and mutual understanding with customers, employees, suppliers, investors, communities, and other key stakeholders is the Group's purpose in terms of stakeholder engagement. The Group aspires to solve client issues, take into account feedback, and work together to create shared value in order to support the sustainable growth of the communities in which we operate.
%
stakeholder engagement score based on surveys conducted by all business groups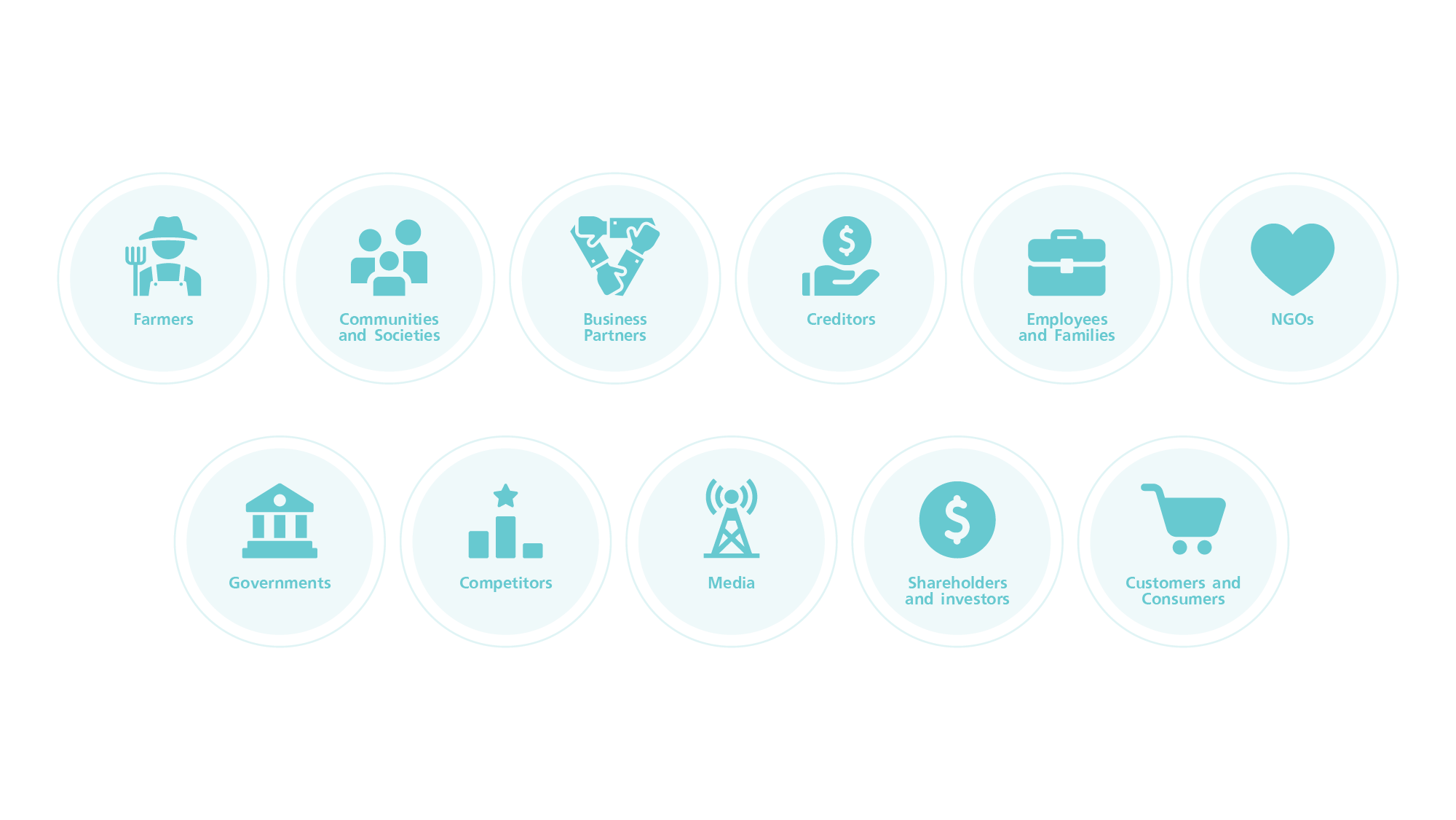 Stakeholders Directly Impacted
Charoen Pokphand Group performs stakeholder assessment and prioritization process on an annual basis to evaluate impacts we have on them and how can they influence our strategies and actions over time. In 2022, the evaluation results showed that our commitment to stakeholder engagement creates impacts on all stakeholder groups.
---
More Details on Stakeholder Engagement Report 2022
Our Impact by the Numbers
Stakeholder Engagement Management Approach
With a firm commitment to maintaining a balance in creating value, worth, and good relationships with all stakeholder groups, Charoen Pokphand group has communicated and conducted a Stakeholder Perception Survey across all regions of the world where our production bases and businesses are located. This is to ensure that our stakeholder engagement efforts are in line with universal standards and can be applied across all business groups. The Group has implemented the AA1000 Stakeholder Engagement Standard as a guideline in developing engagement plans and effective communication mechanisms, from the preparation of sufficient information and personnel for field operations, and key data analysis, through to reporting and follow-up.
In addition, the Group has collaborated with a variety of partners to exchange knowledge and experience by jointly driving sustainability through communications, activities, and projects that produce broad results while sustainably creating value for society and the country.
Stakeholder Engagement Process
At Charoen Pokphand Group, we recognize that our success is deeply intertwined with the well-being of our stakeholders, including employees, customers, investors, suppliers, communities, and the environment. We are committed to fostering strong and meaningful relationships with all those who are impacted by our business operations. To achieve this, we have implemented a robust stakeholder engagement process that ensures their voices are heard, and their concerns and expectations are addressed.
The Process to Prioritize Stakeholders
Our stakeholder engagement process involves a systematic approach to identifying, assessing, and prioritizing key stakeholders. We understand that not all stakeholders have the same level of influence or impact on our organization. Therefore, we employ the following steps to prioritize them effectively: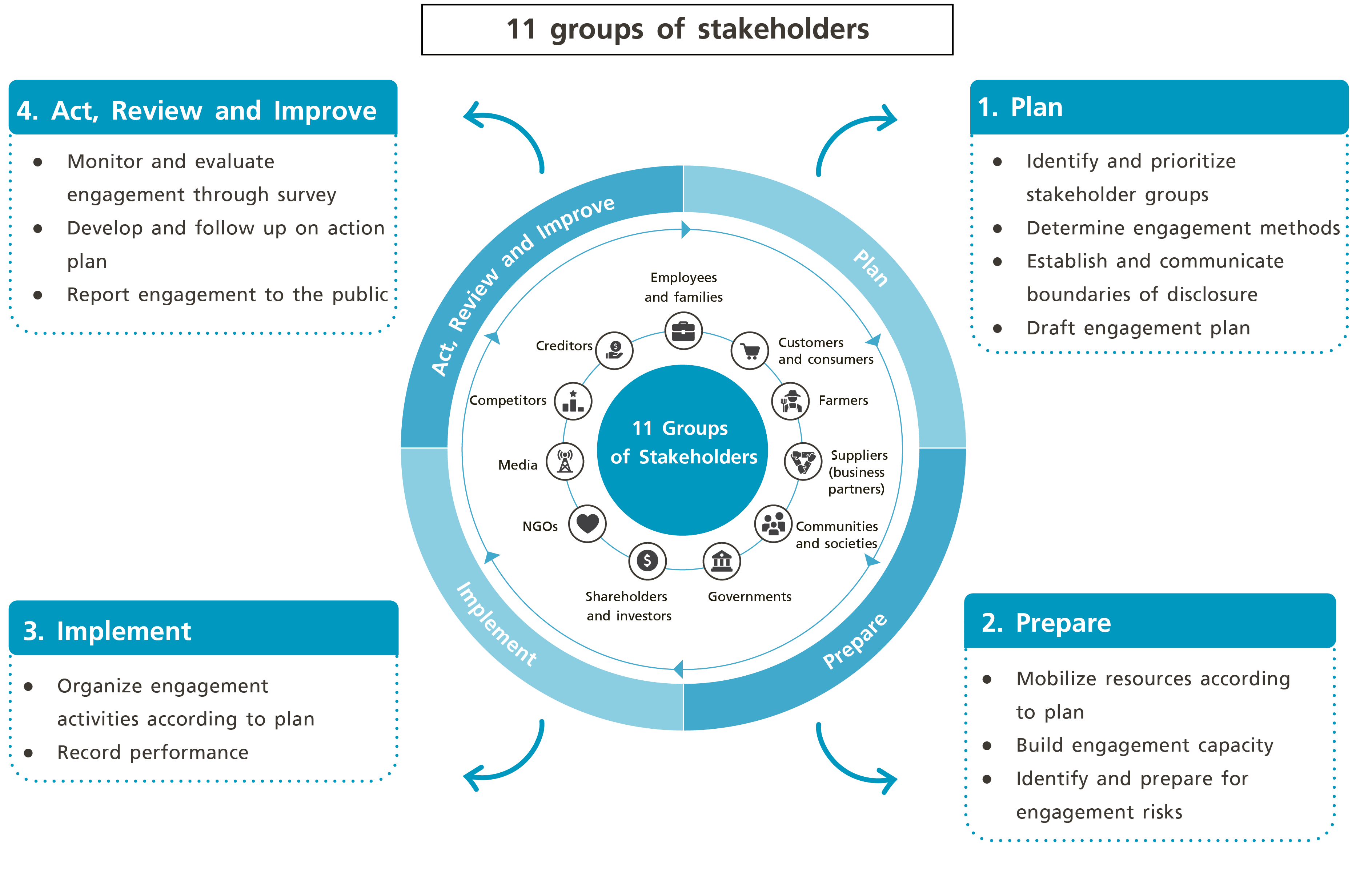 Results from the Stakeholder Survey
As part of our commitment to stakeholder engagement, C.P. Group conducts regular surveys to gather feedback and insights directly from our stakeholders. These surveys are designed to assess their perceptions, expectations, and overall satisfaction with our business practices. The results from the most recent stakeholder survey have been instrumental in shaping our strategies and decision-making processes.
Key findings from the stakeholder survey include:
Overrall Engagement Result 80%
To clearly demonstrate C.P. Group's commitment to responding to customers' satisfaction, we also conduct customer satisfaction surveys on an annual basis. The results of the survey are used to improve our services and products to meet customers' everchanging requirements.
Customer Satisfaction
Target 2022 : 93%
Cooperation for Sustainable Development
Charoen Pokphand Group is committed to building cooperation with domestic and international partners from all sectors to mutually drive development with sustainability.
United Nations Global Compact (UNGC)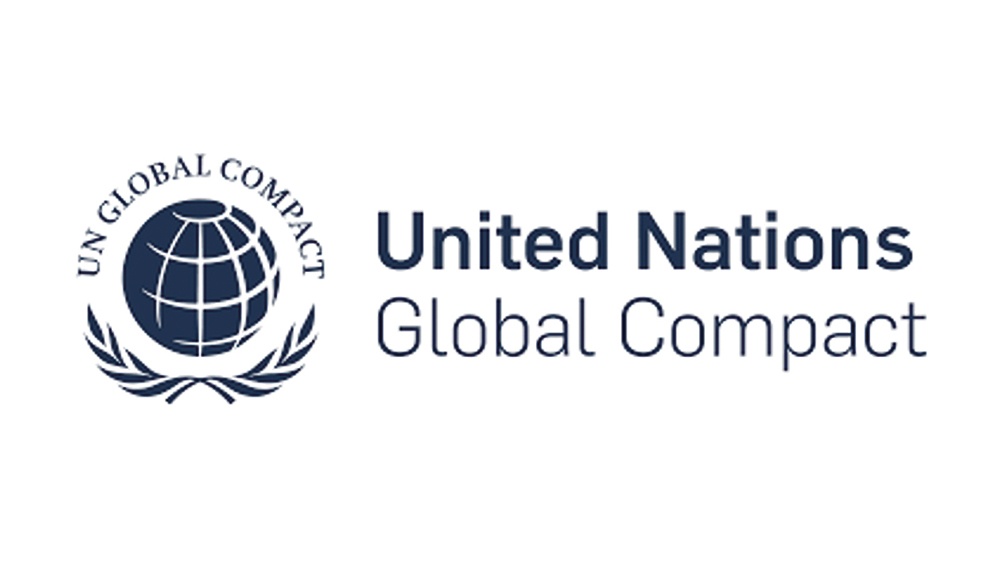 Main Objective
UNGC is an the United Nations' initiative that aims to encourage companies around the world to become more sustainable and socially responsible. The principles of UNGC cover issues on human rights, labor, environment and anti-corruption.
Charoen Pokphand Group's Collaborative Approach
The Group participated in two UNGC Action Platforms, namely Decent Work in Global Supply Chains and Climate Change Impacts on Health. Furthermore, the Group is also the founding member of the Global Compact Network Thailand (GCNT) which aims further disseminate the principles of the UNGC.
The World Business Council for Sustainable Development (WBCSD)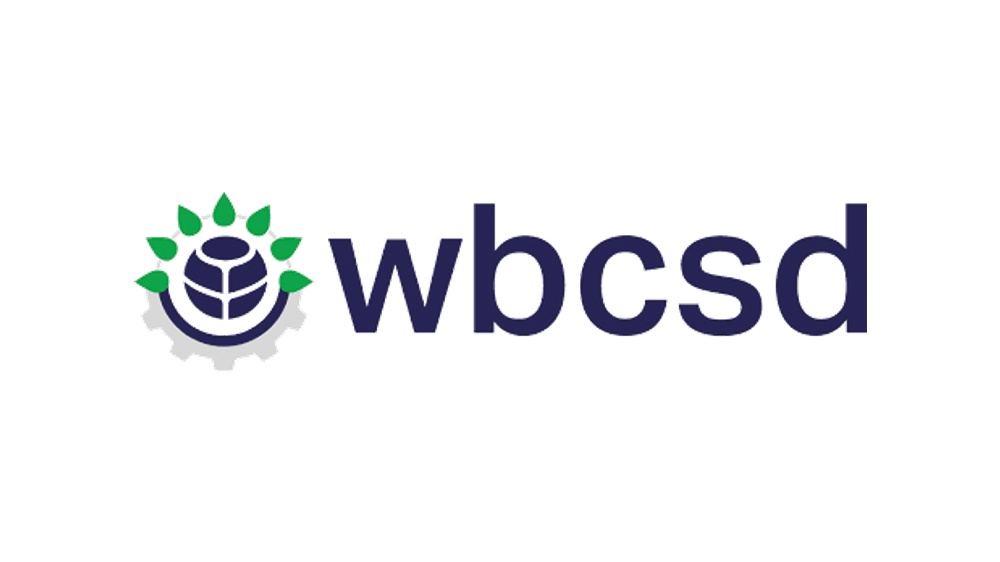 Main Objective
WBCSD's primary objective is to promote sustainable business practices with emphasis on three main goals, which are mobilizing the business sector to focus on addressing the problem of inequality, building cooperation to identify problems and build collaboration for corrective actions, and creating a platform to exchange opinions and formally address the issue of inequality.
Charoen Pokphand Group's Collaborative Approach
To be a part of the global community in advancing towards a society by incorporating the three dimension of sustainable development, namely economic, social and environmental. The Group also joined The Business Commission to Tackle Inequality (BCTI) and the Food Reform for Sustainability and Health (FReSH).
World Economic Forum (WEF)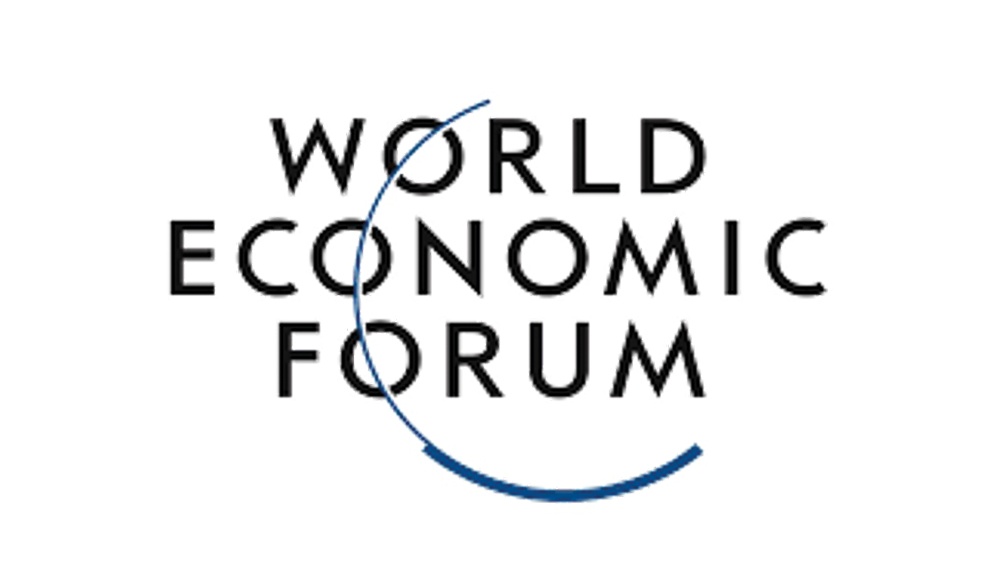 Main Objective
WEF is an international organization focusing on activities to suggest directions for economic, social and developmental policy-making at the national and global levels through a network of political, business and civil society leaders.
Charoen Pokphand Group's Collaborative Approach
To share and exchange knowledge and strategies on the topics of global economic direction, business strategy, digital technology development, and various aspects of sustainable development, especially the economic development of countries where the Group operates in order to increase access to essential resources and reduce social inequality.
Global Compact Network Thailand (GCNT)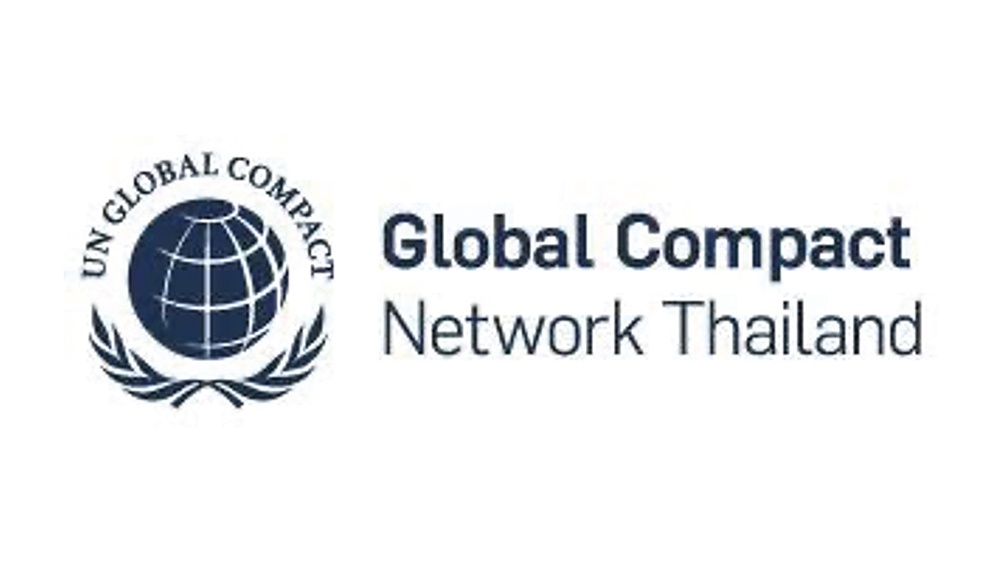 Main Objective
GCNT was founded to bring sustainable practices to Thai businesses and stakeholders. Its work focuses on advancing the accomplishment of UN and SDG goals, with an emphasis on partnership development and innovation development.
Charoen Pokphand Group's Collaborative Approach
To be a member of Thailand's private sector in moving our society toward attaining the SDGs and to serve as a hub for mixing ideas and practices in order to create a more unified society.
Connext ED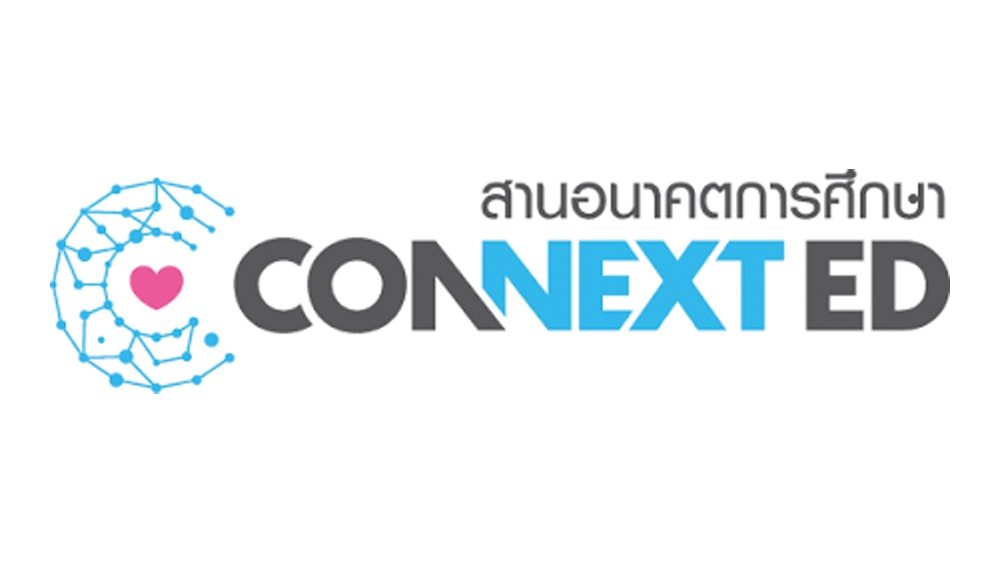 Main Objective
Connext ED is a collaborative project between the government, private and public sectors in driving Thailand's education system to meet international standards and jointly build the foundation for the country's sustainable development.
Charoen Pokphand Group's Collaborative Approach
To collaboratively drive and raise the standards of basic education and leadership development, increase competitiveness and reduce inequality for people in the society sustainably through education which is considered the foundation of national development.
Digital Council of Thailand (DCT)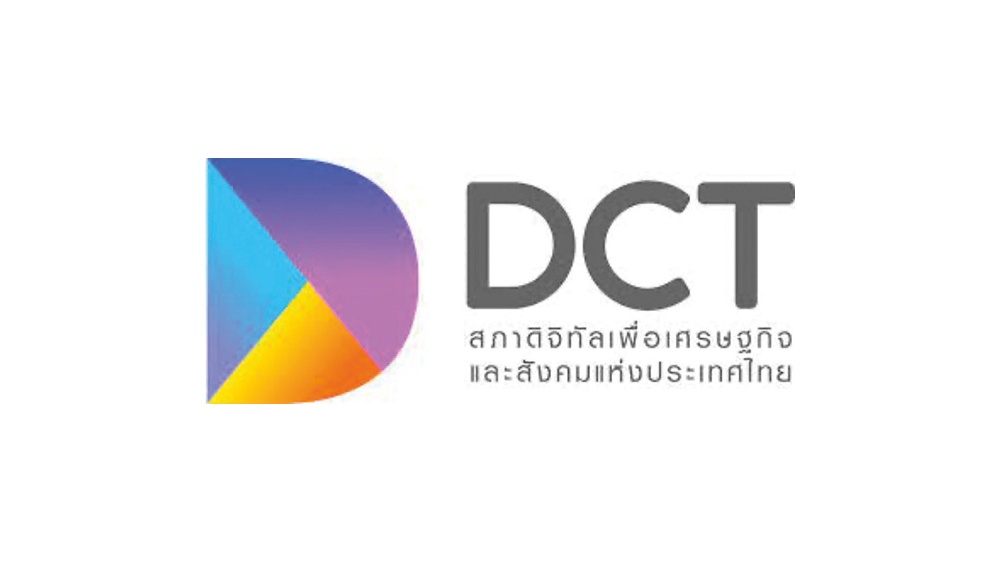 Main Objective
DCT was established to call for collaboration between public, private and people in the development of digital competitiveness, and upskill digital skill for human resources, to drive a sustainable development for the country.
Charoen Pokphand Group's Collaborative Approach
To work together to create a digital platform that can harness the power of ideas from both the business and public sectors. Ready to collaborate with the government to advance technology and Industry 4.0, which will benefit businesses. Capability to adapt to change and become the country's technological leader.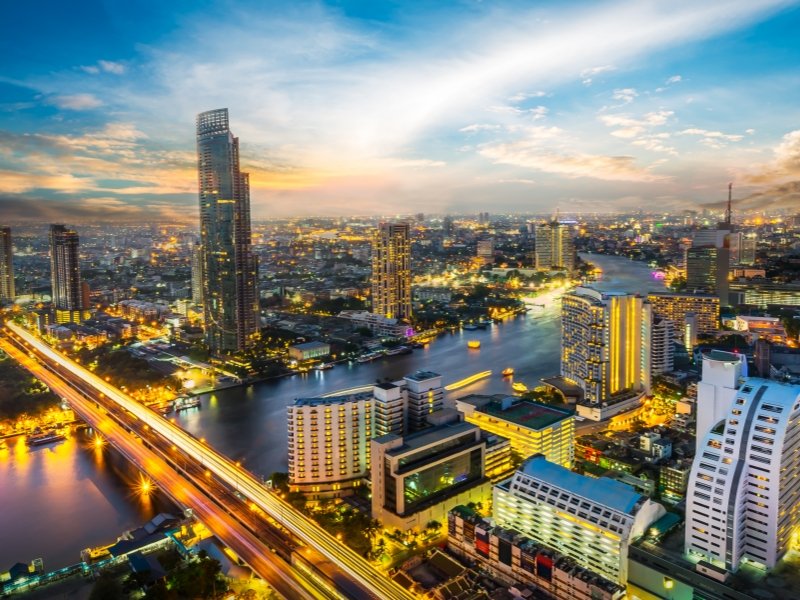 Contribution to Organizations
We at the Charoen Pokphand Group are determined that companies should remain neutral and nonpartisan in matters of politics. As part of our commitment to operating in an ethical and responsible manner, we refrain from engaging in any political-related groups or activities that would jeopardize our impartiality or integrity.
We are aware that the political landscape may be complex and ever-changing, with a wide range of groups and causes looking to corporations for funding. While we acknowledge that people and organizations have the right to participate in politics, we firmly think that our top priorities should be providing value to our stakeholders and making a positive impact on society. As a result, C.P. Group does not support, finance, or affiliate itself with any political parties, candidates, or groups.
The Process to Participate or Join Organizations
While the Charoen Pokphand Group does not engage in politics, we do actively participate in a number of non-political organizations and projects that are consistent with our fundamental principles and further societal improvement. The following guidelines serve as a guide for our participation in or affiliation with organizations:
Alignment with Core Values: Before engaging with any organization, we carefully assess its mission, values, and objectives to ensure they are in harmony with our own commitment to sustainability, ethics, and corporate responsibility.
Social Impact and Sustainability: We prioritize organizations that focus on social impact, environmental sustainability, and community development. With current concerns at the worldwide level, organizations with objectives toward climate change adaptation, as well as aligning their target and action plan in accordance with Paris Agreement will highly be considered for participation. By joining such initiatives, we aim to create a positive and lasting difference in the regions where we operate.
Transparency and Accountability: We value transparency in all our interactions. Before partnering with any organization, we conduct thorough due diligence to ensure their operations are transparent, and their impact is measurable and accountable.
Collaborative Approach: We believe in the power of collaboration. We actively seek opportunities to work with reputable non-governmental organizations (NGOs), industry associations, and other stakeholders to address shared challenges and achieve collective goals.
Employee Involvement: Our employees play a vital role in shaping our engagement with external organizations. We encourage and support employee involvement in volunteering and community service activities that resonate with our values.
The guideline for participation will be reviewed annually, as well as alignment between the Group's objectives and those of participating organizations. This is to ensure that there will be no misalignment occurring throughout the year.
In the case where C.P. Group found a misalignment between the Group's objectives and those of participating organizations, the Group will request a discussion to create a mutual understanding and demonstrate the Group's objectives. The organizations will be given a specific time period to revise its objectives and action plans, as agreed during the discussion. If the organization could not meet our requirements within the specific time, then the Group with withdraw our contribution and participation with such organization.
Organizations Contribution
Contribution (THB)
2019
2020
2021
2022
Lobbyists/interest representation or similar
0
0
0
0
Local, regional, or national political campaigns/organizations/candidates
0
0
0
0
Trade associations / Tax-exempt groups
21,136,678
19,504,713
21,757,694
32,775,621
Others
0
0
0
0
Total Contribution
21,136,678
19,504,713
21,757,694
32,775,621
List of Trade Associations / Tax-exempt Groups
For the past few years, Charoen Pokphand Group has been providing monetary contributions to trade associations and tax-exempt groups that have similar objectives to the Group, especially in the areas of the Group's Sustainability Frameworks and Goals. The focus topics include environmental protection, biodiversity and ecosystem services, education promotion, and food security for society. The Group continuously monitors the action plans and work results performed by the trade associations and tax-exempt groups in which the Group participates. As of the end of 2022, the Group did not evidently find there is any misalignment between the Group's objectives and those of trade associations and tax-exempt groups.
The below table shows the top four organizations with the highest contributions. In addition to the mentioned four organizations, C.P. Group has also been working with various organizations, both nationally and internationally, to transparently drive sustainable development and also to support the achievement of our sustainability goals.
| Name of Trade Association / Tax-exempt Group | Contribution Amount (THB) |
| --- | --- |
| World Economic Forum (WEF) | 11,876,650 |
| World Business Council for Sustainable Development (WBCSD) | 4,834,506 |
| Global Compact Network Thailand (GCNT) | 9,165,143 |
| One Young World | 6,899,321 |
| Total | 32,775,621 |
Main Issues of Interest
Climate Protection

With our strong commitment to reducing the environmental impacts from our operations, C.P. Group has been joining a climate protection-related organization to demonstrate the Group's actions toward protecting the environment and influencing our suppliers in the upstream to adopt the change. Becoming a member of climate protection-related organizations or participating in specific working groups would showcase the group's commitment to sustainability, attracting eco-conscious stakeholders and enhancing our reputation. In addition to the showcasing of our practices toward protecting the climate, the Group also finds it as an opportunity to learn and access resources and expertise from the organization, which would accelerate C.P. Group's adoption of eco-friendly practices and facilitate partnerships with other firms.

Total Spend in 2022: 13,999,649 THB
Shaping Sustainable Society

C.P. Group has joined organizations, both in national and international organizations, that aim to shape a sustainable society through the implementation of 3 sustainability pillars. In the digitalization era, it is crucial to provide knowledge and development skills for people, this is to ensure that no one will be left behind by the fast-moving technology. In addition to the people's development, protecting and conserving the quality of the environment so that all people will have equal access to clean air and water, as well as sufficient resources for living is another topic that the Group is focusing on and has been working with organizations to improve quality of life. For instance, we have provided internet access to children, youth, and vulnerable groups who live in remote areas, so that they can access news and information. The Group has been researching and developing new products and services that will improve quality of life, such as healthier products that enhance physical and mental health. Moreover, sustainable products have been developed to reduce the consumption of limited natural resources, while maintaining the highest standards.

Total Spend in 2022: 27,941,114 THB