2030 Goals and Performance
%
of sales volume of B2B and B2C products and services promote health and/or well-being
Management Approach
At present, the health of the world's population remains an issue of global attention and calls for cooperation to find solutions to the problem. At the same time, there is significant increase in the demand for eco-friendly and consumer friendly products. As leader in the agro-industry and food, retail, and pharmaceutical businesses, Charoen Pokphand Group places importance in the development of products that meet the diverse needs of consumers as well as product stewardship obligations.
Therefore, the Group is determined to research and develop products by implementing international management standards, controls and testing across the value chain in order to promote knowledge and good nutrition widely in the society. In doing so, the Group implements the 4Ps principle which focuses on developing people, developing processes in accordance with international standards, developing products that promote health and well-being, and promoting health.
In view of the above management approach, Charoen Pokphand Group recognizes that effective quality management across the board is one means of enhancing the efficiency of production processes and maintaining product quality. For this reason, the Group has integrated both national and international standards on animal welfare into our business operations. Additionally, in order to establish stakeholder confidence, the Group has strictly followed such standards and held trainings to provide knowledge to our employees in an effort to enhance their knowledge and understanding of these standards, including enabling their effective compliance to the requirements. Furthermore, regular audits have also been performed on the Group's production processes by a reputable third party to verify that they are consistent with relevant standards.
Promoting Good Health and Well-being
As a leading company in the agro-industry and food, retail, and pharmaceuticals businesses, Charoen Pokphand Group holds it one of our core missions to promote good health and well-being for people of all genders, ages and status through our products and services. For this reason, the Group has centered our focus on various aspects of capacity development, such as developing personnel to enhance their knowledge, ability and expertise in creating new goods, products and services that can proactively respond to the needs of customers and consumers, developing production processes and complying with international standards to achieve quality and safe goods, products and services for users and consumers, developing products that enhance the health and well-being of consumers, and promoting health through transparent and complete communication of product information.
Developing People
Developing People
Recognizing the importance of safe and high-quality food, Charoen Pokphand Group has thus formulated operational strategies for food quality and safety. At the same time, the Group has required that personnel development take place regularly in order to instill a culture and good attitude in food quality and safety in our workforce. The Group had initially launched the "Cultivating a Food Safety Culture" project in the broiler export business and has further plans to extend its implementation to all our business lines.
Developing Processes
Developing Processes
Charoen Pokphand Group has implemented an upstream to downstream quality management system. The Group has also adopted both Thai and international standards relating to quality and animal welfare. Furthermore, independent external agencies have been assigned to audit and certify our internal quality management system in an effort to ensure stakeholders that our production processes and services are in compliance with rules, regulations and laws. We have also held trainings for our personnel to offer them knowledge and understanding of such standards for increased efficiency in their operations.
Quality
ISO 9001
ISO 9001 : Quality Management Systems
ISO 22000
ISO 22000 : Food Safety Management System
ISO/IEC 17025
ISO/IEC 17025 : General requirements for the competence of testing and calibration laboratories
GMP
Good Manufacturing Practices (GMP)
HACCP
Hazard Analysis and Critical Control Point (HACCP)
GAP
Good Agricultural Practices (GAP)
GAP กรมประมง
Good Aquaculture Practice (Department of Fisheries)
CoC กรมประมง
Department of Fisheries Code of Conduct (COC) : Environmental management system for sustainable shrimp farming
BAP
Best Aquaculture Practices (BAP) : United States
Global G.A.P.
Global Good Agricultural Practices (Global G.A.P.) : Standard of European retailer on agricultural production
Green Industry Standards (Level 5 - Green Network)
Green Industry Standards (Level 5 - Green Network) : Ministry of Industry
AI Compartment
AI Compartment (Avian Infl uenza Compartment) AI Compartment is an Avian Infl uenza Compartment standard used in poultry, established by the Department of Livestock Development
FAMI QS
FAMI QS (Feed Additives and Pre-Mixtures Quality System) : FAMI QS is referred to Feed Additives and Pre-Mixtures Quality System.
BRC
British Retail Consortium (BRC) : Standard on food safety management of retail business in the United Kingdom
IFS
International Food Standard (IFS) : International food standards for safe food production
QS
QS Quality Scheme for Food (QS) : Standard of Germany on quality and safety food production throughout the production chain
CEN TS 16555
CEN TS 16555 : Innovation Management System
IFFO RS CoC
International Fishmeal and Fish oil Organization Responsible Supply Chain of Custody (IFFO RS CoC) - Standard on sustainable use of fishmeal
NSF
NSF International (National Sanitation Foundation)
SQF Level 3
Safe Quality Food (SQF Level 3)
Halal
Halal : Customer specific standard to certify that food products have been produced according to the Muslim's regulations
QAI
Quality Assurance International (QAI)
FSSC 22000
International Food Safety Standards of FSSC 22000
CAS (Taiwan)
CAS (Taiwan Premium Agricultural Products) – Taiwan
Animal Welfare
Animal Welfare Standard, the European Union
Animal Welfare Standard, the European Union
Genesis Standards
Genesis Standards : United Kingdom
ALO
Agricultural Labelling Ordinance (ALO) : Switzerland
Striving for a Quality Production Process
Striving for a Quality Production Process
C.P. Vietnam Corporation has inaugurated the CPV Food Binh Phuoc Factory Complex in Bin Phuoc province in the South of Vietnam. The complex is the first fully integrated chicken breeding and processing project in Vietnam, covering animal feed, farms, and processed food for export. The complex is the largest and most advanced facility of its kind in Southeast Asia. It targets to produce 50 million broilers/year in phase 1 (2019-2023) and will double its production capacity to 100 million broilers/year in phase 2 (after 2023). All products manufactured from this complex are traceable throughout the entire supply chain. The complex's operations are eco-friendly and comply with globally recognized animal welfare principles. Phase 1 of the project has been implemented in six localities in Bin Phuoc province. All six localities have been recognized by the World Organization for Animal Health (OIE) as the first disease-free zone in Vietnam. In each locality, a system of barns has been built for safe production from Avian Influenza and Cholera according to the World Veterinary Association's standards. The company also emphasizes on the use of advanced technology, a production and processing system that is safe, disease-free and eco-friendly, and the application of 4.0 technology, artificial intelligence (AI), and big data, etc., in livestock control and management. These technologies will increase productivity and product quality, build competitiveness, and contribute to sustainable livestock development.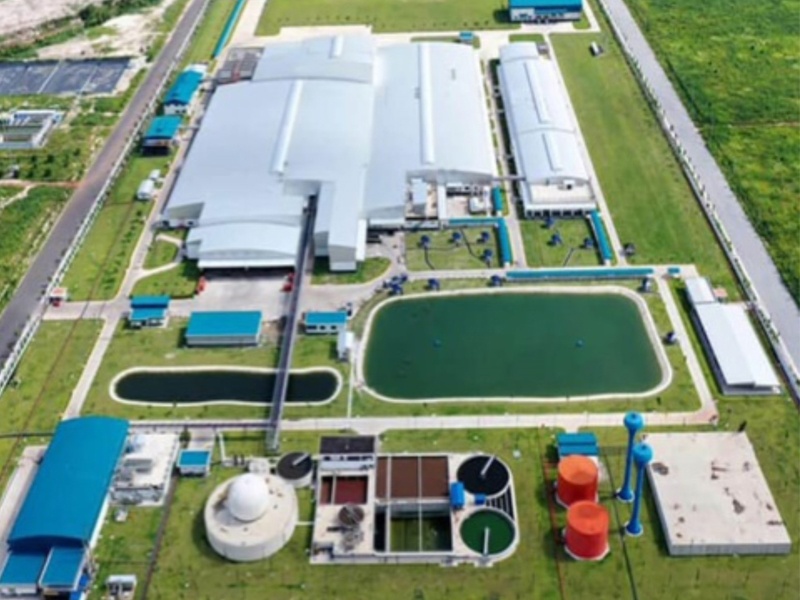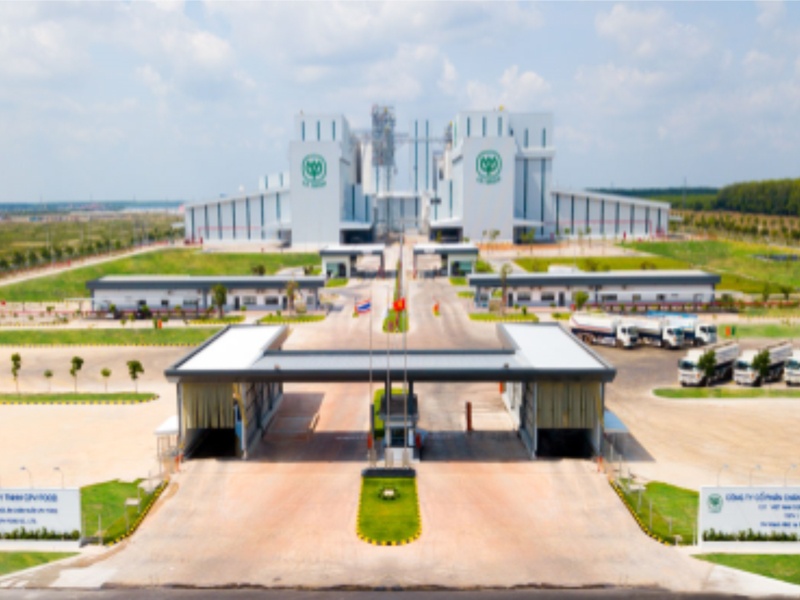 Developing Products that Promote Health and Well-being
Developing Products that Promote Health and Well-being
Charoen Pokphand Group strives to develop nutritious food that is suitable for the needs of all genders and ages. We are well aware that nutrient-rich food is the key factor in promoting good health for the people. In addition, the Group takes environmental issues into consideration in the process of innovating new food products to contribute to reducing environmental impacts while promoting the responsible use of resources.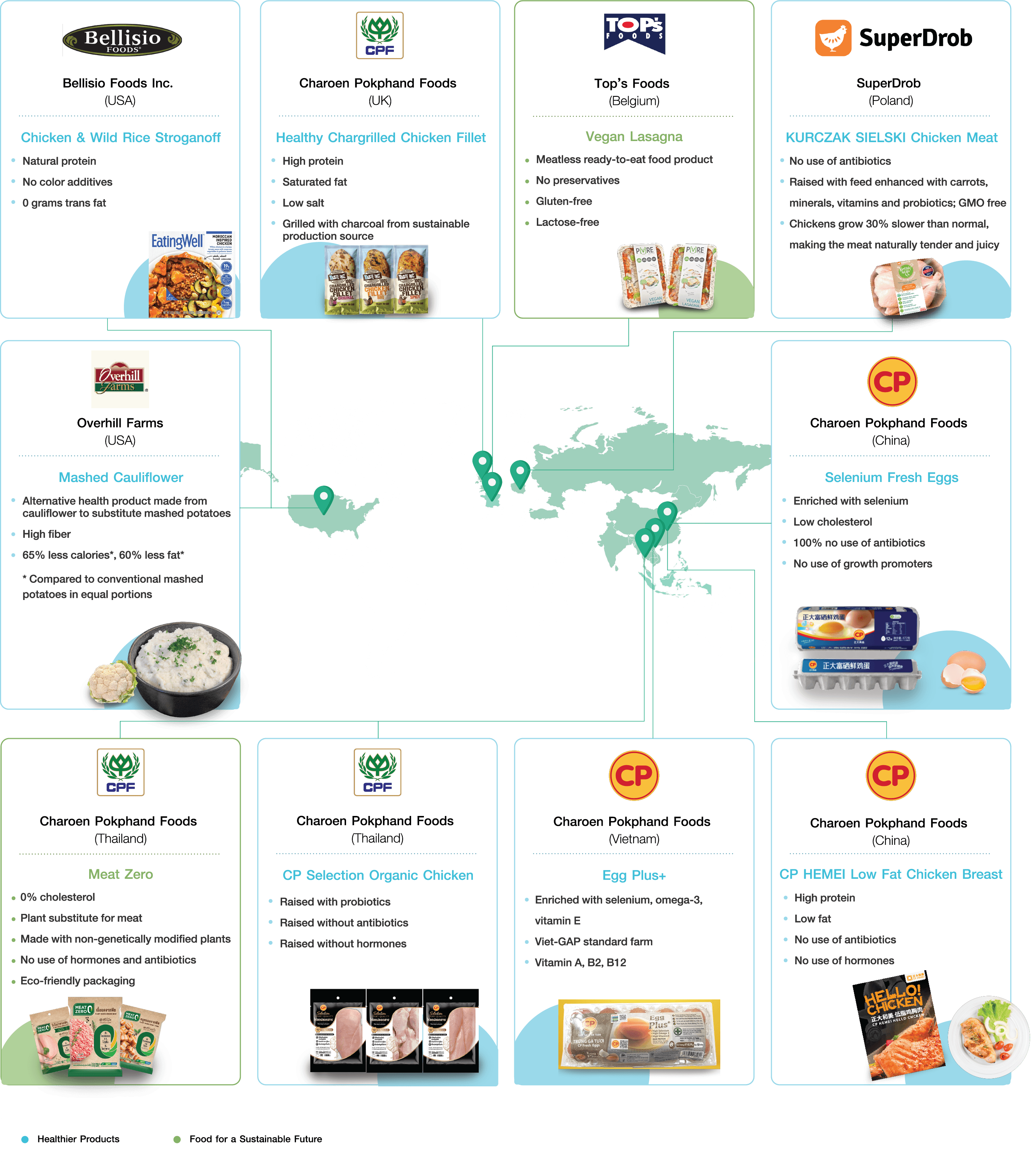 Example of the Products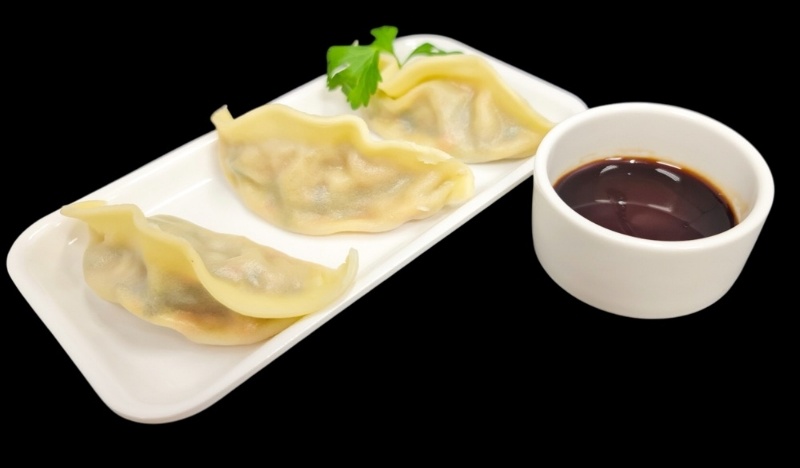 Charoen Pokphand Foods
(Vietnam)
Vegetables Gyoza
Using fresh vegetables and fruits rich in vitamins, fiber, calcium and iron
Vitamins: A, B, C, E
No animal proteins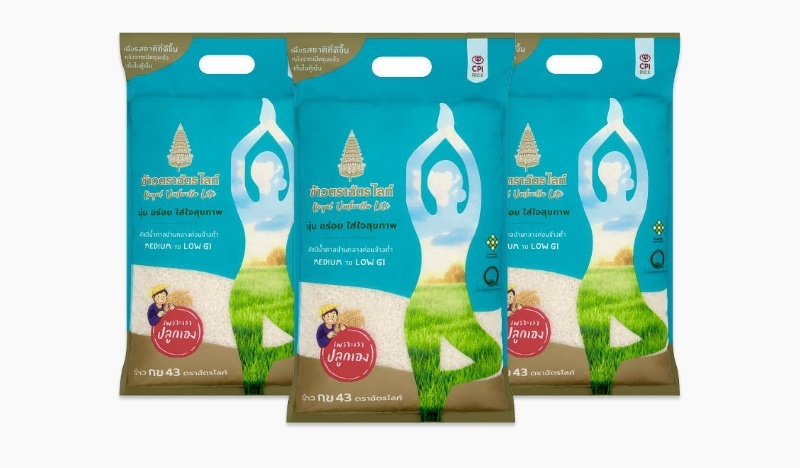 C.P. Intertrade Co., Ltd.
(Thailand)
Royal Umbrella Lite RD 43 Rice
Healthy rice that we grow ourselves Soft, tasty and health-conscious
Rice that has medium to low glycemic index (GI), meaning that the same amount of rice contains lower GI Fragrant, soft, tasty and health-conscious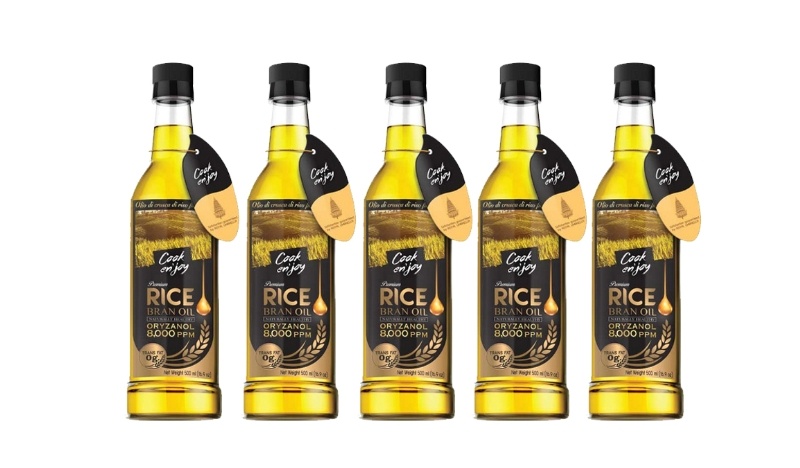 C.P. Intertrade Co., Ltd.
(Thailand)
Cook Enjoy Rice Bran Oil
High natural antioxidants (contains vitamin E and up to 8,000 ppm of Gamma Oryzanol which is found only in rice bran oil)
Heat resistant up to 250°C
Phytosterols remove unhealthy fats (LDL cholesterol) from the body
Free from trans fats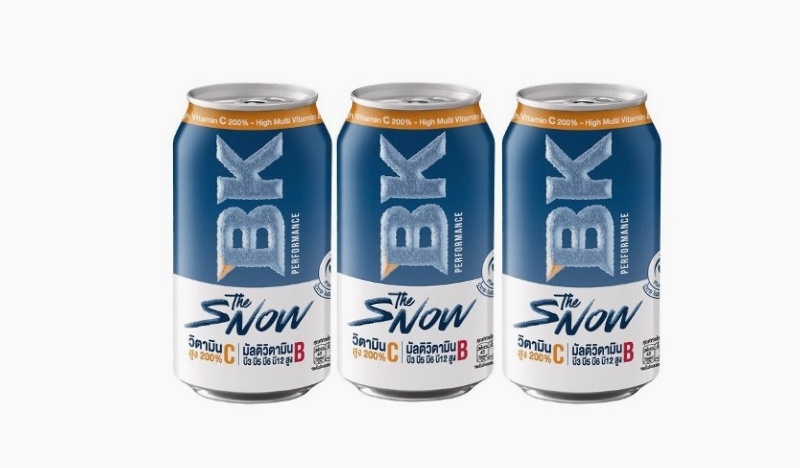 C.P. Intertrade Co., Ltd.
(Thailand)
BK Performance The Snow
High vitamin C at 200%
A blend of vitamin B complex, containing B3, B5, B6, B12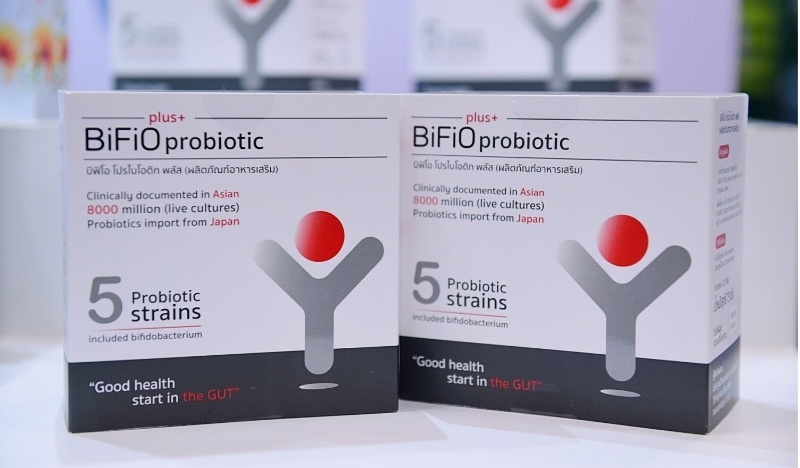 CPF RD Center
(Thailand)
BiFiO Probiotic Plus
Selected quality strains of probiotics that have been certified by the Japanese "FOSHU" standard
Bifidobacterium boosts the immune system and gut health
Lactobacillus helps with digestion
Two times as much "prebiotics" which is good food for probiotics
Guaranteed with the Innovation Award from the National Research Council of Thailand (NRCT) at the Thailand Research Expo 2021, and the "Cheewajit Awards 2021" under the categories of Innovation Reader's Vote and Guru's Pick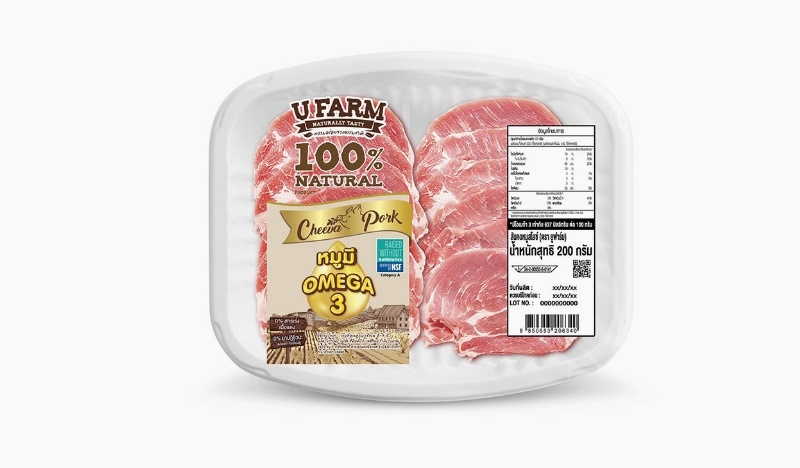 C.P. Intertrade Co., Ltd.
(Thailand)
Cheew Pork
Raised with natural feed rich in omega, such as flaxseed, natural seaweed, and deep-sea fish oil, which help to reduce the risk of coronary heart disease. The NSE certified "Cheeva Pork" is chemical-free, safe, and raised without antibiotics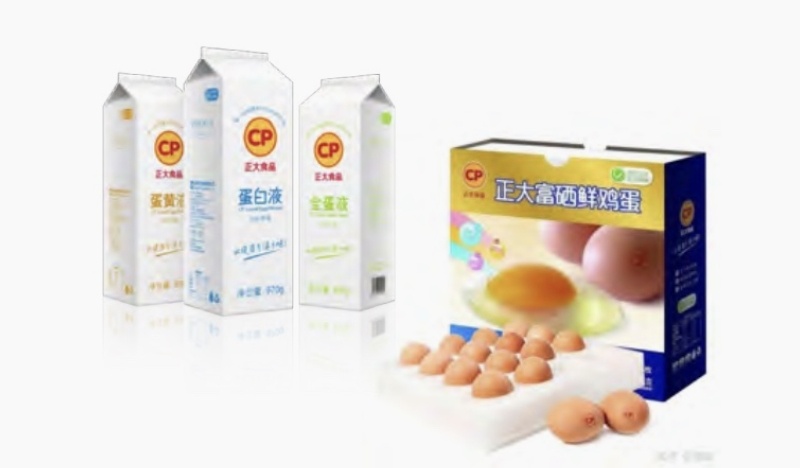 CP Eggs (Hubei) Co., Ltd.
(China)
CP Eggs
Transparent and Complete Communication of Product Information
Transparent and Complete Communication of Product Information
Charoen Pokphand Group has developed proactive methods for communicating and displaying information of food and other products to provide accurate, precise and up-to-date consumer knowledge, e.g., product labels, print media, online media, direct calls, etc. The contents that are displayed/communicated include key ingredients, nutritional information, recommended consumption proportion, storage guidelines, usage instructions, consumption information for children and pregnant women.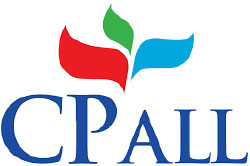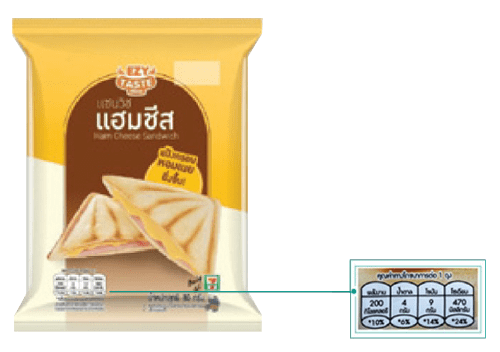 Nutritional labeling displays information on calories and nutrition claims according to relevant Notifications of the Ministry of Public Health. Suppliers are also encouraged to enhance their product labeling to include both mandatory and voluntary nutrition information, such as energy, fat, sugar and sodium in accordance with the Guideline Daily Amount (GDA) to better inform customers.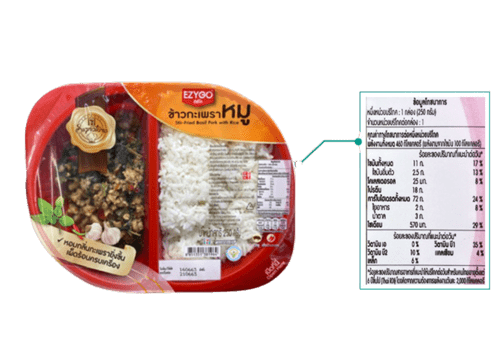 Indicates key ingredients, usage instructions, storage guidelines and nutrition information as required by the law.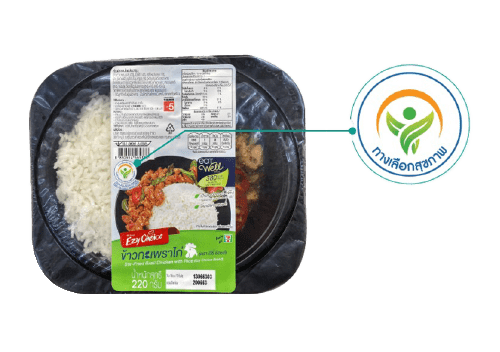 Food products that are certified by or passed the criteria of the "Thai Healthier Logo" certified by the Institute of Nutrition, Mahidol University.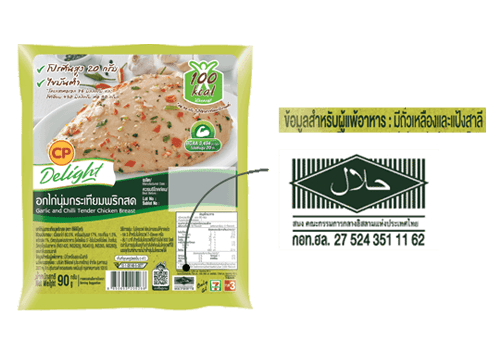 Indicates additional ingredients or nutrition information, such as Allergen Statement, Halal logo.