Leadership and Human Capital Development
Goal and Performance
Leadership and human capital development at Charoen Pokphand Group are characterized by a strong emphasis on fostering a culture of continuous learning and empowerment. The Group invests significantly in leadership training programs, mentorship initiatives, and talent development strategies to nurture a pool of capable and skilled leaders
%
of employees received trainings on sustainability every year
%
of employees participated in sustainability activities on projects every year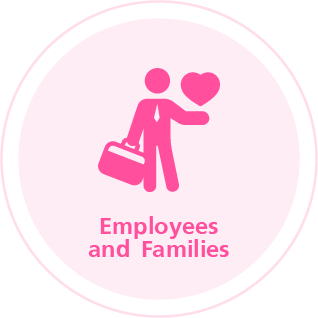 Stakeholders Directly Impacted
Charoen Pokphand Group performs stakeholder assessment and prioritization process on an annual basis to evaluate impacts we have on them and how can they influence our strategies and actions over time. In 2022, the evaluation results showed that our endeavor to encourage a growth mindset and provide ample opportunities for career advancement directly creates impacts on one stakeholder group, which is employees.
---
More Details on Stakeholder Engagement Report 2022
Our Impact by the Numbers
Leadership and Human Capital Development Management Approach
The management strategy for leadership and human capital development at Charoen Pokphand Group is founded on a dedication to fostering a vibrant and inclusive corporate culture. Finding and developing leadership potential among its staff is a priority for the Group. The opportunity to improve one's abilities as a leader is given to employees through a strong leadership development program. These programs, which focus on developing future leaders and establishing an innovative and adaptable culture, also include executive coaching and leadership workshops.
Additionally, C.P. Group makes considerable investments in people acquisition, retention, and career advancement because it understands that its human capital is its most precious asset. The company places a high value on inclusivity and diversity, making sure that the workforce reflects a diverse range of experiences and viewpoints. In order to attract top talent and maximize the potential of its workforce, C.P. Group strives to create an environment where employees feel appreciated, empowered, and supported. With this all-encompassing approach to leadership and human capital development, C.P. Group is positioned to lead the way in its sector and achieve sustainable growth and success in a rapidly changing global market.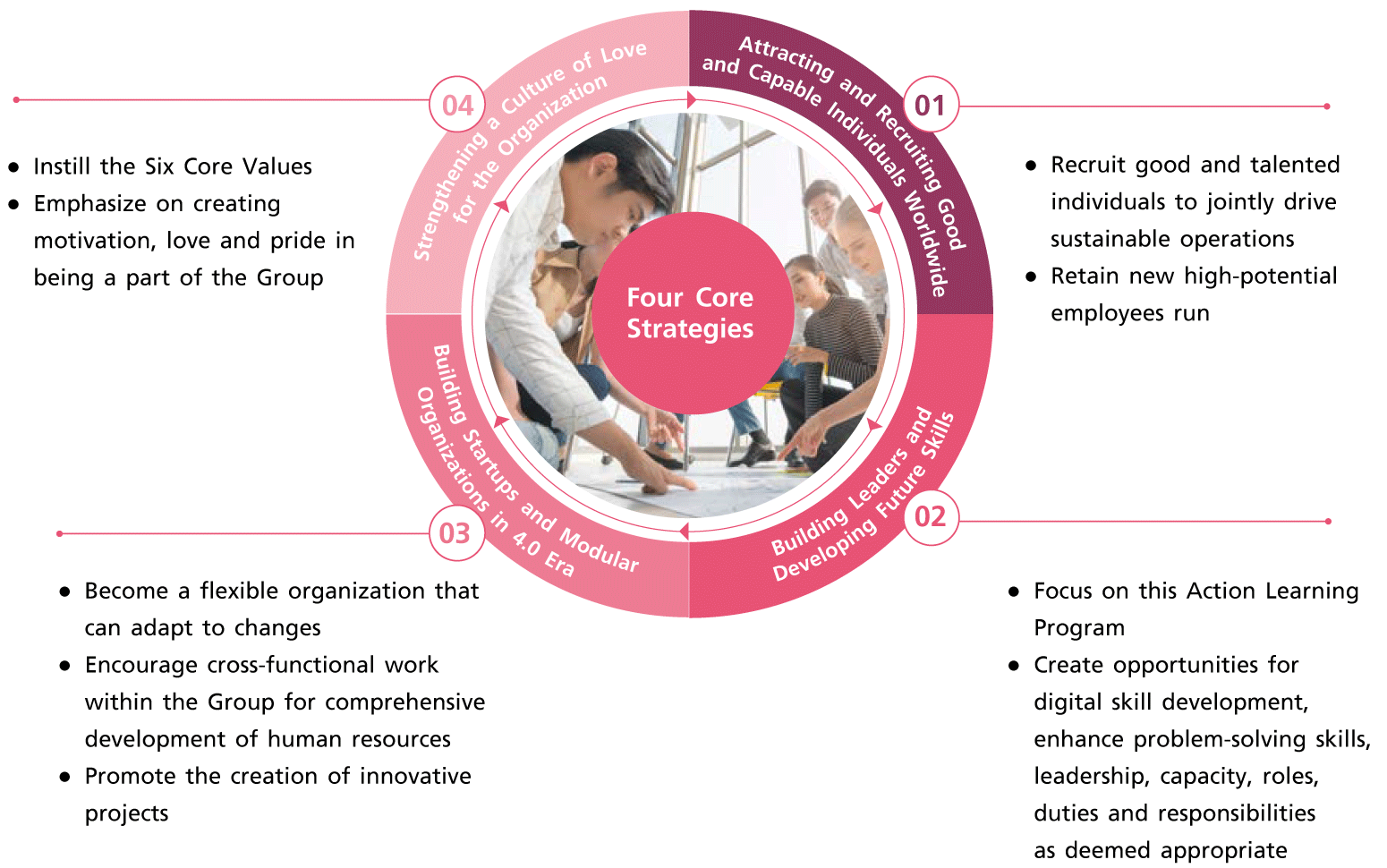 Leadership and Human Capital Development Progress
Amount Spent in Training
Baht / Employee / Year
Home of Training
Hour / Employee / Year
Leadership and Human Capital Development Programs
Our Commitment to Developing Employees' Knowledge and Skills
Charoen Pokphand Group demonstrates a strong commitment to developing employees' knowledge and skills through a comprehensive range of learning and development initiatives. The business sees learning as an ongoing process and makes investments in a range of training initiatives to provide its staff with the skills and knowledge they need to succeed in their positions. Workshops, seminars, online courses, and on-the-job training are just a few of the formal and informal learning opportunities offered by C.P. Group. With the help of these programs, employees can improve their abilities and stay current with best practices in the business. These programs are created to meet individual development needs.
Additionally, the Charoen Pokphand Group fosters an environment where staff members are free to pursue new areas of expertise and take charge of their own growth. By providing possibilities for job promotion and career development pathways, the organization also promotes its employees' professional development. By encouraging a learning-centered atmosphere, C.P. Group not only ensures the personal development of its employees but also gives them the skills they need to successfully contribute to the success of the company. This dedication to staff development reinforces the company's position as an industry leader in promoting innovation and sustainable growth, as well as the general competency of the workforce.
Charoen Pokphand Group is committed to cultivating and developing the capacity of our people to create quality leaders through the Leadership Development Program organized by the CP Leadership Institute. This Action Learning Program is based on various projects conducted by the Group's businesses to create career advancement opportunities and enhance problem-solving skills, leadership, and competence in roles, duties, and responsibilities. The training is divided into four levels:
CP Future Leaders Development Program (FLP)
CP Potential Leaders Development Program (PLP)
CP Leaders Development Program (LDP)
CP Senior Leaders Development Program (SLP)
Program: Leadership Development Programs

Description and Objectives of the Program:

C.P. Group is striving to create new leaders who can propel the business through challenges while bringing sustainable value to the countries, people, and our employees. C.P. Group has been implementing Leadership Development Programs for many years, with objectives to continuously promote employees in the area of their interests, and empower them with available resources. The programs focus on a cross-functional team working culture through action-based Learning projects. To ensure that the new initiative proposed by the employees in the programs supports business growth, it is important to ensure that corporate strategies and sustainability framework and goals are integrated into the designing process.

we assess and identify talents in our talent pool according to our criteria. These talents will be provided with opportunities to participate in Leadership Development Programs and develop their Individual Development Plan (IDP) based on their career goal. The objective of leadership development programs is to enhance their managerial and leadership competencies in many business aspects, including entrepreneurship and skills that are attributed to C.P. Group's core values, so that these leaders will be ready and able to grow the business for a sustainable future of the Company.

Leadership Development Programs include the Future Leader Program (FLP), the Potential Leaders Development Program (PLP), and the Leadership Development Program (LDP). FLP is the first step of the Program to develop self-leadership competencies and managerial through action learning in building business models, which will be further developed in PLP and LDP, respectively. Talents who join the leadership development program will gain advice from their project sponsor and from top executives directly. The advice can then be used for further development.
Program: Productivity Improvement Program

Description and Objectives of the Program:

The program continuously implements technology to increase operational efficiency and develop the capacity of executive & employees at all levels. Objective is value-delivery to customers and reducing organizational management cost through instilling concepts, attitudes and Action Learning. Participated employees receive practical experience in analysis, discovery of opportunities for work improvement, synthesis, ideas exchange, and working Cross-Functional team. This enhances work efficiency and construct an autonomous work culture under the measure "4 Additions 1 Control" and reduce, stop, quit non-value creating operations.
Increase Sales
Increase Profits
Increase Income
Increase Productivity
Control Costs
In the program, senior management upholds responsibility for advice and techniques provisions in addition to project progress and results monitoring, towards achievements of outcome and value-added operation to organization for now and in the future.
C.P. Leadership Institute
With a commitment to continuously develop human resources to produce quality leaders, Charoen Pokphand Group founded the C.P. Leadership Institute to cultivate leaders at all levels, including future leaders, potential leaders, current leaders, and senior leaders. In this regard, the CP Future Leaders Development Program (CP FLP) targets to recruit and develop new generation leaders to become valuable assets to the organization and the country.
About C.P. Leadership Institute