Our Impact by the Numbers
2030 Goals and Performance
patents
Number of patents and petty patents registration for innovations or inventions
Management Approach
Charoen Pokphand Group believes that innovation is a vital tool that enables us to stay abreast of the latest megatrends in our effort to accommodate changes in transitioning towards the digital age or the 4.0 era. Therefore, the Group has developed and implemented the Innovation Management Framework which includes platform creation (Platform), personnel and corporate culture development (People), process development (Process), and open innovation and intellectual property management (Pipeline). Digital technology has been leveraged as a foundation in transforming the organization and systematically drive innovation and continuous improvements, paving the way towards becoming an innovative organization.
In addition, the Group has also adopted modern technology, including biotechnology (e.g. developing weather-resistant seeds), nanotechnology, space technology (e.g. satellites for agriculture to identify soil color and minerals), robotics and digital technology (e.g. traceability and block chain). These are the key issues that the Group focus on in our bid to build an enabling atmosphere within the company. We have also collaborated with external organizations to create innovation that can withstand global changes. In driving innovation, Charoen Pokphand Group has identified responsibilities and set clear strategic targets to create tangible and measurable innovations.
CYBER SECURITY

Develop a cybersecurity policy and provide training on the Personal Data Protection Act (PDPA) for employees and top-level executives.

USER EXPERIENCE

Use digital technologies to build positive user experiences, such as TRUE ID, TrueMoney, and ALL Member, where more than 30 million customers are currently subscribed to the platforms.

NEXT-GEN TECHNOLOGY

Apply cloud technology as a standard in the Group's technology development, eg., in service platforms and smart robotics systems.

DIGITAL WORKPLACE

Develop basic knowledge on digital technology for employees, and build a main digital platform (CPG Connect) to connect employees.

DATA & ANALYTICS

Link 85% of retail data and 50% of animal farming and manufacturing data onto a central dashboard for faster and more efficient decision making.

AUTOMATION

Apply the Internet of Things (IoT) in the retail business to create a digital retail store, pilot smart sales systems, and integrate artificial intelligence (AI) into animal farming and plantation operations.
Process Innovation
Charoen Pokphand Group strives to upgrade the standard of our production process. Therefore, we have adopted new technologies and innovations in our R&D process to create new products for the health and well-being of all.
Dr. Pig: A Comprehensive Agricultural Industry Chain Service Platform
China has a large production volume of pork meat to cater to its large consumer market. However, the Chinese pig breeding industry is still underperforming. At present, 3 out of 4 pig farms are small and medium-scaled (less than 5,000 pigs per year). They all face the problems of technological advancement, financial capital, capabilities, and other issues which have complicated growth and resulted in products with low efficiency.
With more than 40 years of pig farming experience and expertise in China as well as being the first company to establish the Chinese pig farming industry chain, Charoen Pokphand Group has leveraged our potential to enhance pig farming in China by employing the "Dr. Pig" platform, which applies technology and big data analytics system to increase advantage for small and medium-scaled pig farms.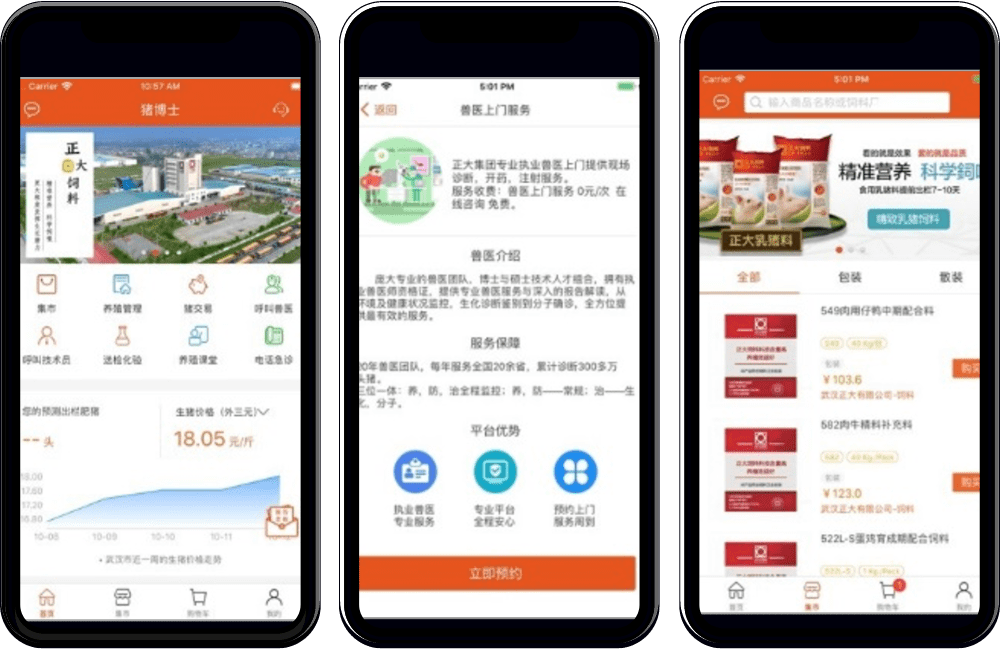 Wild Elephants Warning
The conflict between wild elephants and farmers originated from the lack of food sources within the forest. This is the main reason why elephants leave the forest to find food and, in the process, invade farmlands and destroy crops. True Corporation, under Charoen Pokphand Group, has made use of communication technology and enhanced connectivity from IoT to develop a surveillance system that can help prevent elephants from encroaching on crops and return to the forest. Moreover, it can also collect and analyze data for sustainable solutions.
The IOTs surveillance system detects movements of large animals, such as elephants, that invade farmlands. The system will send a warning signal and the elephants are driven back into the forest before they can harm the crops. This technology does not only reduce damages, but also protects wildlife.
Product Innovation
At present, customers and consumers look for products and services that can reduce environmental impacts and efficiently respond to a wide range of needs. Accordingly, Charoen Pokphand Group has collaborated with suppliers, manufacturers, customers and consumers throughout the value chain to identify and develop unique innovative products that not only provide precise answers to needs, promote well-being and reduce environmental impacts, but also maximize the potential of our products.
Eco-friendly Animal Feed
Agro-industry is one of Charoen Pokphand Group's key businesses. Meanwhile, the Group is one of the world's largest animal feed manufacturers and a major producer of pork and chicken meat. Accordingly, the Group has never ceased to invent, research and applied new technologies in the innovation of new animal feed formulae which do not only increase efficiency in production and animal rearing, but also give priority to the environment throughout the product's life cycle. At the "Animal Feed Research and Innovation Center" in Chonburi province, we have conducted experiments, and developed inventions and innovations in animal feed. In doing so, we have implemented a comprehensive development and management principle that focuses on production efficiency throughout the value chain. We have also taken into account potential impacts while using animal feed and the consequences after its consumption by the animals, i.e. possible environmental impacts caused by animal excrement. Based on research, excrement from animals that have been fed with the conventional formula contained high nitrogen caused by the overconsumption of proteins.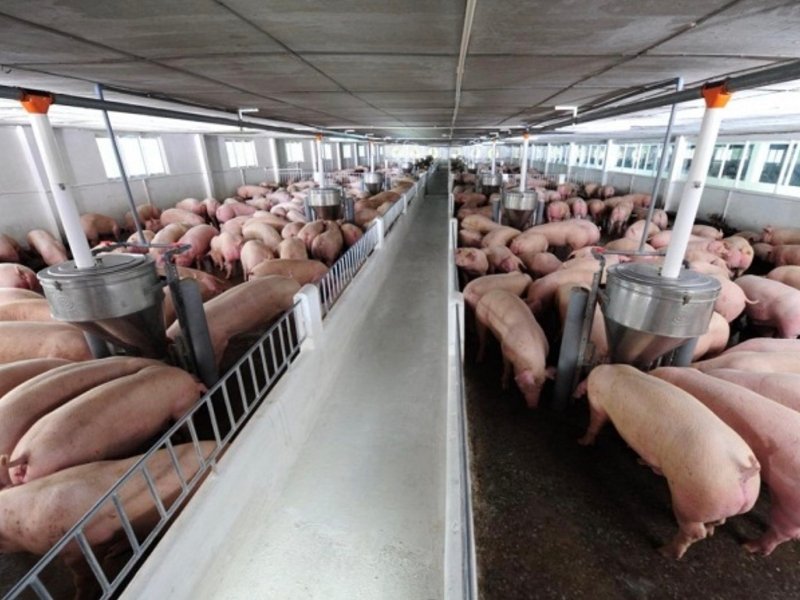 Such nitrogen, when released into the environment, is classified as excess. When the excrement decomposes, nitrogen is transformed into ammonia and methane which contribute to global warming. On the other hand, excess nitrogen washed into natural water sources will lead to a reproduction crisis and algae blooms which lower the amount of oxygen in the water and affect aquatic life. For this reason, the Group has developed animal feed innovations using technology to assist in the research to formulate animal feed formulae with appropriate nutritional values for each animal species and age range, reduce excess contents and replace them with the accurate and precise use of synthetic amino acids according to animal needs. This has been combined with the use of proteins and amino acid sources from conventional raw materials while also turning to new raw materials that are more suitable in order to enable resource efficiency and reduce any potential resource shortage. Additionally, enzyme technology has also been applied to help digest fibers, proteins and minerals into a form that enables effective digestion and absorption by an animal's digestive system. This allows the animals to efficiently utilize nutrients from food, reduce excess in excrement in the form of farm waste and, thereby, reducing any potential environmental impacts. Having yielded effective and satisfactory results, this method has been implemented in the research for other appropriate methods to deal with other excess nutrients in animal excrement as well as in feed for other types of animals besides swine, such as broilers, layers and ducks. At present, the project has been extended to and implemented in various countries, rendering great benefits in terms of productivity, costs and the environment.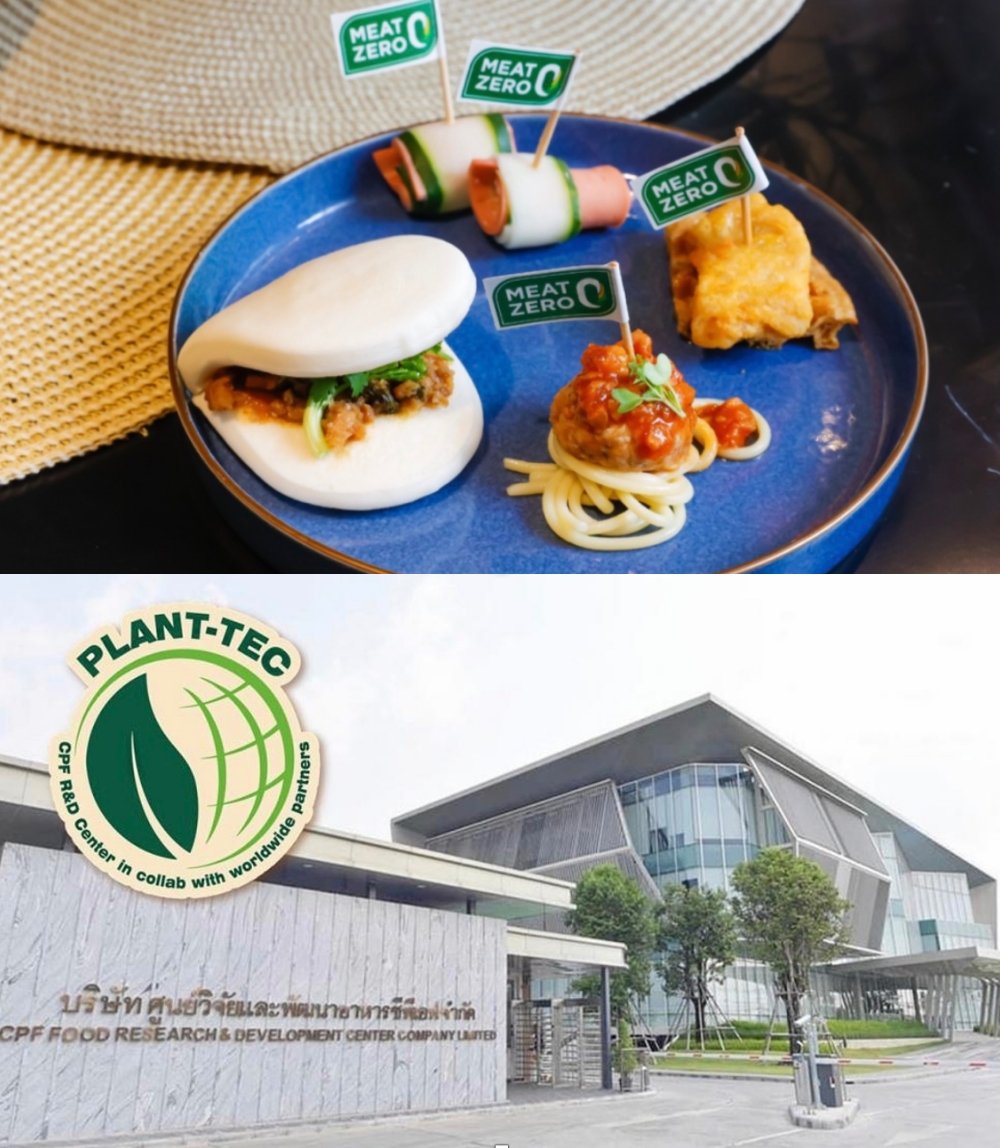 MEAT ZERO
Based on consumer demand for healthy alternative food, Charoen Pokphand Foods Public Company Limited, or CPF, under Charoen Pokphand Group, has developed "MEAT ZER0", a plant-based meat using 'PLANT-TEC' innovation which offers an alternative meat with the likeness of real meat in terms of characteristics, smell and texture.
The highlight of "MEAT ZER0" is the use of cutting-edge technology in its development by CPF RD Center in collaboration with world-class experts from various countries, including USA, Japan and Taiwan. "MEAT ZER0" is a plant-based product that is as tasty as meat, thus consumers can hardly distinguish the difference. Developed by an outstanding research team from CPF in collaboration with world-class research companies, we take pride in this innovation and are confident that "MEAT ZER0" will be favored by both domestic and international consumers alike.