Goal and Performance
Charoen Pokphand Group has established a goal to drive innovation across our various sectors to remain competitive and enhance our products and services. The Group has demonstrated a commitment to innovation, investing in research and development, adopting advanced technologies, and exploring strategic partnerships to stay at the forefront of industry advancements and meet evolving consumer demands.
7,500 patents and petty patents registration for innovations or inventions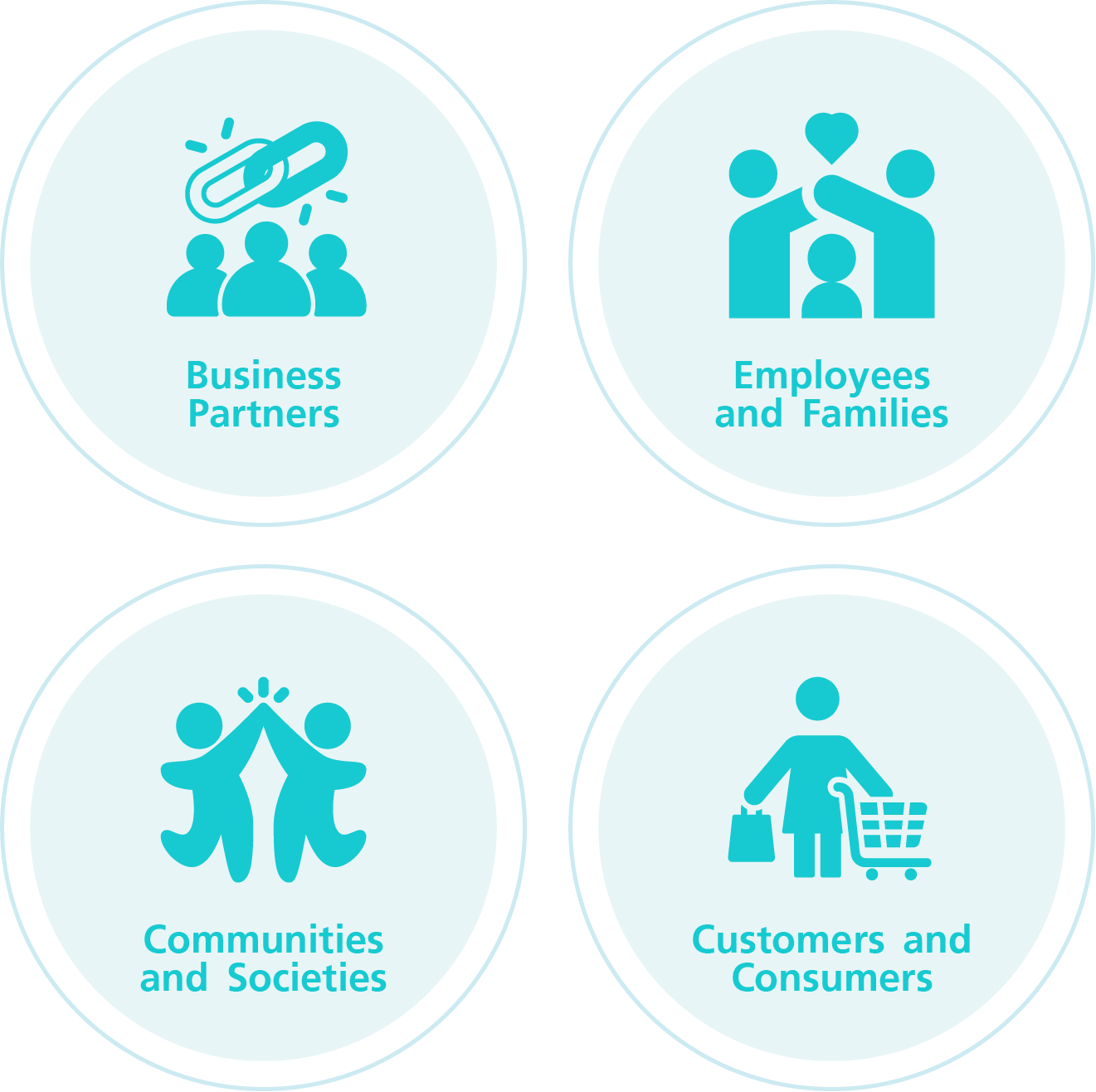 Stakeholders Directly Impacted
Charoen Pokphand Group performs stakeholder assessment and prioritization process on an annual basis to evaluate impacts we have on them and how can they influence our strategies and actions over time. In 2022, the evaluation results showed that our commitment to innovation, and R&D creates impacts on all four stakeholder groups.
---
More Details on Stakeholder Engagement Report 2022
Our Impact by the Numbers
Innovation Management Approach
Charoen Pokphand Group believes that innovation is a vital tool that enables us to stay abreast of the latest megatrends in our effort to accommodate changes in transitioning towards the digital age or the 4.0 era. Therefore, the Group has developed and implemented the Innovation Management Framework which includes platform creation (Platform), personnel and corporate culture development (People), process development (Process), and open innovation and intellectual property management (Pipeline). Digital technology has been leveraged as a foundation in transforming the organization and systematically driving innovation and continuous improvements, paving the way towards becoming an innovative organization.
In addition, the Group has also adopted modern technology, including biotechnology (e.g. developing weather-resistant seeds), nanotechnology, space technology (e.g. satellites for agriculture to identify soil color and minerals), robotics, and digital technology (e.g. traceability and blockchain). These are the key issues that the Group focuses on in our bid to build an enabling atmosphere within the company. We have also collaborated with external organizations to create innovation that can withstand global changes. In driving innovation, Charoen Pokphand Group has identified responsibilities and set clear strategic targets to create tangible and measurable innovations.
CYBER SECURITY

Develop a cybersecurity policy and provide training on the Personal Data Protection Act (PDPA) for employees and top-level executives.

USER EXPERIENCE

Use digital technologies to build positive user experiences, such as TRUE ID, TrueMoney, and ALL Member, where more than 30 million customers are currently subscribed to the platforms.

NEXT-GEN TECHNOLOGY

Apply cloud technology as a standard in the Group's technology development, eg., in service platforms and smart robotics systems.

DIGITAL WORKPLACE

Develop basic knowledge on digital technology for employees, and build a main digital platform (CPG Connect) to connect employees.

DATA & ANALYTICS

Link 85% of retail data and 50% of animal farming and manufacturing data onto a central dashboard for faster and more efficient decision making.

AUTOMATION

Apply the Internet of Things (IoT) in the retail business to create a digital retail store, pilot smart sales systems, and integrate artificial intelligence (AI) into animal farming and plantation operations.