2030 Goals and Performance
%
Zero food waste and waste to landfill
%
All plastic packaging are recyclable, reusable or compostable
Management Approach
Based on the current global context, the increasing population has led to higher consumption as well as heightened the use of natural resources. This is, therefore, one of the main factors that cause many environmental problems, such as climate change, resource shortage and waste, etc. Charoen Pokphand Group is determined to adjust our business model from the linear economy concept to circular economy.
Accordingly, focus is placed on maximizing efficient use of resources and minimizing loss while also emphasizing on reusing resources throughout the value chain. Under this circular economy management approach, the Group has established the Circular Economy Policy as a framework of operations for all our affiliated companies in working towards the goal of eradicating food waste and waste for landfill and promoting the use of recycled materials in the production process in order to create circular economy across all business groups. Furthermore, other relevant specific policies have also been formulated, such as Waste Management Policy, Food Loss and Food Waste Policy, and Sustainable Packaging Policy, for application by each business line. At the same time, we work to raise awareness, encourage the improvement of production and change consumption behavior in accordance with circular economy. The Group believes that our cooperation with all stakeholder groups will yield long-term broad benefits that can be passed on to the next generation.
9Rs Principle
Guiding Principle
Reduce by Design
Maximizing product efficiency through designs that reduce the use of resources and energy.
User to User
Refuse
Refusing the use of substances or materials that are not environmentally friendly; buyers can choose to purchase or use less products in order to transition to a more sustainable way of life.
Reuse
Reusing to extend service life
Reduce
Reducing resource consumption / use, and waste generation.
User to Business
Repair
Repairing damaged items to regain their use
Refurbish
Restoring and refurbishing products to meet required quality standard for reuse.
Remanufacture
Using parts of discarded product in a new product with the same function.
Business to Business
Repurpose
Reusing a product or its parts in new products with a different function.
Recycle
Processing into new products.
Waste Management
Charoen Pokphand Group places importance in waste management throughout the supply chain, covering both waste generated by production and service activities of our business groups and by our suppliers from upstream to downstream. In order to achieve our established goals, a waste management framework has been established as follows:
Data on Waste Management in 2021
(thousand tons)
Total Amount of Waste
thousand tons
Food Waste and Waste for Landfill
thousand tons
Waste Quantity Classified by Management Method
(thousand tons)
Non-hazardous waste by management method
Non-hazardous Waste
thousand tons
Diverted from Disposal
3.76%Reuse
17.62%Recycle
60.71%Composting
2.42%Energy Recovery
0.08%Construction Materials
6.59%Feed Ingredients
Directed to Disposal
5.41%Landfill
0.45%Incineration
2.96%Others
---
Hazardous waste by management method
Hazardous Waste
thousand tons
Diverted from Disposal
6.46%Reuse
33.29%Recycle
9.68%Energy Recovery
Directed to Disposal
6.67%Landfill
7.48%Incineration
36.42%Others
Food Loss and Food Waste Management
Charoen Pokphand Group's core business is food and beverages as well as food distribution. We take into account the management of food loss and food waste throughout the supply chain, from the process of crop cultivation and animal farming through to customer consumption. Therefore, the Group is committed to following the corporate policy to reduce food loss in order to accomplish the zero food waste and waste for landfill goal by 2030.
Data on Food Loss and Food Waste Management in 2021
Quantity of Food Loss
By Disposal Method
thousand tons
84.22%Grains
0.11%Fruits and Vegetables
0.15%Meat
6.55%Bakery
0.67%Ready-to-Eat
0.19%Condiments
3.93%Mixed Food
4.18%Others
---
Quantity of Food Waste
By Disposal Method
thousand tons
0.10%Grains
4.00%Dairy Products
37.00%Fruits and Vegetables
4.36%Meat
3.31%Seafood
2.43%Bakery
0.06%Frozen Food
28.84%Ready-to-Eat
0.01%Dry Food
2.28%Beverages
0.04%Pulses and oil seeds
0.05%Tuber Crops
0.59%Condiments
15.76%Mixed Food
1.17%Others
Distributing Surplus Food to Communities
Businesses under Charoen Pokphand Group have implemented numerous projects to reduce food loss and food waste. A key approach involves reducing food loss from surplus food that are still edible and of good quality. Therefore, instead of discarding as waste which will produce more impact on the environment, each business group has donated this surplus food to non-profit foundations, such as SOS, We Share and Duang Prateep Foundation for further redistribution to underprivileged vulnerable groups and communities that lack food.
The quantity of surplus food distributed by the Group's affiliates in 2021 is 227.16 tons.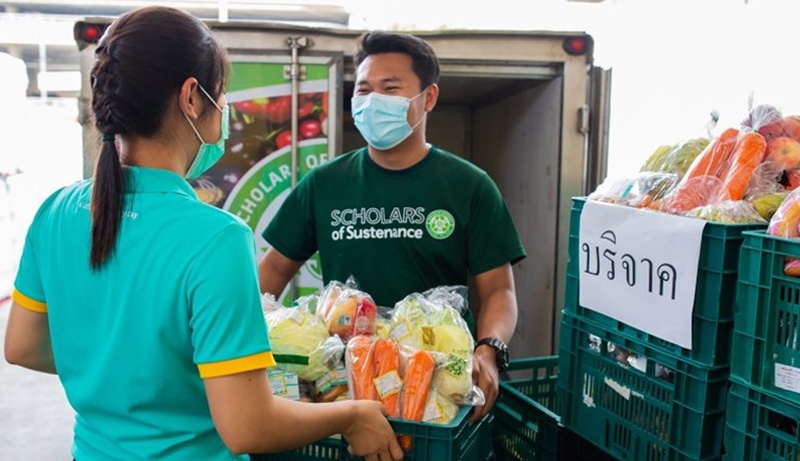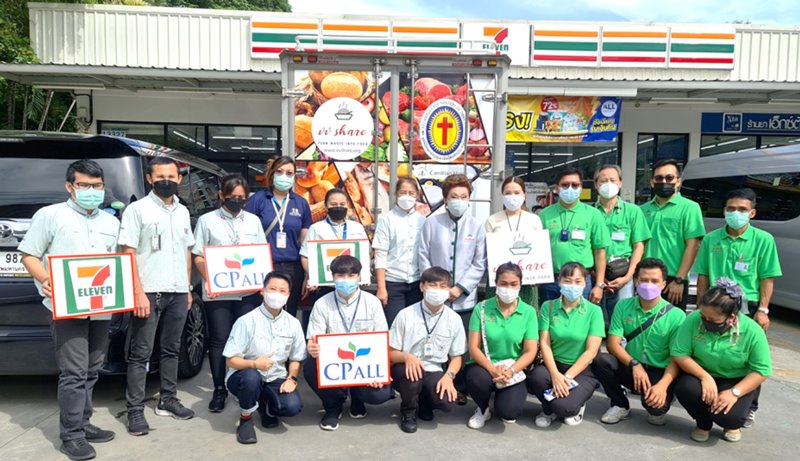 Sustainable Plastic Packaging Management
Charoen Pokphand Group has established policies and guidelines to manage sustainable packaging in the production and other processes throughout the supply chain. In doing so, we are committed to enhance and preserve environmental quality as well as provide knowledge and create engagement in adjusting consumer behavior towards sustainable development under the '5Rs' principle which consists of Re-educate, Reduce, Recycle, Replace and Reinvent.
Data on the Use of Sustainable Plastic Packaging in 2021
(thousand tons)
Total Plastic Packinging Used
thousand tons
Recyclable/Reusable/Compostable Plastic Packaging
thousand tons
Total Plastic Packaging Used by Type
(thousand tons)