Forbes Honors Thai Business Tycoon Dhanin Chearavanont with Prestigious "MALCOLM S. FORBES LIFETIME ACHIEVEMENT" Award on the Global Stage
12 September 2023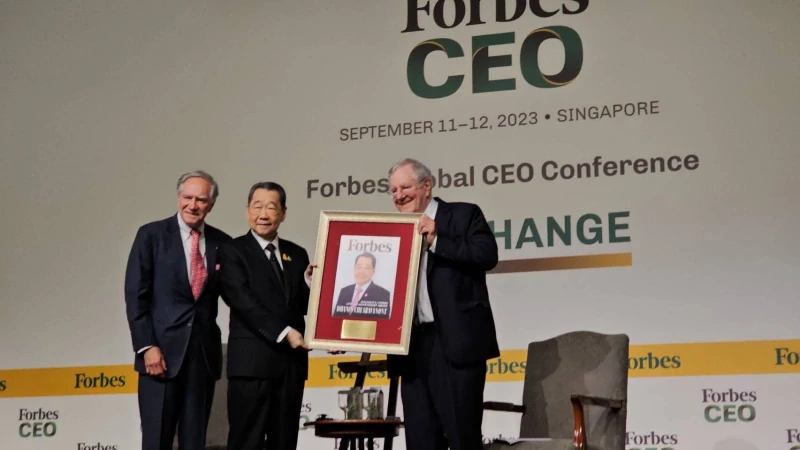 Singapore (September 11, 2023) - Forbes Media is proud to announce the presentation of the "MALCOLM S. FORBES LIFETIME ACHIEVEMENT" award to Mr. Dhanin Chearavanont, the Senior Chairman of the Charoen Pokphand Group. This esteemed recognition celebrates a lifetime of exceptional entrepreneurial success, serving as a testament to Mr. Dhanin's accomplishments in business, his exemplary approach to life, and his dedication to societal betterment. The award reflects a global acknowledgment of his remarkable achievements and contributions, in line with the enduring values championed by Malcolm S. Forbes in his lifetime and within the pages of Forbes magazine since its founding in 1917.
Mr. Steve Forbes, Chairman and Editor-in-Chief of Forbes Media, remarked, "Over a business career spanning nearly six decades, Dhanin Chearavanont transformed CP Group from a modest family business with roots in Thailand's agricultural sector to a multinational conglomerate with wide-ranging interests -from agribusiness and convenience stores to telecom, pharma and financial services. Khun Dhanin is indeed one of Asia's most influential and respected business leaders"
Expressing his gratitude for the award, Mr. Dhanin Chearavanont, Senior Chairman of C.P. Group, emphasized, "I extend my heartfelt thanks to Forbes for this honor. Human intelligence and human capital, the empowerment of good and talented individuals, are the most precious assets in my professional journey. Creating value for every nation we invest in, benefiting consumers, and contributing to society at large have always been the essence of our organization's mission."
The "MALCOLM S. FORBES LIFETIME ACHIEVEMENT" award was presented to Mr. Dhanin Chearavanont by Mr. Steve Forbes, Chairman and Editor-in-Chief of Forbes Media, and Mr. Christopher Forbes, Vice Chairman of Forbes Media, during the 21st Forbes Global CEO Conference, held in Singapore on September 11. The presentation was followed by an engaging on-stage dialogue between Mr. Dhanin Chearavanont and Mr. Steve Forbes.
Past recipients of the Malcolm S. Forbes Lifetime Achievement Award include distinguished individuals such as Mr. Li Ka-shing, Chairman of Cheung Kong (Holdings) and Hutchison Whampoa (2006); Mr. S. Robson Walton, Chairman of the Board of Wal-Mart Stores Inc (2009); Mr. Carlos Slim Helu, Chairman of Fundacion Telmex, Fundacion Carlos Slim, Impulsora del Desarrollo del Empleo en America Latina, and Cicsa (2010); and Mr. Jack Ma, Founder of Alibaba Group (2019), among many others.
Mr. Dhanin Chearavanont's journey has been characterized by his entrepreneurial spirit, resilience, and profound impact on the global business landscape. His leadership has not only driven growth but also inspired the next generation of leaders, emphasizing the importance of innovation, problem-solving, and continuous development.