C.P. GROUP LAUNCH COLLABORATIONS WITH FRENCH COMPANIES ON FOOD, ENERGY AND TRANSPORTATION PROJECTS
24 May 2023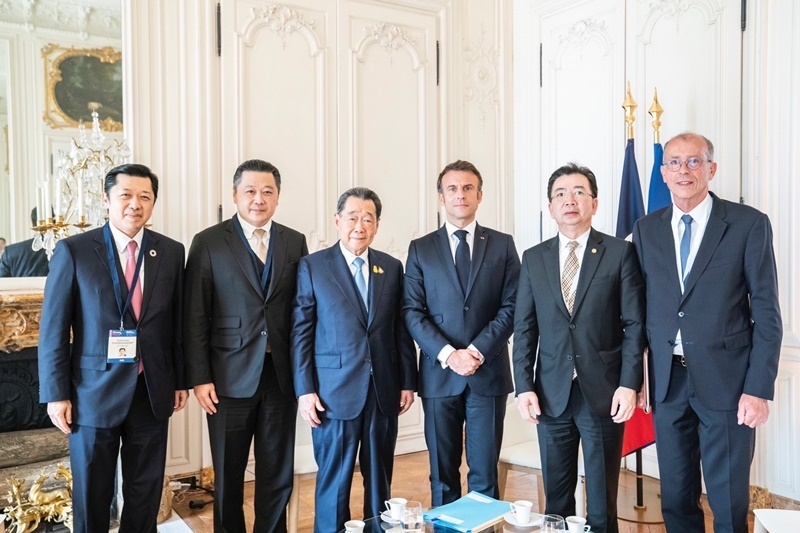 Paris, France - Charoen Pokphand Group Company Limited (C.P. Group) today announced that the Group will collaborate with leading French corporations on projects that span the agribusiness, renewable energy, and transportation sectors.
The projects and the broader partnership will strengthen bilateral trade and investment cooperation, introduce advanced technologies and innovation into Thailand and create employment opportunities for the local economy in Thailand and France.
Mr. Soopakij Chearavanont, Chairman of C.P. Group stated: "We are excited about the tremendous opportunities ahead for C.P. Group to partner with leading French companies that will drive breakthrough innovative solutions in key sectors of economic growth and further facilitate cross-border trade and investment flows between France and Thailand."
Mr. Suphachai Chearavanont, CEO of C.P. Group stated : "The partnerships will not only create enormous commercial opportunities, but more importantly, create job opportunities in local communities and address some of the most pressing sustainability and livelihood issues around food security, transition to clean energy, and the need for transportation infrastructure that enhances rural-urban connectivity. "
Mr. Francois Corbin, special representative of the French Minister for Europe and Foreign Affairs for economic relations with ASEAN countries, who is coordinating the various projects on the French side said "There are not only many opportunities to develop economic relationships between C.P. Group and French Corporations. There is clearly a common willingness to work together and to deliver concrete achievements."
C.P. Group is collaborating with French business partners to promote technological and innovation exchange in a wide range of areas, including:
Exploring renewable energy projects in wind, solar, and energy storage technology in the Asia-Pacific region: C.P. Group's wholly-owned subsidiary, Altervim Company Limited and TotalEnergies Renewables are seeking to support low-carbon transition and help bring down the cost of electricity in Thailand and the Asia region, with the potential to generate 2,0000 MW in capacity. These projects are aligned with C.P. Group's Carbon Neutral and Net Zero goals for 2030 and 2050, which has driven our group investment policy in the clean energy sector.
Building competence in the operations of high-speed rail and development of innovative solutions for the future railway infrastructure: Through an MoU with Egis Rail Academy in March 2023, C.P. Group is partnering with Egis Rail Academy and other leading French corporations in the sector, to establish a Training Academy to upskill employees and engineers to meet the challenge of designing, building and operating Thailand's first high-speed train that will link three key airports as part of Thailand's Eastern Economic Corridor.
Enhancing food supply and food quality: As the "Kitchen of the World", C.P. Group will partner with French food producers in dairy, meat, and supplements to introduce a wide selection of high-quality French food products to Thai consumers through the Group's consumer and retail channels. In addition, C.P. Group is working with French companies to explore opportunities in furthering the development of food security in both countries. An opportunity to develop inland shrimp farming in France is currently being studied.
Advancing Thailand's aerospace and urban air mobility ecosystem: C.P. Group will seek to collaborate with French aeronautics to further Thailand's air and space capabilities through infrastructure development, innovative products, services, and solutions.
Aligned with the Group's ambition of supporting the development of a sustainable society through quality food, technology and innovative products, C.P. Group is looking forward to the collaboration with French corporations and to embark on these commercial opportunities with business partners in France.