World Business Council for Sustainable Development features C.P. Group as Thailand's case study to combat global inequality
10 May 2023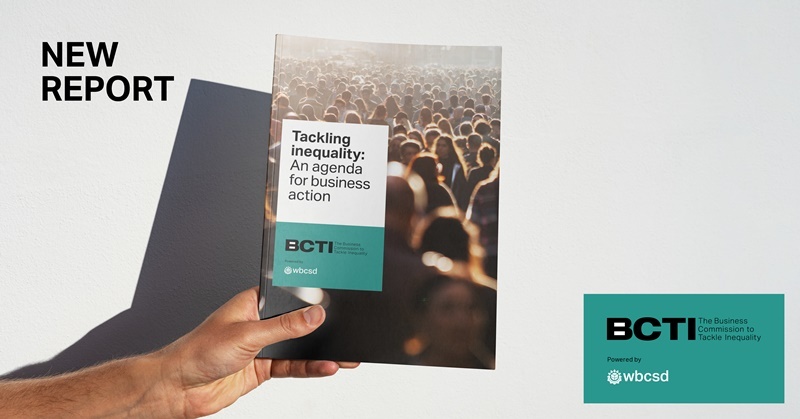 Geneva, 3 May 2023: The World Business Council on Sustainable Development (WBCSD) published its report, "Tackling Inequality: An Agenda for Business Action," created by the Business Council to Tackle Inequality (BCTI). The report aims to spur the private sector to act on inequality. To date, Charoen Pokphand Group Co., Ltd. has been the only Thai corporation to be invited to join BCTI's global commission.
BCTI is a commission comprised of more than 60 multi-industry organizations and leaders worldwide who are members of WBCSD, with the mission of driving action within the private sector to tackle inequality. By communicating the urgency of the issue to all sectors, BCTI pushes inequality and sustainable growth to the top of the business agenda.
The flagship report presents a clear business case and identifies ten key actions to tackle inequality, separated into six categories: respecting human rights; enhancing access to essential products and services; creating jobs and economic opportunities for all; distributing value and risk equitably; enabling government action; and accelerating climate and nature action,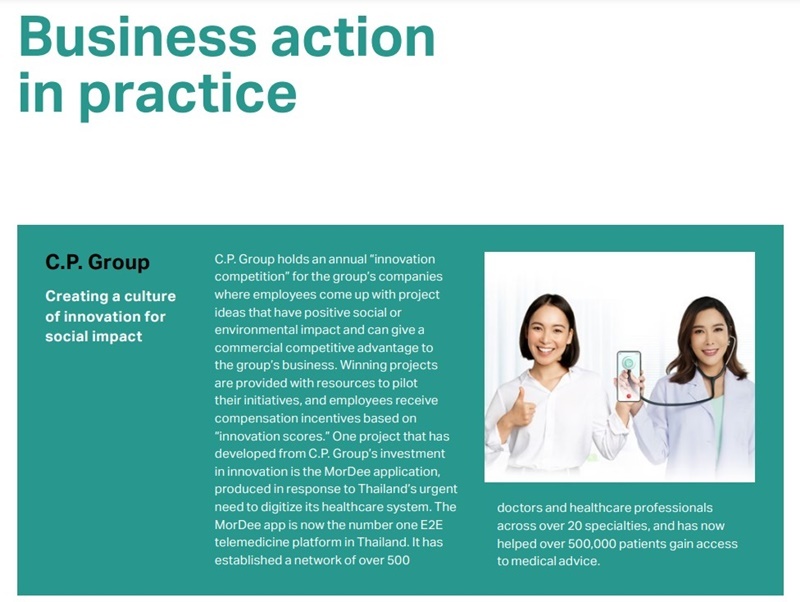 Furthermore, Charoen Pokphand Group's efforts in tackling inequality is mentioned as a case study within the report, under the topic of "enhancing access to essential products and services" by using innovation to promote health and well-being for all.
The case study discusses Charoen Pokphand Group's annual "innovation competition" for the group's companies where employees come up with project ideas that have positive social or environmental impact and can give a commercial competitive advantage to the group's business. Winning projects are provided with resources to pilot their initiatives, and employees receive compensation incentives based on "innovation scores." One project that has developed from C.P. Group's investment in innovation is the MorDee application, produced in response to Thailand's urgent need to digitize its healthcare system. The MorDee app is now the number one E2E telemedicine platform in Thailand. It has established a network of over 500 doctors and healthcare professionals across over 20 specialties, and has now helped over 500,000 patients gain access to medical advice.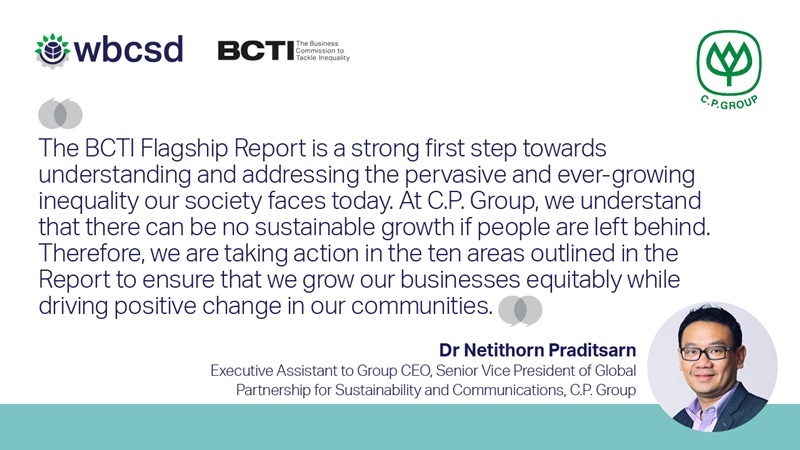 Dr. Netithorn Praditsarn, Executive Assistant to Group CEO and Senior Vice President of Global Partnership for Sustainability and Communications C.P. Group, said "Charoen Pokphand Group respects human rights throughout all our business operations, including those of our stakeholders and partners within the value chain. We work to drive change across local and regional levels, including pushing for policies encouraging diversity, equality, and inclusion, as well as tackling inequality. We want to build a society where there is mutual respect, human rights are protected, basic needs are met, and equal opportunities are available to all."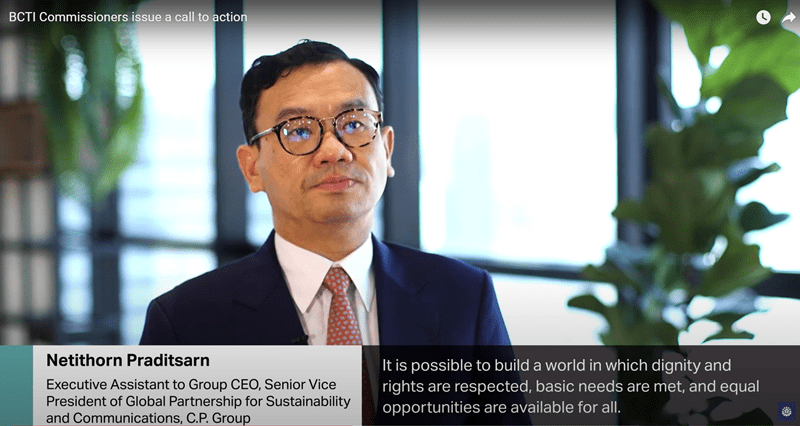 Additional information and the report can be found in the following links: https://tacklinginequality.org/flagship-report https://www.youtube.com/watch?v=MJYGHAAX6rw
Charoen Pokphand Group Co., Ltd., or C.P. Group, has been engaged as a member of the World Business Council for Sustainable Development (WBCSD) since 2016, through which the Group works with more than 200 leading companies from all over the world to promote sustainable business practices.