C.P. Group's Climate Smart Agriculture: Balancing Food Security Amidst Climate and Geopolitical Volatility
18 January 2023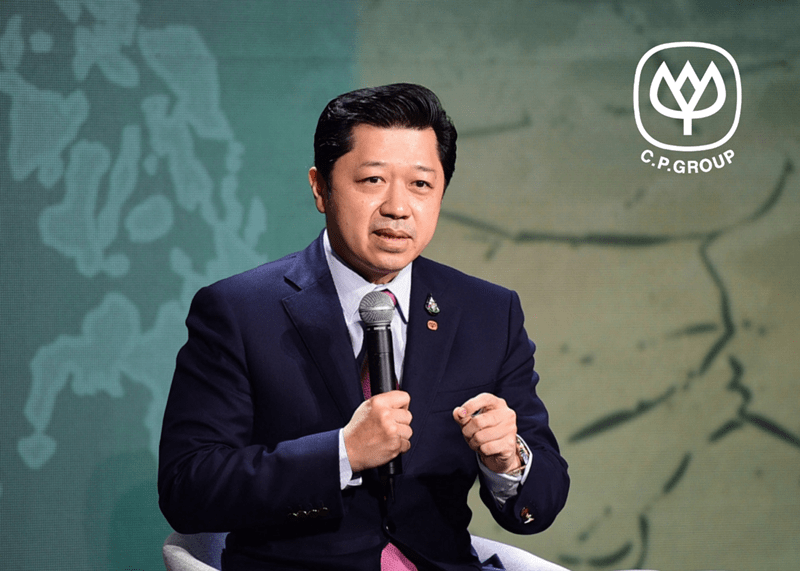 Climate change and greenhouse gas emissions pose a nearly insurmountable conundrum for human beings, particularly the generations to come. While the entire world is pursuing decarbonisation efforts, the food industry which the world relies on for basic survival is the third-largest contributor to global warming, emitting greenhouse gases through conversion of natural ecosystems into agricultural land as well as transportation, processing and manufacturing activities. Livestock production and agricultural cultivation account for 40% of emissions of methane gas which is more than 80 times as potent as CO2 at warming the globe.
One of the toughest challenges for the food industry is ensuring cooperation and aligning climate actions of the various actors throughout the global supply chains, including over 350 million smallholder farmers. Capital constraints, limited access to technology, knowledge gaps around climate change, including mitigation and adaptation measures, and the dominance of conventional farming practices are all obstacles to the food industry achieving the ambitious climate goals.
"We need to bring every stakeholder on board on the journey to decarbonise our agri-food systems, including those from the transportation, freight, warehouse, inventory, and logistics sectors that are part of the global supply chain. There is also a need to identify and prioritise suppliers and products with significant environmental impact in order to encourage wider decarbonisation efforts," stated Suphachai Chearavanont, CEO, Charoen Pokphand Group Co., Ltd. (C.P. Group).
"Technology and innovation are key drivers of strategy for C.P group to tackle challenges throughout the value chain. The Food and Agriculture Organization (FAO)'s Climate Smart Agriculture Framework is reflected in C.P. Foods's reformulation of animal feed products, which leads to lowering nitrous oxide emissions by more than 100,000 tons of CO2-equivalent per year."
"We are actively exploring the use of new technologies such as blockchain, agricultural drones and satellite imagery to improve efficiency, reduce waste and bring transparency into supply chains for both agricultural and livestock products."
Thai Rice NAMA, a partnership between the governments of Thailand, Germany and the UK, encourages local small-holder farmers to shift to low-emissions rice farming, which significantly reduces methane emissions. This partnership has inspired C.P. Group to train 27,000 rice farmers throughout Thailand with the same low-emission rice cultivation techniques, leading to a nearly 40% reduction in carbon footprint for white rice, and 8% reduction for Hom Mali rice.
Global partnerships and climate advocacy are also key to transformation. To this end, C.P. Group is working with close to 90 member companies of the UN Global Compact Network Thailand to strengthen cooperation among the public and private sectors and civil society.
"Through various instances of global innovation and partnerships, we believe companies can meaningfully contribute to the critical task of finding solutions to climate change. In my view, decarbonisation in global value chains requires collaboration between corporations, financial institutions and governments to provide financial support, training and tech solutions to help smallholder farmers and SMEs pursue climate-friendly projects. Large companies should also collaborate with and support startups that are developing technologies to promote sustainability.
By combining our strengths and targeting multiple levels of industry, including that of the food production sector, the fight against rising temperatures has a higher chance of succeeding in the short period of time that we have," concluded C.P. Group,'s CEO.