C.P. Group listed as Top 3 Global Sustainable Companies from the Corporate Sustainability Assessment by S&P Global under 'Industrial Conglomerates' (IDD: Industrial Conglomerates)
21 December 2021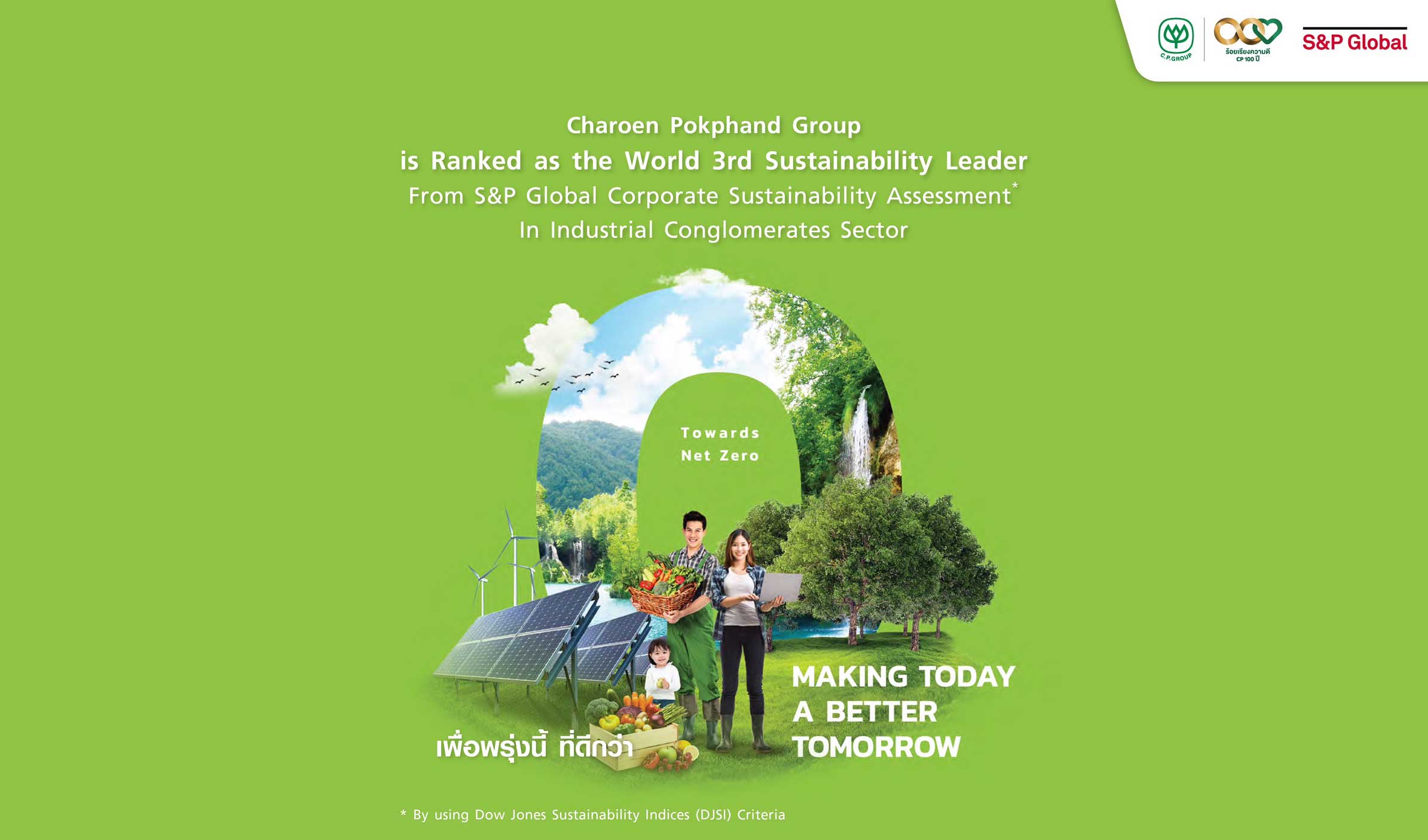 December 17, 2021 –Charoen Pokphand Group Company Limited (C.P. Group)raises Thailand's sustainability reputation after ranking 3rd in the world for 'Industrial Conglomerates', based on the most recent assessment conducted by S&P Global Sustainability Index 2021. The top three organizations ranked were Siemens AG, an energy conglomerate from Germany and SK Business Group (SK Inc.), an IT business group from South Korea. This represents another achievement for C.P. Group in its journey towards realizing its vision to become a global and sustainable company.
Mr. Suphachai Chearavanont, CEO of C.P. Group, stated that as a Thai private company that was not listed on the Stock Exchange of Thailand, the organization was committed to being a global leader in sustainability and therefore entered into assessment by S&P Global, which is similar to the Dow Jones Sustainability Indices (DJSI). For the first time in 2021, C.P. Group's sustainability performance for its environmental, social, governance and economic development ranked the organization 3rd in the world under 'Industrial Conglomerates'. A total of 44 companies under the same industry were considered and assessed based on outstanding performance in several areas that included business ethics, innovation management, climate strategy, social and environmental reporting, and human resource development. Resulting in another milestone for C.P. Group on its path to becoming a leading global company in sustainability.
This result reinforces C.P. Group's commitment to conducting business for a century by adhering to the '3-Benefit Principle' of benefiting countries where it operates, its people and the company under the sustainable development principles. For the Group to achieve the Group's 2030 sustainability goals under the 3Hs sustainability strategy; Heart – Living Right, Health-Living Well and Home – Living together, which are in line with the United Nations Sustainable Development Goals (SDGs), C.P. Group believes that by operating businesses sustainably, the organization can play an important role in driving positive changes for the private sector, Thailand, and global society.
"C.P. Group operates in 8 core business lines, 14 business groups, and invests in 22 countries with more than 450,000 employees. The Group is entering a new century and we are adapting our businesses to match changing socioeconomic contexts. It is an opportunity and challenge of every business group that needs to collectively drive sustainability to cover all aspects of economic, social, and environmental development. C.P. Group is proud to be selected as one of the top three companies in the industry for sustainable development that reflects our commitment and ongoing achievements to grow our business in parallel with sustainability for society and the country in accordance with the goals we have set.", said the CEO of C.P. Group.
Mr. Suphachai continued that this international sustainability assessment is aligned with C.P. Group's commitment to become a "Sustainability Organization" and it includes working proactively to drive global issues that includes creating and developing jobs and careers, health care and well-being, as well as tackle climate change and etc.
On the occasion of C.P. Group's 100th anniversary this year, it is a year of pride for the Group that the implementation of its strategy and goals had been achieved. In 2021, the Group was selected as UN Global Compact (UNGC) LEAD for its role in driving the UNGC's sustainable development goals, selected as one of the most ethical companies in the world by Ethisphere Institute, while affiliates True Corporation PCL, Charoen Pokphand Foods PCL, and CP ALL PCL were selected as members of the Dow Jones Sustainability Indices (DJSI) for consecutive years. Reinforcing C.P. Group's vision to grow its business while creating sustainable values in all dimensions.