C.P. GROUP LISTED AMONG 'WORLD'S 135 MOST ETHICAL COMPANIES' FROM ETHISPHERE INSTITUTE WITH CEO SUPHACHAI CHEARAVANONT RECEIVING HONOREE AWARD AND ANNOUNCING THE BUSINESS'S CORE VALUES and COMMITMENT TO INTEGRITY
23 April 2021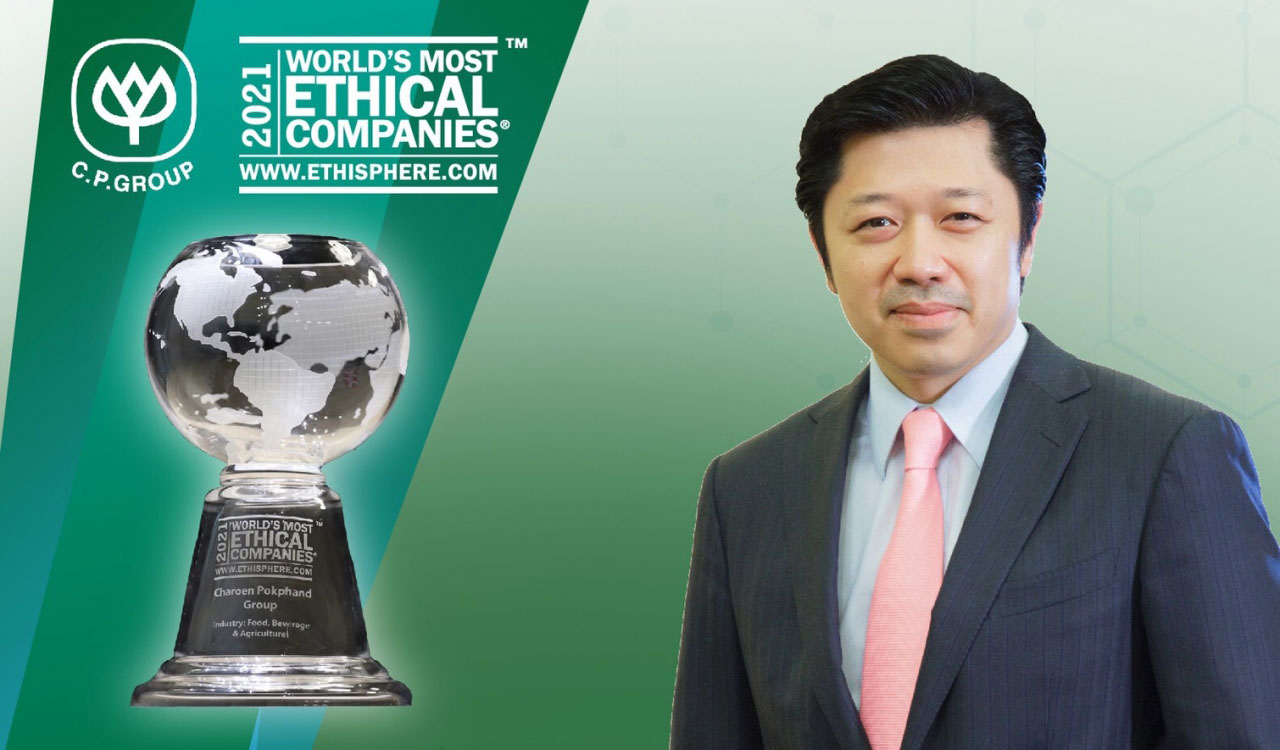 Charoen Pokphand Group (C.P. Group), represented by Mr. Suphachai Chearavanont, Chief Executive Officer, received the "World's Most Ethical Companies 2021" award from Ethisphere Insitute, the global institution for evaluating ethical business standards at the Virtual WME Honoree Gala 2021. Ethisphere had announced the results of their selection of the world's most ethical companies at the end of February. The event was attended by top executives from 22 countries around the world such as Kellogg, LinkedIn, Sony, L'OREAL, Microsoft, PepsiCo, and Prudential. The event was hosted privately online due to COVID-19 to congratulate and provide a world-class virtual experience.
Mr. Suphachai Chearavanont, Chief Executive Office of C.P. Group, was named 1 of 6 CEOs from theWorld's Most Ethical Companies this yearto share the organization's experiences in conducting business ethically during the CEO Highlight session with Michael Dell, Chairman and CEO, Dell Technologies, Jo Ann Jenkins CEO of AARP, Halsey Cook Jr., CEO of Milliken, Julie Sweet CEO of Accenture and Mr. Pakit Iamopas, Chief Executive Officer, DTGO Corporation Company Limited.
Sharing the organization's experiences on the Virtual WME Honoree Gala 2021 stage, Mr. Suphachai Chearavanont, Chief Executive Officer of C.P. Group stated that the company today has been able to grow with more than 400,000 employees, was due to a very strong culture of ethical values.
Out of the six cultural values that we have, two of them directly address ethical values. The first cultural value is so-called "The 3 Benefits Principle" and that is everywhere we invest, in whatever country we invest, the country has to benefit first, followed by benefits to the people, and the company would then be the last to benefit. This is the heart of what makes the Group's business grow sustainably. Furthermore, C.P. Group is committed to the values of honesty and integrity, which is the cornerstone of conducting business, that has gained trust and credibility with our business partners and stakeholders from all sectors. The Group will continue to operate with social responsibility to create sustainable business growth.
"With this recognition from Ethisphere Institution, we deeply appreciate it, and actually are deeply motivated to do more. Being an ethical company doesn't mean that you cannot make mistakes, we may make mistakes, but we learn from our mistakes, not to make them again. C.P. Group will continue to thrive to become a better company and we will never stop our efforts in making this company sustainable through ethical principles. Lastly, I would like to say thank you to Ethisphere Institution, in giving us this recognition. It really means a lot, not only to myself as a CEO of the company but also to all of our 400,000 employees who have been a major part in driving this throughout the company", said the CEO of C.P. Group.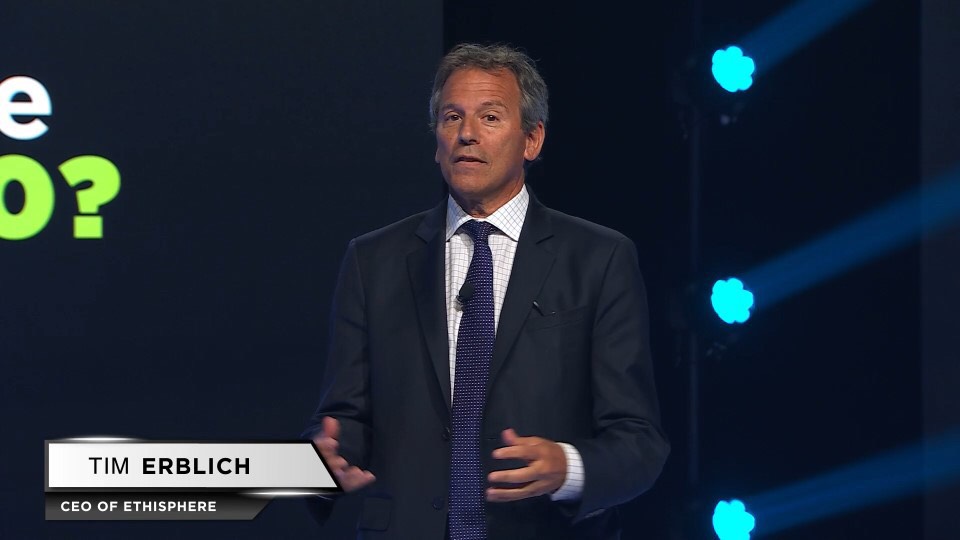 Timothy Erblich,Chief Executive Officer of the Ethisphere Institute, said the business sector is a vital force in helping to provide solutions to various social and environmental problems through business processes. To conduct business sustainably with consideration of environment, society and good governance. (Environment, Social and Governance: ESG) is the power to help propel the world better, Ethisphere is confident that the proud work of all 135 companies from around the world is considered to be the most ethical in the world. It will inspire many businesses around the world to follow. Businesses should turn their focus to ESG even more.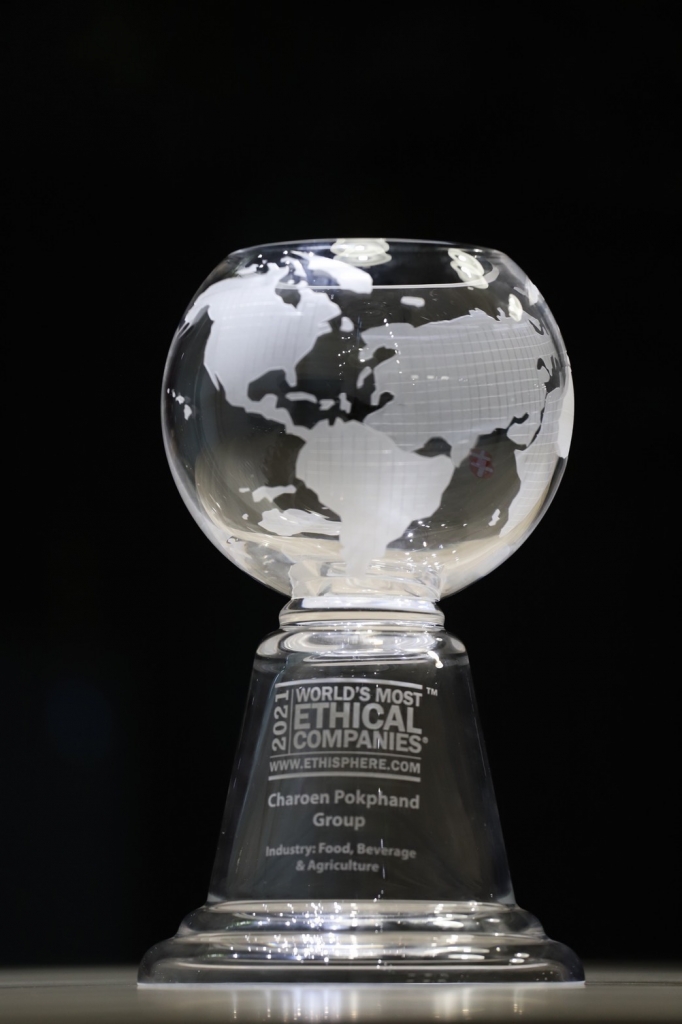 Grounded in Ethisphere's proprietary Ethics Quotient®, the World's Most Ethical Companies assessment process includes more than 200 questions on culture, environmental and social practices, ethics and compliance activities, governance, diversity and initiatives to support a strong value chain. The process serves as an operating framework to capture and codify the leading practices of organizations across industries and around the globe.
This year, the process was streamlined and question set expanded to gauge how applicants are adapting and responding to the global health pandemic, environmental, social, and governance factors, safety, equity, and inclusion and social justice.
The Ethisphere® Institute is the global leader in defining and advancing the standards of ethical business practices that fuel corporate character, marketplace trust and business success. Ethisphere has deep expertise in measuring and defining core ethics standards using data-driven insights that help companies enhance corporate character and measure and improve culture. Ethisphere honors superior achievement through its World's Most Ethical Companies recognition program and provides a community of industry experts with the Business Ethics Leadership Alliance (BELA). More information about Ethisphere can be found at: https://ethisphere.com.