Global Compact Network Thailand Strengthens Public-Private Partnership with Declaration of Commitment to invest THB 1.2 trillion by 2030 to support the UN Sustainable Development Goals
01 September 2020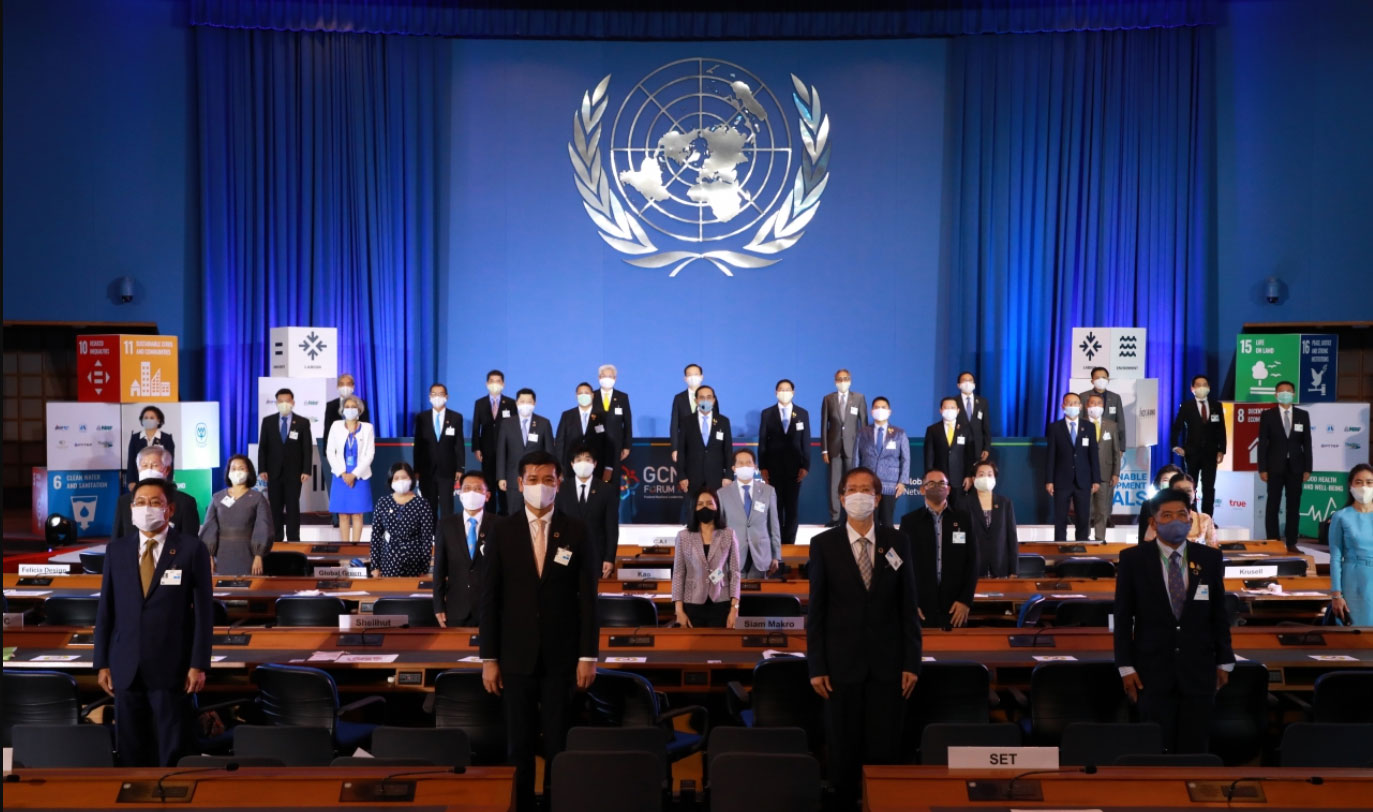 His Excellency Prime Minister Prayut Chan-o-cha presided over the opening ceremony of "GCNT FORUM 2020: Thailand Business Leadership for SDGs" organized by Global Compact Network Thailand (GCNT) in partnership with the United Nations in Thailand and the Thailand Convention and Exhibition Bureau (TCEB) at United Nations Conference Center. Business members of GCNT declared their commitment to unite in the race against COVID-19 to drive the economic recovery of Thailand and the world.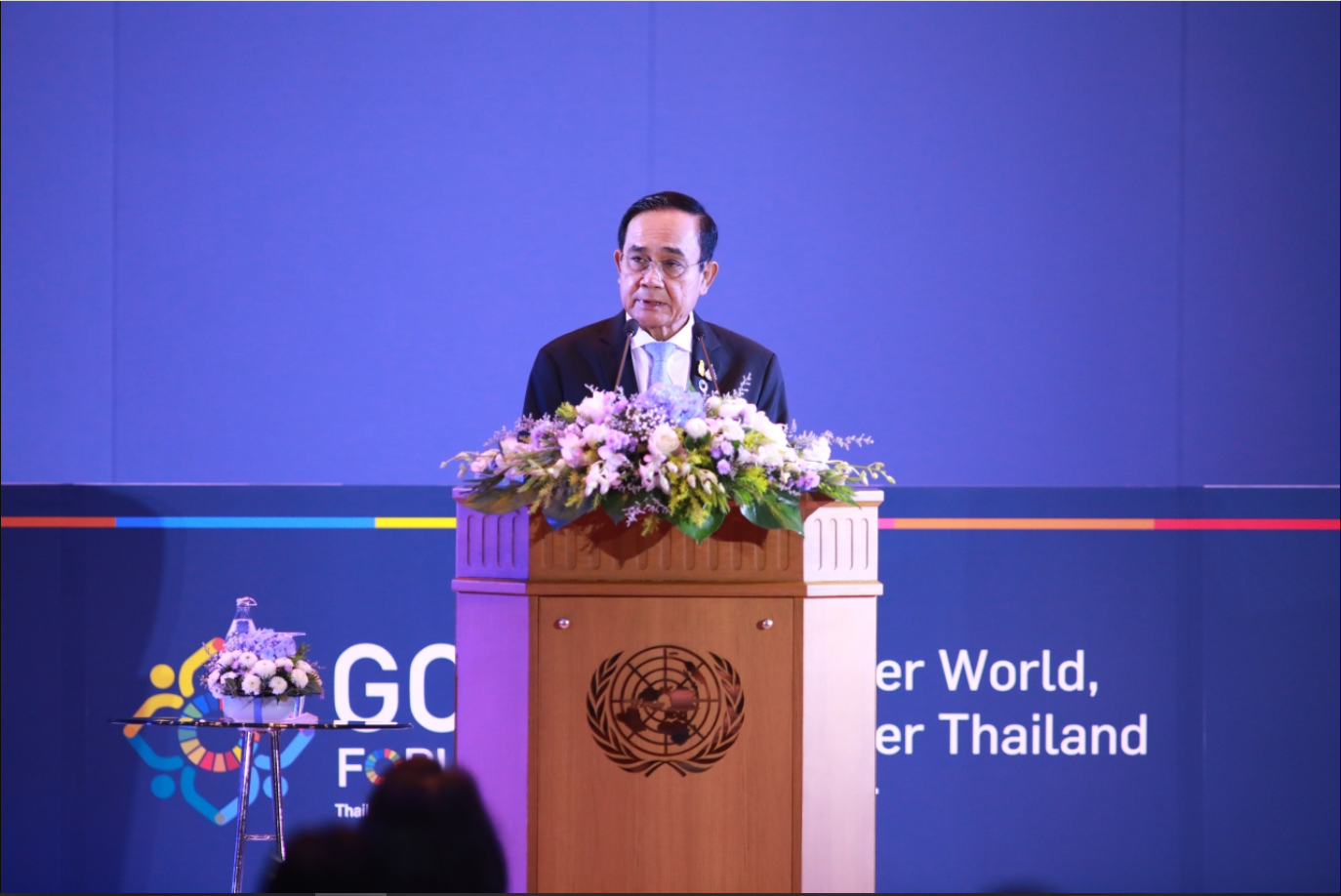 The prime minister delivered the keynote address titled, "Leadership in Crisis Management: Experiences from COVID-19". He emphasized the importance of sustainable development that "Thailand is fortunate to have Sufficiency Economy Philosophy as its guidance in national development that aligns with the Sustainable Development Goals (SDGs). The Philosophy focuses on 'Human Development' and 'Human Security,' which build resilience in the face of economic , social and environmental turmoils. Today, all sectors need to cooperate under 'Team Thailand' as we and the world have a clearly-defined goal of achieving the SDGs by 2030. Although our time is limited, I believe in our nation and citizens. If we are united, we will succeed. I appreciate the private sector for raising awareness and collaborating together to achieve SDGs, particularly, the roles of Global Compact Network Thailand. It helps to promote alliance from all sectors to drive the nation forward and in partnership with the international community."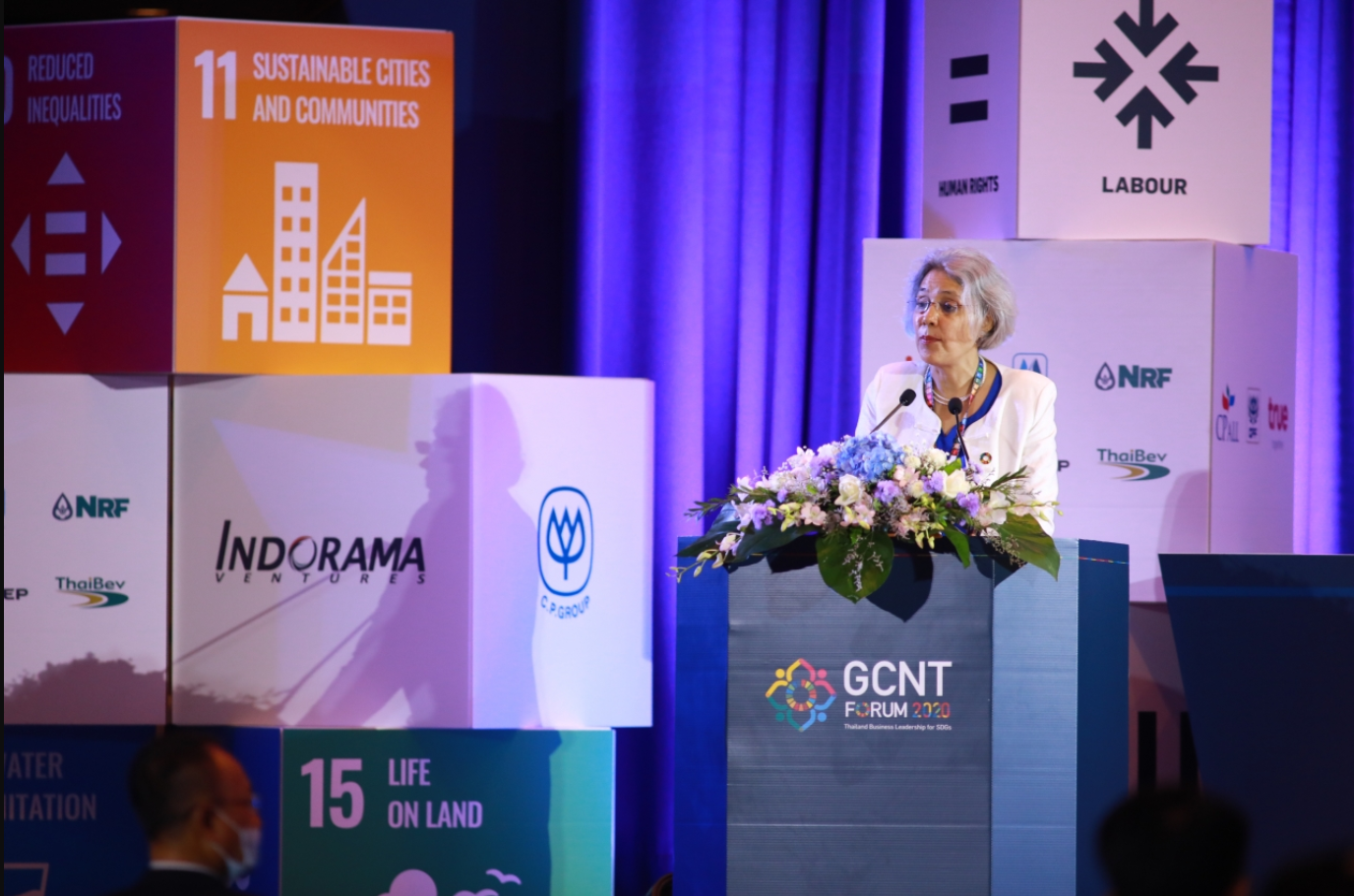 Ms. Gita Sabharwal, United Nations Resident Coordinator – UNRC in Thailand said, "We are grateful to the Global Compact Network in Thailand for its highest commitment and aspirations towards achieving the Sustainable Development Goals. Today, I offer three areas for reflection. First, forging robust partnerships with a shared responsibility for advancing the SDGs; second, building back better for a greener and more equitable new normal; and third, ensuring no one is left behind as the country moves forward. In the year 2020, we enter a decade of action that calls upon us to take concretePartnerships, premised on the principles of collaboration and shared responsibility are imperative for sustainable development. We believe that the private sector can play a central role in making the SDGs a reality. As business leaders, the private sector is certainly generating jobs – but it is also leveraging influence to find solutions to the development challenges of today."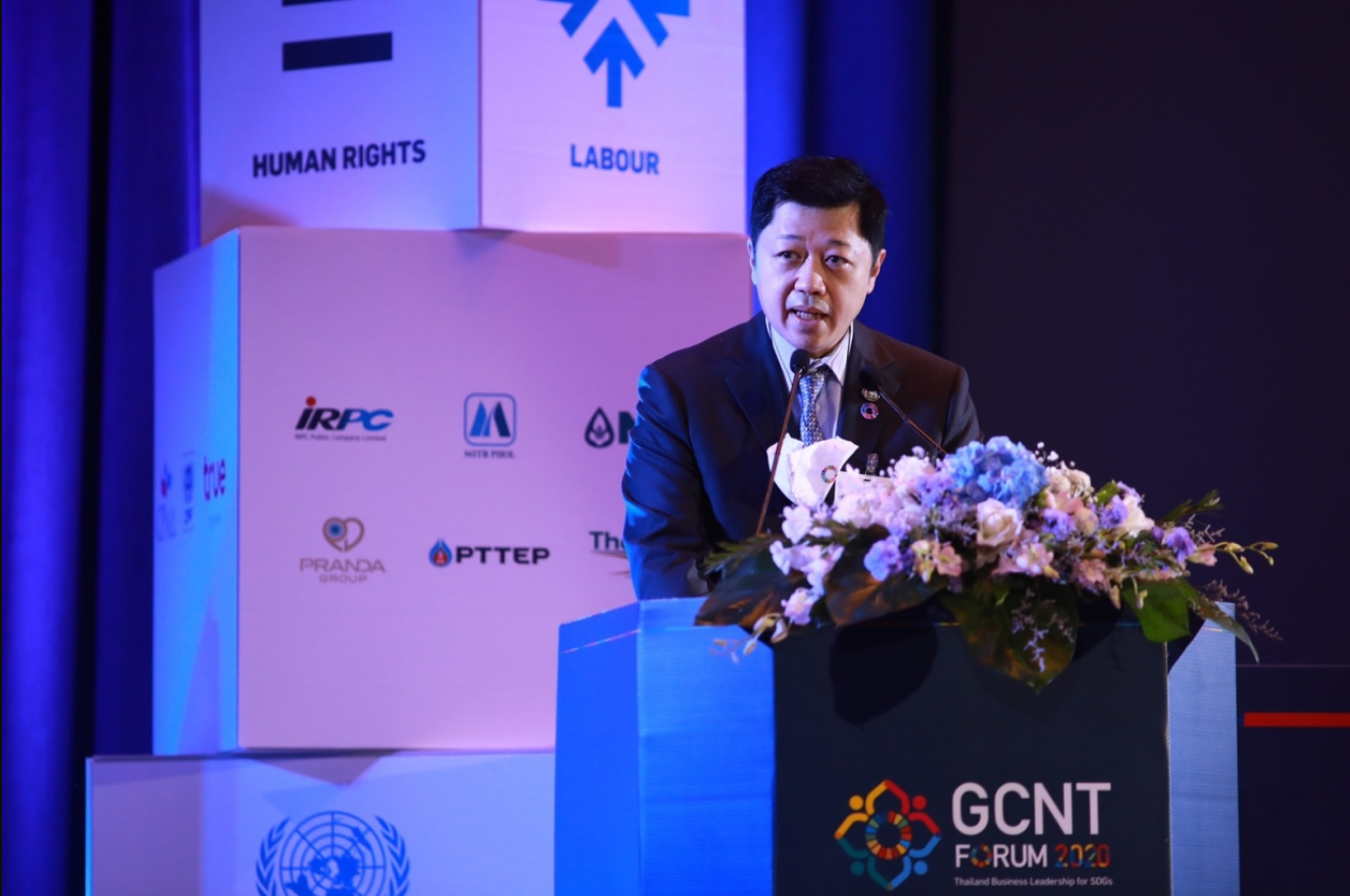 Mr. Suphachai Chearavanont, CEO of Charoen Pokphand Group Co., Ltd. and in his capacity as Chairperson of Global Compact Network Thailand began by thanking medical doctors, nurses and personnel as well as the Prime Minister for leading Thailand through COVID-19. "I express my deep appreciation to our Prime Minister. His leadership has successfully steered our nation through the COVID-19 crisis until today, causing minimal infections and deaths, relative to other countries." About GCNT, he said, "Currently, GCNT membership comprises nearly 60 leading corporations and continues to expand. The combined market capitalization value among GCNT's corporate members reaches approximately THB 4.2 Trillion, reflecting GCNT's potential in propelling economic growth and fostering changes towards sustainability." In his view of the current global crises, "Although the dire COVID-19 crisis is pressing upon us, we should not lose sight of the other crises that have been threatening humanity. These other crises: social inequality; global warming as a result of greenhouse gases emission; economic and human security emergencies have been born out of our imbalanced lifestyle. They are all worsening by day owing to the tsunami of COVID-19 challenges. He concluded by emphasizing the roles leadership plays. "Leaders are changemakers. Admirable leaders make changes for the betterment of the majority. It is therefore our imperative mission to first raise awareness among our leaders. Once such awareness has been raised and further strengthened by courage, determination and most importantly, unified collaboration among all stakeholders, we will sail through all crises mentioned earlier towards the achievement of the SDGs."

Meanwhile, GCNT members had demonstrated their ambitions through the declaration of commitment to apply the SDGs into their core business strategy to drive growth and recover the Thai and Asian economy guided by sustainability principles. Members, including Indorama Ventures, Charoen Pokphand Group, PTT Group, Pranda Group, etc., have committed to sustainable investment via 998 projects worth over THB 1.2 Trillion.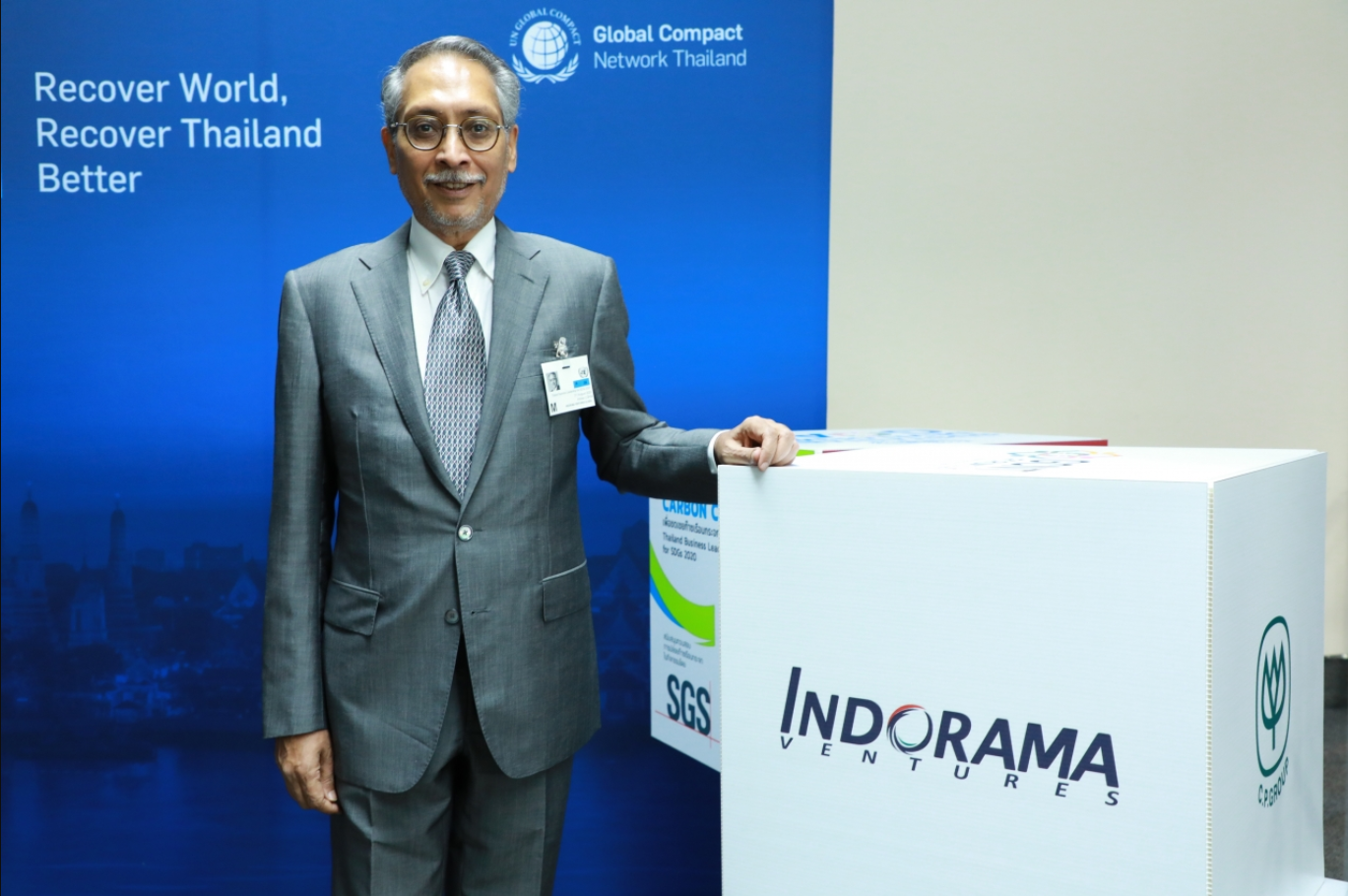 Mr. Aloke Lohia, Group CEO of Indorama Ventures, as a GCNT member, said "The UN SDGs and Sufficiency Economy Principles are two of our key strategies. It is a balance between efficiency and resilience – to do business with a focus on long-term value creation rather than short-term gains. IVL has operated our sustainable business through a circular economy concept, including recycling plastic PET bottles to reduce plastic waste and such recycled plastic can be further converted to other products in order to add its value. We also set target to recycle 750,000 tons of post-consumer PET by 2025 and are committed to investing US$ 1 billion. Additionally, we hereby pledge that by 2030, we shall collectively invest a total of THB 1 billion, in approximately 45 projects and initiatives that directly support achieving the SDGs and commit to embedding the SDGs into our core business strategies and activities. We believe that our collective commitment and joint synergies to drive sustainable growth and economic recovery will propel Thailand towards a more sustainable path – now and for future generations."
GCNT FORUM 2020: Thailand Business Leadership for SDGs" was organized to celebrate both the 20th anniversary of the United Nations Global Compact (UNGC) and the 75th anniversary of the United Nations (UN). Participants are sustainability leaders from the Global Compact Network Thailand (GCNT), representatives from UN agencies in Thailand, government agencies, the business sector and civil society organizations. This event is regarded as a sustainable forum by the Thailand Convention and Exhibition Bureau (TCEB).
Sponsors of this event are: Office of the UN Resident Coordinator
Sponsors of this event are: Office of the UN Resident Coordinator in Thailand; Thailand Convention and Exhibition Bureau; Indorama Ventures PCL; Charoen Pokphand Group Co., Ltd.; CP ALL PCL; Charoen Pokphand Foods PCL; True Corporation PCL; IRPC PCL; Mitr Phol Sugar Corp., Ltd; NR Instant Produce PCL.; Pranda Group; PTT Exploration and Production PCL; Thai Beverage PCL.