C.P. Group Shares COVID-19 Challenges and Solutions to Job Security, Food Security and Health & Well-Being at 'High-Level Political Forum on Sustainable Development 2020' organized by WBCSD and UN DESA
15 July 2020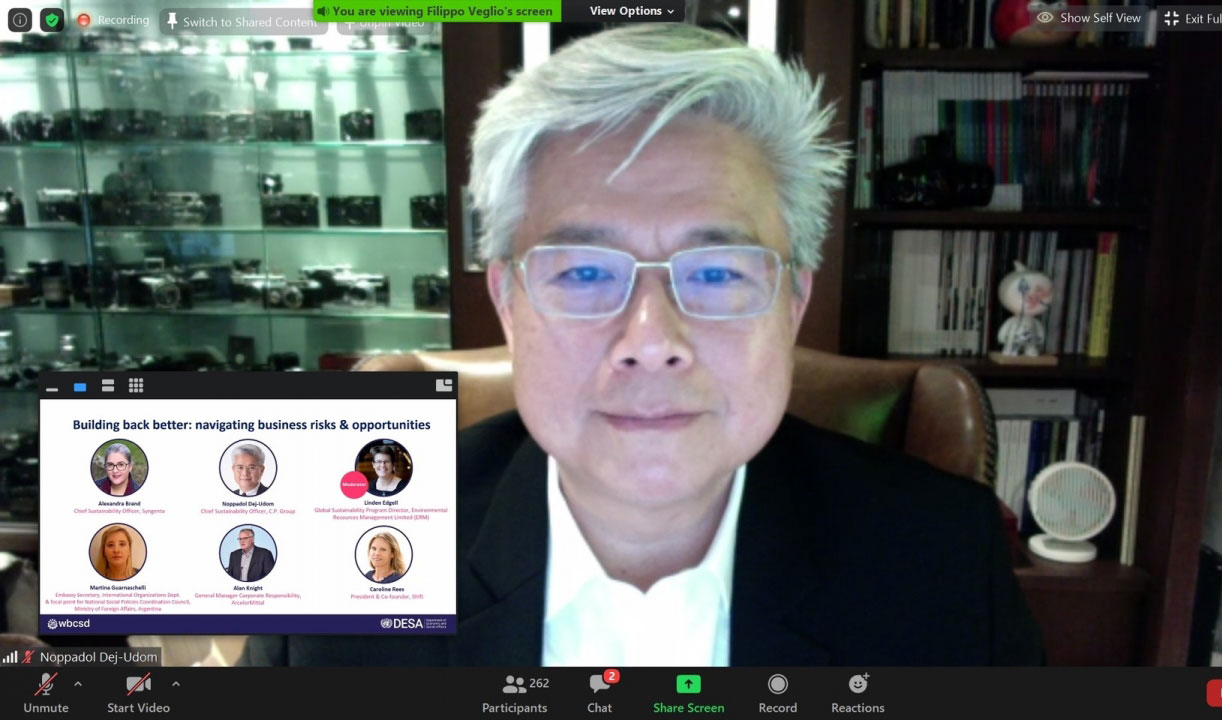 14 July 2020 – Mr. Noppadol Dej-Udom, Chief Sustainability Officer of Charoen Pokphand Group, represented the organization to share its COVID-19 experiences at the 'High-Level Political Forum on Sustainable Development 2020' organized by World Business Council for Sustainable Development (WBCSD) and the United Nations Department of Economic and Social Affairs (UN DESA).
Mr. Noppadol shared the panel with other Chief Sustainability Officers under the topic "Building Back Better: Navigating Business Risks and Opportunities in a Post-COVID World" that includedAlexandra Brand - Chief Sustainability Officer of Syngenta,Caroline Rees President & CEO of Shift (Human Rights Organization), Alan Knight -General Manager Corporate Responsibility of ArcelorMittal,Martina Guarnaschelli , Embassy Secretary, International Organizations Department, and focal point for the National Social Policies Coordination Council, Ministry of Foreign Affairs, International Trade and Worship of Argentina.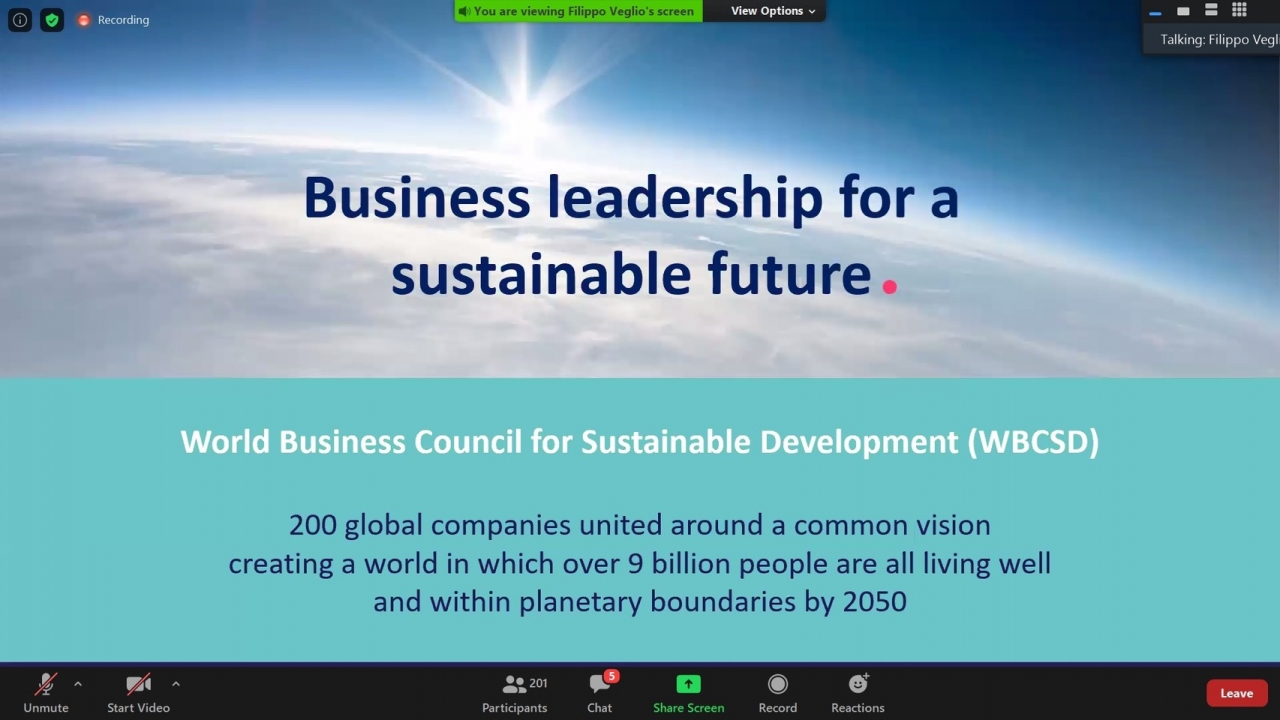 In this regard, Mr. Noppadol stated that C.P. Group had mitigated the impact of COVID-19 and will continue to assist in the development of the economy and society after the pandemic, that is in line with UN Sustainable Development Goals (UN SDGs). From this crisis, the Group faced three major challenges consisting of 1. Job security, whereby the company announced a policy to not layoff any employees as it employs more than 360,000 people worldwide. Even though it was not an easy task, the Group's effective business continuity plan enabled the organization to look after its employees. This initiative provides a broad positive effect to the country's economic system as it further ensures the security of employees' families and business partners along the supply chain.
2. Food security, as consumers panicked and stockpiled food supplies during the first phase lockdown of the pandemic, the Group created confidence for consumers by providing sufficient and safe food to meet their needs. In addition, the company also delivered free food to those who lost their income and to those quarantined at home as well as develop affordable ready-to-eat food to help reduce living costs for those suffering from the pandemic.
3. Health & Well-being, due to the shortage of face masks, the Group established a surgical face mask factory within 5 weeks with a production capacity of 3 million pieces per month to be distributed to medical personnel, hospitals, humanitarian organizations and the general public nationwide.
"The global pandemic of COVID-19 has provided us with the opportunity to reassess our strategies. Some people have shared that this crisis is a rehearsal for a bigger crisis to come, which is climate change. This crisis will enable us to learn and better prepare for the future. In addition to donating goods and money to tackle this crisis, a new collaborative effort has been formed, one that is based on the integration of ideas and expertise from all sectors. We must synergize and unite globally to get through this crisis together." said Mr. Noppadol.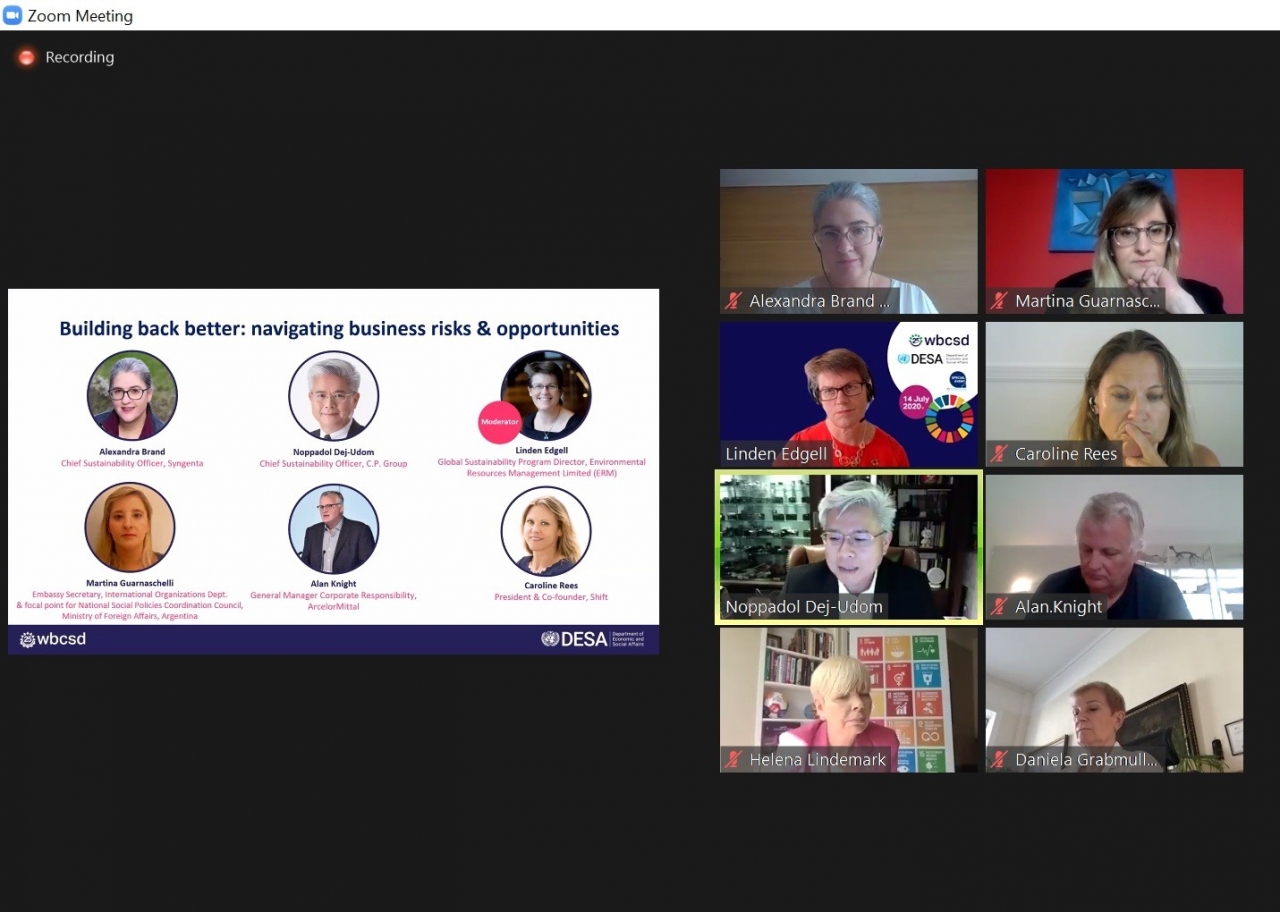 In addition, other panellists presented interesting perspectives, such as the importance of innovation in agriculture that will help increase productivity, reduce land use and chemicals, as well as help provide resilience to climate change. While another important challenge after this pandemic is that the global community must continue its commitment to reduce greenhouse gas emissions or try to achieve Zero Carbon to prevent the average global temperature from rising above 2 degrees Celsius. Caroline Rees President & CEO of Shift (Human Rights Organization), expressed concern that the issue of COVID-19 could worsen the problem of economic and social inequality with the view that the private sector must give importance to employees in their organization as well as other stakeholders, not only their shareholders. Ms. Rees praised C.P. Group for maintaining the employment of its employees and for provided concrete assistance to those affected by the crisis.