Charoen Pokphand Group Shares Sustainability Perspectives and Water Stewardship Initiatives at the Global Reporting Initiative Seminar
24 June 2020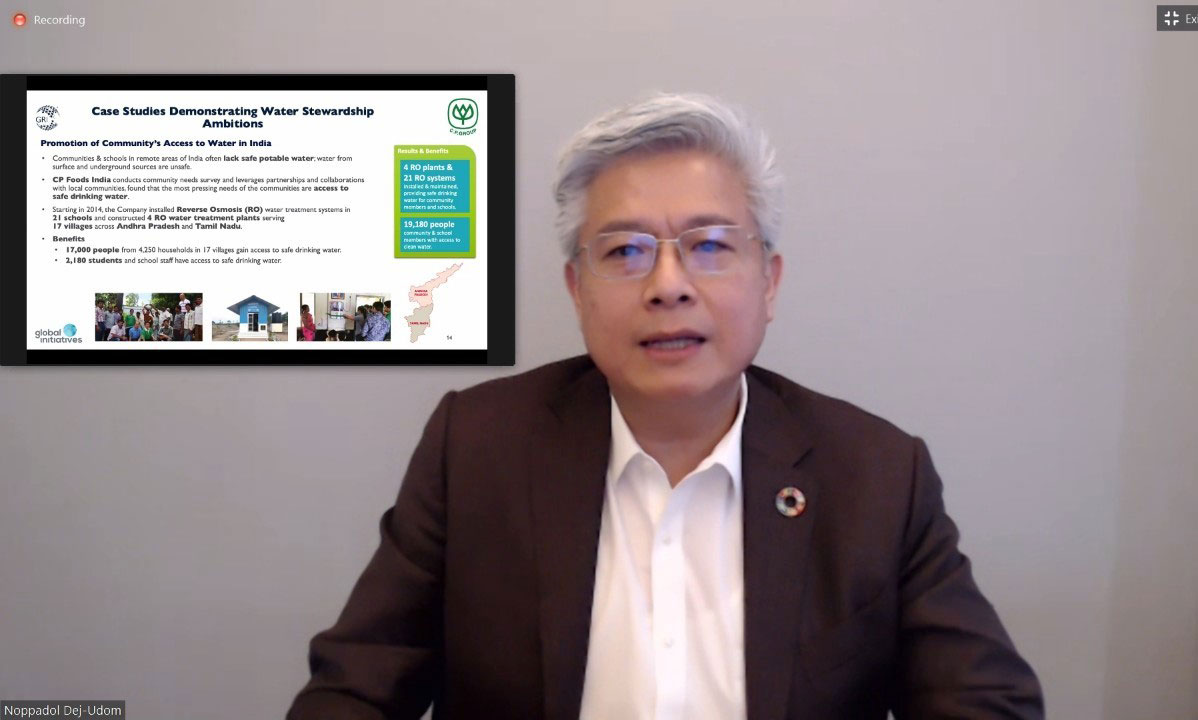 On June 24 2020, Mr. Noppadol Dej-Udom, Chief Sustainability Officer of Charoen Pokphand Group, was invited to join a distinguished international panel to share C.P. Group's Sustainability perspectives and its 'Water Stewardship' initiatives in the online seminar 'Bright Lights of ASEAN-Sustainability Insights & Ideas from Leading Companies in the Region' organized by the Global Reporting Initiative (GRI), an international independent standards organization, and Global Initiatives, a civil society organization that advances partnership solutions to global sustainability challenges through multi- stakeholder engagement.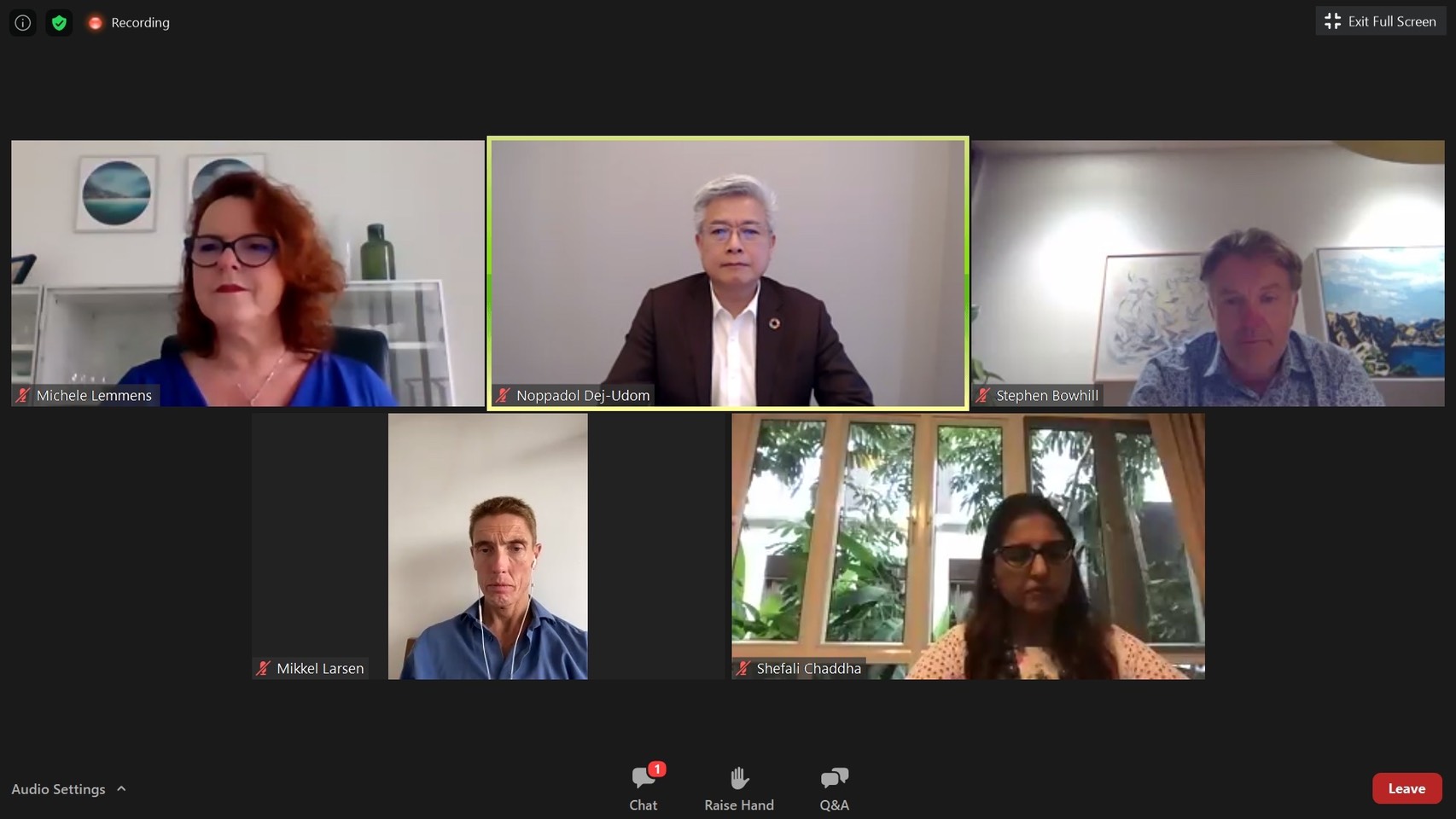 Other distinguished panelists included Mr. Mikkel Larsen – Chief Sustainability Officer of DBS Bank, Mr. Roshith Trashan – Director of Corporate Responsibility Asia-Pacific at Sodexo and Mr. Stephen Bowhill - CEO of Re>Pal Indonesia, all of whom presented their organization's sustainability financing practices, food waste solutions and Circular Economy practices that help reduce plastic waste.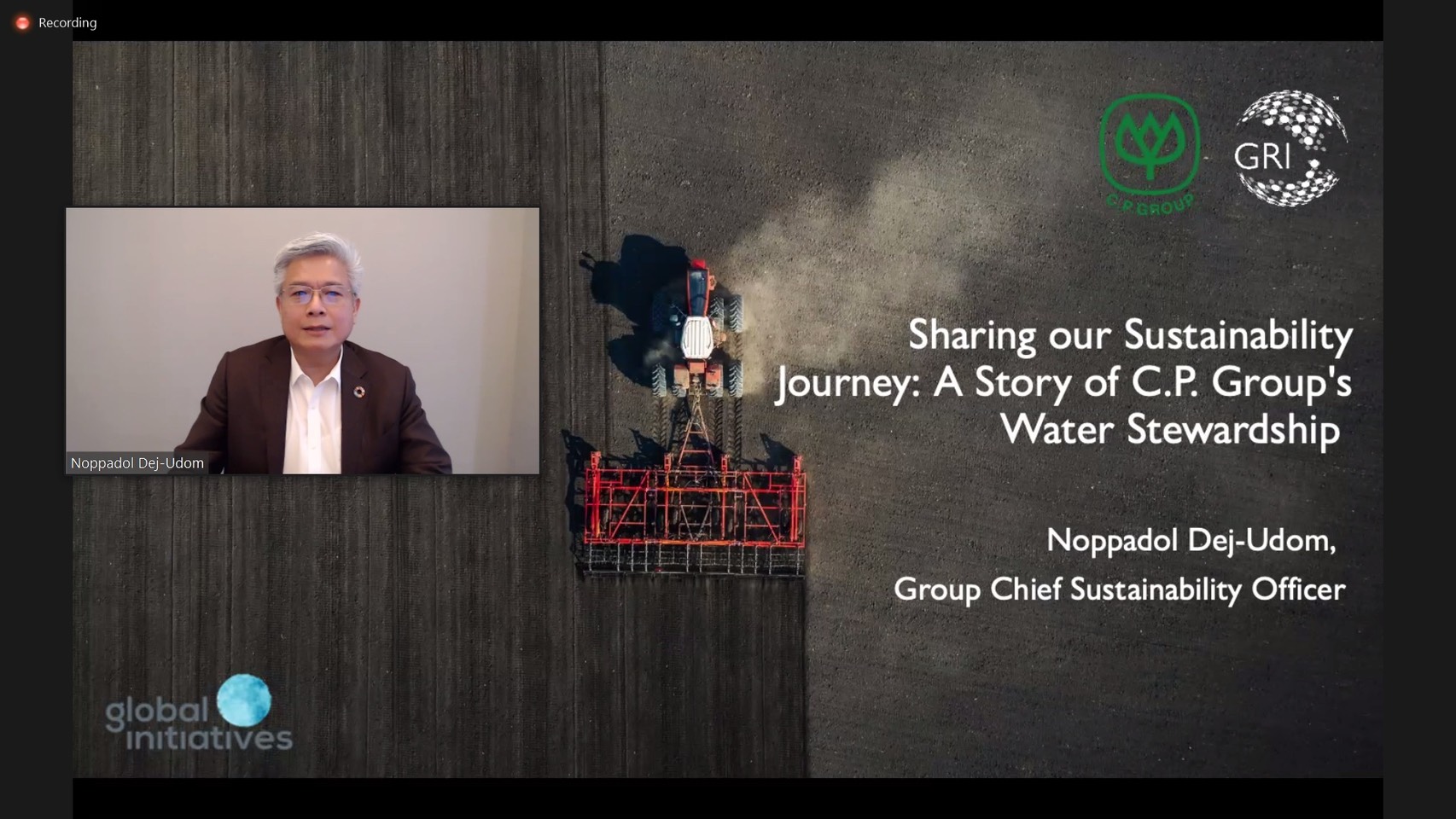 Under the topic 'Sharing our Sustainability Journey: A Story of C.P. Group's Water Stewardship', Mr. Noppadol stated that the Group had set clear sustainability goals and strategies that were in accordance with GRI standards, as represented in the organization's annual sustainability report. Furthermore, as C.P. Group applies circular water management principles, 3 case studies under the management of Charoen Pokphand Foods PCL., were shared with participants of the seminar consisting of 1. Recycling Wastewater from Shrimp Aquaculture 2. Wastewater Treatment Systems with Biogas Generation for Swine Farms 3. Promotion of Community's Access to Water in India. These projects represented best practices and innovative solutions that help protect the environment and assist stakeholders.
The case studies showcased during the seminar reflects C.P. Group's core values and how the company has grown and operated for nearly a century in the agricultural and food industry. How the Group drives its business operations has an impact on the sustainability of the world, therefore, the company is committed to operate in accordance with the Sustainable Development Goals (SDGs) and work with all sectors involved.
"Today, C.P. Group continues to face new challenges and we are prepared for the coming digital transformation of the organization. Sustainable development and human capital development are of great importance to organization as the Group progresses into its second century next year".
The Chief Sustainability Officer concluded that as the world has now experienced COVID-19 for six months, we learnt that positive thinking can enable people to unite and help one another. However, we should not abandon our efforts to achieve the sustainable development goals together.