Charoen Pokphand Group Launches Surgical Mask Factory along with Multi-Pronged Initiatives against COVID-19
16 April 2020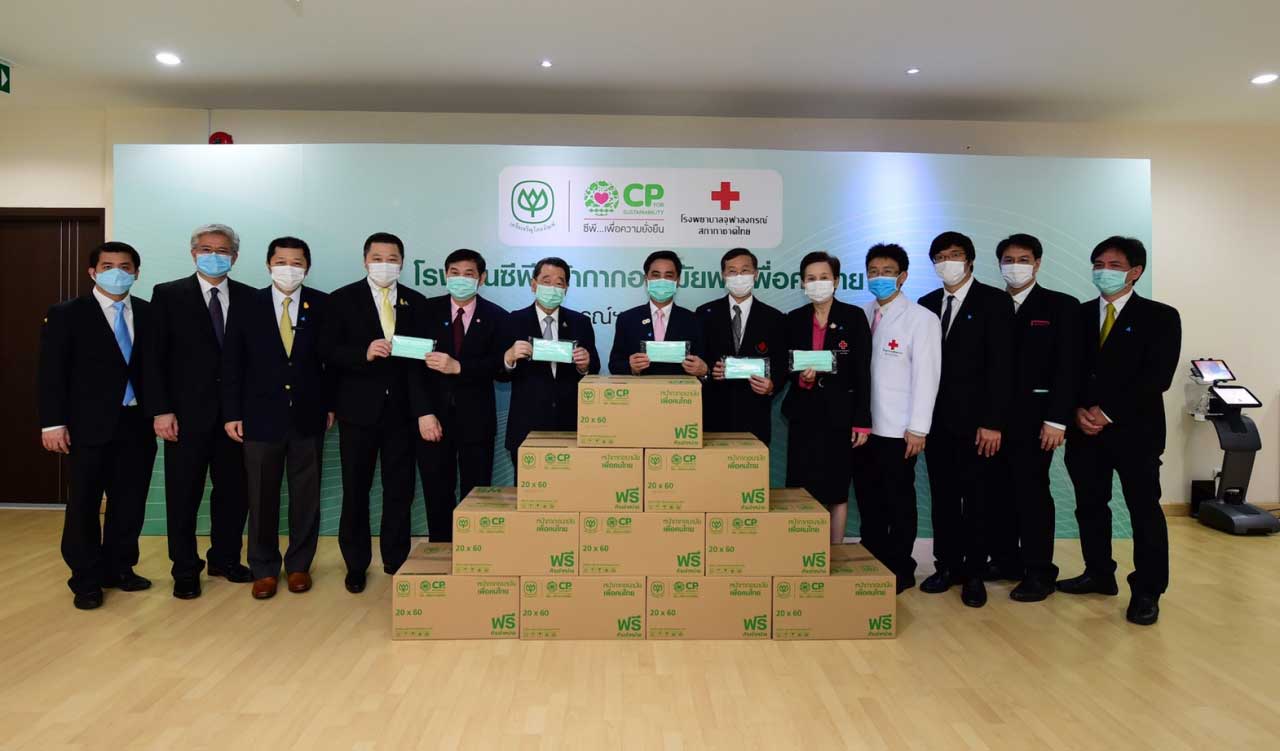 • Production starts today at surgical mask factory in Bangkok, producing 100,000 masks per day

• Pledged to save jobs across the Group, along with medical, food and education support for employees

• Donated USD 29.14 Million in Thailand to tackle COVID-19
April 16th, 2020, Bangkok -To tackle the COVID-19 pandemic, Charoen Pokphand Group (C.P. Group) announces a series of measures focused on supporting its employees, consumers, and the local community, especially healthcare workers. The multi-pronged initiatives include building a surgical mask factory to provide essential medical supplies, preserving jobs across the Group, delivering food and essential supplies to frontline healthcare workers and enhancing digital infrastructure to enable more efficient e-learning and remote working. To date, the Group has contributed donations worldwide to tackle COVID-19, with donations to Thailand totaling USD 29.14 Million, including for the procurement of medical supplies and protective equipment for hospitals.
The Group's initiatives include the following key areas in Thailand:
• Launched Surgical Mask Factory: C.P. Group invested USD 3 million (100 million baht) to build a factory just outside Bangkok to produce medical-grade surgical masks in Thailand. The factory was built in 5 weeks during COVID-19 and has obtained regulatory approval from Thai authorities to start producing surgical masks today, with production reaching 100,000 masks per day which totals to 3 million masks per month. The masks will be donated for free to medical professionals and healthcare workers throughout Thailand's hospitals. When the COVID-19 crisis subsides, the ownership of the factory will be transferred to one of Bangkok's public hospitals.

• Support to employees: Mr. Suphachai Chearavanont, the CEO of C.P. Group announced on April 8th, 2020 to staff that the Group is committed to not making layoffs as a result of COVID-19 across the Group worldwide, and will work together with its subsidiaries in accordance with local laws and regulations. In addition, the Group will cover medical expenses to treat COVID-19, provide education loans for their employees' children, and provide food to quarantined employees who are negatively impacted by COVID-19 in Thailand. The Group also announced plans to create new jobs, including hiring 20,000 new employees for food delivery services across Thailand.

• Free delivery of food and essentials supplies to hospitals: In response to COVID-19, Charoen Pokphand Foods Public Company Limited (CPF) has provided free food delivery to 88 hospitals across Thailand. To cope with rising demand for food supply throughout Thailand, CPF has increased production capacity of certain essential food such as eggs and will ensure sufficient supplies without an increase in food prices.

• Upgrade digital infrastructure for remote working and e-learning: C.P. Group's telecommunications arm, True Corporation Public Company Limited (True Corporation), tripled domestic and international bandwidth capacity to provide customers with enhanced services on digital platforms for e-learning, remote working and e-payment services. To provide digital solutions that help with social distancing, True Corporation has offered free access to a cloud-based integrated solutions platform - "True Virtual World"- that was developed in less than a month during COVID-19 to support work from home arrangements and e-learning for students. True Corporation, in collaboration with CPF, is also providing free mobile phone SIM cards to suspected COVID-19 patients who register to receive free food delivery from CPF. In addition, through the Digital Council of Thailand (DCT), of which C.P. Group's CEO Suphachai Chearavanont is President, True Corporation announced that they will work alongside other Council members to launch digital platforms and applications to help source medical supply donations as well as track, trace and contain the spread of COVID-19.
Mr. Suphachai Chearavanont, CEO of Charoen Pokphand Group, said, "During these dark times, we must unite and tackle COVID-19 together. Critical to our fight against this pandemic is to make sure our frontline medical workers have the essential medical equipment they need, and surgical masks are critical for them at this time. At this moment, we are also very focused on keeping people employed and do what we can to help our employees and their families, our customers and our local communities. With the mask factory now open along with all our other COVID-19 initiatives, we are using the best of our capability throughout the areas and sectors our Group operates in to contribute to the fight against COVID-19. Our Group was founded on the Three-Benefit Principle, which places the countries and communities in which we operate as well as our people before the company's interest. This remains central to everything that we do, especially during difficult and challenging times."
Mr. Soopakij Chearavanont, Chairman of Charoen Pokphand Group, said, "We are committed to fighting the COVID-19 pandemic alongside Thailand until the very end. We strongly believe that through the global partnerships we have with our network of suppliers and most importantly employees, we can pool together skills and resources as we continue our joint efforts to tackle COVID-19. We recognize that this is a challenging time for us all, and as a Group, we want to make sure we are doing everything we can to help our local communities and to support all our stakeholders. This is the right thing to do at this time and I believe by working together, we can get through this unprecedented challenge that COVID-19 has presented to all of us both locally and globally."