Closing Speech by Mr. Suphachai Chearavanont, CEO of Charoen Pokphand Group at the 9th Social Business Day by the Yunus Centre
29 June 2019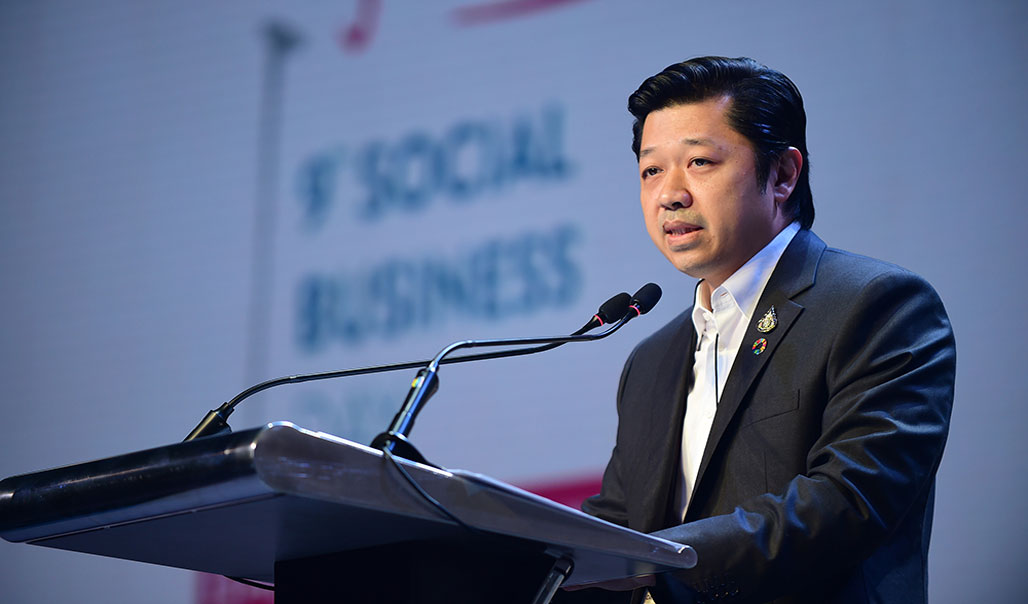 Speech:
Good morning. Professor Muhamad Yunus, distinguished guests, ladies and gentlemen.
It is a great honour to be here alongside the inspirational Nobel Laureate Professor Yunus and hundreds of passionate social business entrepreneurs who have made it their mission to make the world a better place.
I am moved by the determination and commitment of the Yunus Centre and its partners to bring this conference to Bangkok. It is truly inspiring to meet so many people from around the world who embody the spirit that we need to address the most pressing challenges of our time: social inequality, climate change, sustainability.
Right now, we are living at a pivotal moment in history. Science, data, and technology are transforming the world and creating new opportunities for improving people's lives and mitigating environmental problems. It won't be easy, but we can all play our part to realize the change we want to see.
At C.P. Group, we recognize 3 major roles we need to undertake:
1) To acknowledge that true social responsibility comes from the 'Inside Out'. Beginning with our 350,000 employees living in 21 countries where we invest, to care for them as our own family, and to take care of our thousands of business partners and suppliers who represent our extended families.

2) To recognize our role and responsibility to the global society and the environment because of our size and scope as well as the opportunity to help lead the change.

3) To promote innovative sustainable development and sustainable entrepreneurship by working closely with leading organizations.

This is the motivation for C.P. Group to spearhead the United Nation's Global Compact Network in Thailand or GCNT– to advance a program around four pillars that include environmental protection, but also human rights, labour, and anti-corruption. A truly global public-private partnership, this network has grown to now feature 40 companies in Thailand, working together with the Government of Thailand to promote the implementation of the UN Guiding Principles by encouraging companies to operate responsibly and take strategic actions that support the society through peer learning, dialogue and training.
Furthermore, our support for organizations like the One Young World , means that we seek to constantly encourage the next generation of young leaders with the right mindset, whom will help bring about innovative solutions to the global challenges we face today.
[Waste and pollution]

One of the critical global issues that keeps me awake at night is the situation on waste and pollution threatening the health and well-being of people, with our unsustainable consumption lead economy.
Last year, more than 2 billion tonnes of waste are generated annually from our global population of 7 billion. Without immediate action to rectify the problem, we will face a 70 per cent increase in waste, or 3.4 billion tonnes, by 2050.
[The top three types of waste are food (FYI - 44%), paper and cardboard (FYI - 17%), plastic (FYI - 12%). And 60% of the global waste is from a combination of Asia and Europe]
Also, the World Health Organization (WHO) estimates that 7 million people are killed prematurely every year from diseases such as cancer, strokes, as well as heart and lung diseases caused by air pollution. Ninety per cent of these deaths occur in low and middle-income countries with high volumes of emissions from industry, transport and agriculture. Air pollution is also the key contributor to climate change which threaten our very own ecosystem.Public policies would be essential to expedite greater and faster impacts and improvement, but fighting these problems is everyone's business and cannot be delayed.
As businesses, we must continue to challenge ourselves to initiate an operating model that responds to these issues. For instance, "lower waste or zero waste" should be the centre of the process and product designs. At C.P. Group, we have implemented a "Sustainable Packaging Policy" fostering our business units to think and act responsibly about reusable, recyclable and compostable packaging.
We focus heavily on R&D in order to deploy zero-waste sustainable farming methods such as using biogas generated from swine farming, underground thermal heating, while its wastewater is treated and used for irrigation.
From an agricultural background, we set an ambitious goal to become a carbon neutral organization , many businesses around the world have adopted or are looking to switch to renewable energy options wherever possible, while working towards zero waste and building up carbon credits.
Equally, we have witnessed the enormous positive impact of integrating advanced technology into our businesses. For example, satellite systems allow farmers to locate suitable areas for different types of farming, zoning and minimizes the failure rate. With the rapid pace of technology development offers unique possibilities to solve these very problems. And it is entrepreneurs like you who are harnessing technology and innovation to create incredible opportunities for the people around you.
[Ethics]
Being successful in business is important, but we also want to be good corporate citizens and contribute to creating better business practices that are beneficial to the environment and society. At C.P. Group, we aspire to conduct business ethically by following best-in-class global standards across the Group, going beyond legal and regulatory requirements.
Since people are the greatest assets for us, it is essential to cultivate talent and provide an ecosystem to develop leaders that are champions of values and sustainability. One example is our CP Leadership Institute that we have set up to train up to 4,000 young leaders and executives each year on management, the principles for social responsibility, governance and ethics. This also applies to how we are taking part in education reform efforts in Thailand.
In my view, social responsibility and ethical business conduct should be fundamental to everything that we do or aspire to do. It starts with us as individuals and spreads to the people around us – which is what Professor Yunus has proven over and over again.
[The Three-Circle Principle]
I would like to leave you with an overview of our three-circle sustainability principles that we use to drive responsible business behaviour at C.P. Group.
[Social circle]

We all seek to realize our dreams, security and happiness, with love and compassion as the fundamentals to establishing social and shared values and building a culture that drives the right practices, exploring and creating a sustainable business model. I firmly believe that compassion enables deeper engagement and understanding among individuals, fosters ethical and sustainable business conduct. This means, we will always take into consideration the impact our actions may have on others before we act.
[Economic circle]

We need to also ensure that our businesses are financially healthy so they can be an engine for good. To a large extent, this is dependent on good leadership and talent. We need to attract, invest and retain people, particularly, those who are passionate and entrepreneurial but at the same time aspire to change the world. Love and compassion make great leaders, and companies like ours rely on them to be successful in the long run.
[Environment circle]

Finally, a lot of innovations were once perceived to be impossible. But to improve quality of life, protect our environment, we cannot stop dreaming and or working hard to make a positive impact. Success will not happen overnight, but love and compassion help us not giving up on our dream.

Having shared my values, I trust we can all be more collaborative in the future which is the key enabler to achieve our goals easier and faster.
At the exponential speed of consumption we are making, the waste and pollution we are generating, we might actually live to see a dark sky, a toxic ocean, air that we can not breathe, the differences and conflict that could break up society. We know in our hearts that this will happen one day, if we don't change.

Let's be real, we are not doing enough at this moment, We want to be the change, we can be the change and we must be the change for ourselves and the generations to come.